Zack Britton knew in February.
Since turning into a full-time reliever a half-decade earlier, the All-Star left-hander had been part of - or, really, the centrepiece of - some exemplary bullpens. In 2014, Britton anchored an Orioles bullpen that finished third in the American League in ERA and second in win probability added, propelling Baltimore to its first division title in 17 years.
The Orioles' relief corps, with Britton locked into the ninth-inning role, excelled again the following year even as the rest of the team regressed, leading the majors in wins above replacement. Then, in 2016, Britton authored one of the finest seasons ever by a relief pitcher - he crafted a 0.54 ERA and didn't blow a save in 47 tries - as the linchpin of a once again elite bullpen that played a pivotal role in nudging the Orioles into the American League wild-card game.
But this spring, as he eyeballed the assemblage of relievers alongside him at the Yankees' spring complex in Tampa - he re-signed with New York in January after being traded there last season - Britton knew this would be the best bullpen he'd ever been part of.
"I tried to, like, temper expectations because you got to play the games and stuff like that," Britton said. "(But) it's been fun."
He continued: "I think, from a depth standpoint, (this is) definitely the best bullpen I've been in."
Throughout an injury-marred season, the Yankees have thrived despite protracted absences from the likes of Luis Severino, Giancarlo Stanton, Aaron Judge, Didi Gregorius, and Miguel Andujar. The bullpen has been mostly healthy and routinely dominant, validating the considerable preseason hype it received and helping to nudge New York within a 1/2-game of first place in the American League East.
"Coming into the season, we knew we were going to be kind of heavily relied upon," right-hander Tommy Kahnle said. "But so far, so good. I mean, no complaints. We've looked spectacular, and I feel like we keep doing our job."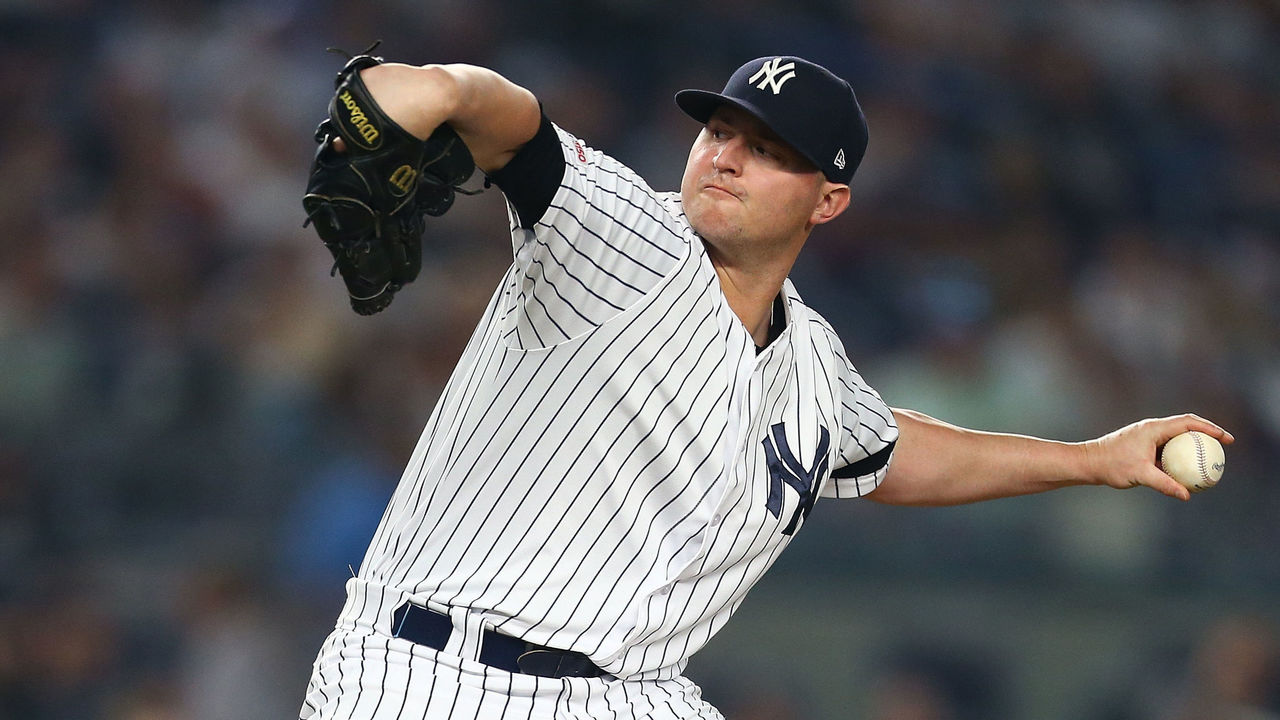 Indeed, by most every meaningful metric, the Yankees' bullpen has been a veritable behemoth in 2019, just as it was a year ago with a slightly different cast. Through Monday's games, their relief corps has accrued more wins above replacement (3.4 via FanGraphs) than any other in the big leagues. They also lead the majors in shutdowns with 71. Accounting for park effects, they're second in adjusted fielding independent pitching (83 FIP-) and sixth in adjusted ERA (86 ERA-). And that's without Dellin Betances having thrown a single pitch this season; the four-time All-Star has been sidelined by a shoulder injury since spring training.
Frankly, given the success that Britton and newcomer Adam Ottavino are enjoying - along with Kahnle's resurgence following a miserable 2018 campaign - it's been easy to forget that the Yankees have been missing arguably their most overpowering reliever.
Chapman hasn't allowed an earned run in more than a month. Britton has held opponents to a .485 OPS over that same span. Since the penultimate week of April, Ottavino has pitched to a 0.49 ERA. Kahnle's rocking a 21-to-1 strikeout-to-walk ratio over his last 17 appearances. Their individual numbers cast a pall over opposing teams hoping for a late rally.
| Pitcher | 2019 ERA | Career ERA | | 2019 WHIP | Career WHIP |
| --- | --- | --- | --- | --- | --- |
| Chapman | 1.40 | 2.19 | | 0.94 | 1.01 |
| Britton | 2.86 | 3.19 | | 1.20 | 1.26 |
| Ottavino | 1.53 | 3.54 | | 1.23 | 1.30 |
| Kahnle | 2.84 | 3.78 | | 0.99 | 1.31 |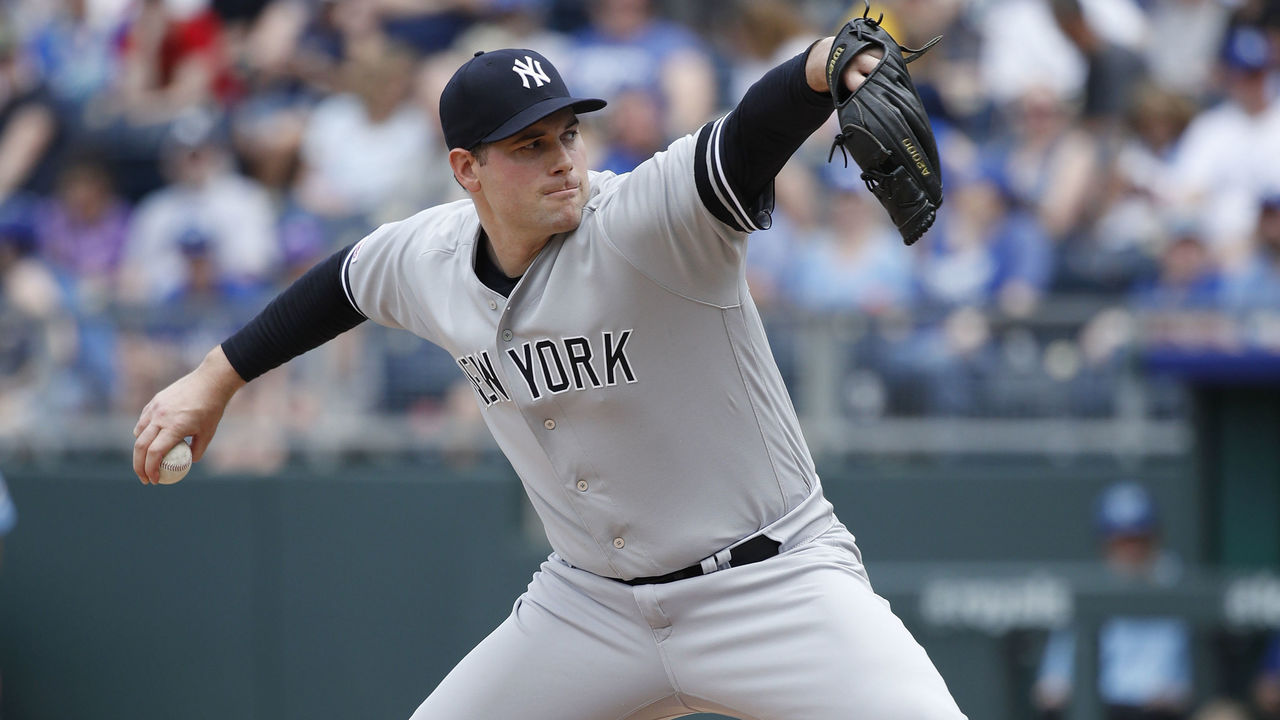 It's not all that surprising that a bullpen currently featuring three closers and a setup man (who'd likely handle the ninth inning for two-thirds of the league's teams) is bullying opposing hitters. What's more surprising is that the Yankees could convince two highly sought-after free-agent relievers this past winter to accept less glamorous roles than the ones they were accustomed to.
Britton, for one, knew he wouldn't be the Yankees' closer. He signed anyway.
"When I was in Baltimore, I started and then I went to closing, so I didn't really have the setup (experience). They've done a good job with me here," Britton said. "When I signed back, they pretty much told me they want me to close, but close an inning earlier. So they wanted me to take everything I did in Baltimore but just do it an inning earlier, in the eighth inning right in front of Chappy. So I think that's made it easier on me, the transition."
Ottavino similarly understood that his late-inning opportunities would be more scarce in New York than they were in Colorado. He signed anyway.
"I think everybody that's on this team is here at the right moment in their careers and pulling for the same thing, which is to win it all," Ottavino said. "Britton and myself are kind of similar in that we've both got a similar amount of time in the big leagues. He did a lot more closing than me, but I did a little bit and pitched at the back end for a while. But now we've kind of let go of that and traded it in for an opportunity that's special here."
In addition to potentially helping the Yankees secure their first World Series title in a decade, another (admittedly less) special opportunity exists for New York's relievers: They could be part of the greatest bullpen in baseball history. Right now, the Yankees' relievers are on pace to accumulate 8.6 WAR this season. That would fall just shy of the single-season record (9.6) set in 2003 by the Los Angeles Dodgers, anchored by Cy Young Award winner Eric Gagne.
"I mean, on paper you could definitely say it's one of the best bullpens I've been together with," Kahnle said. "And, to be honest, once we get Dellin back, I think this will be probably the best bullpen I've ever been a part of."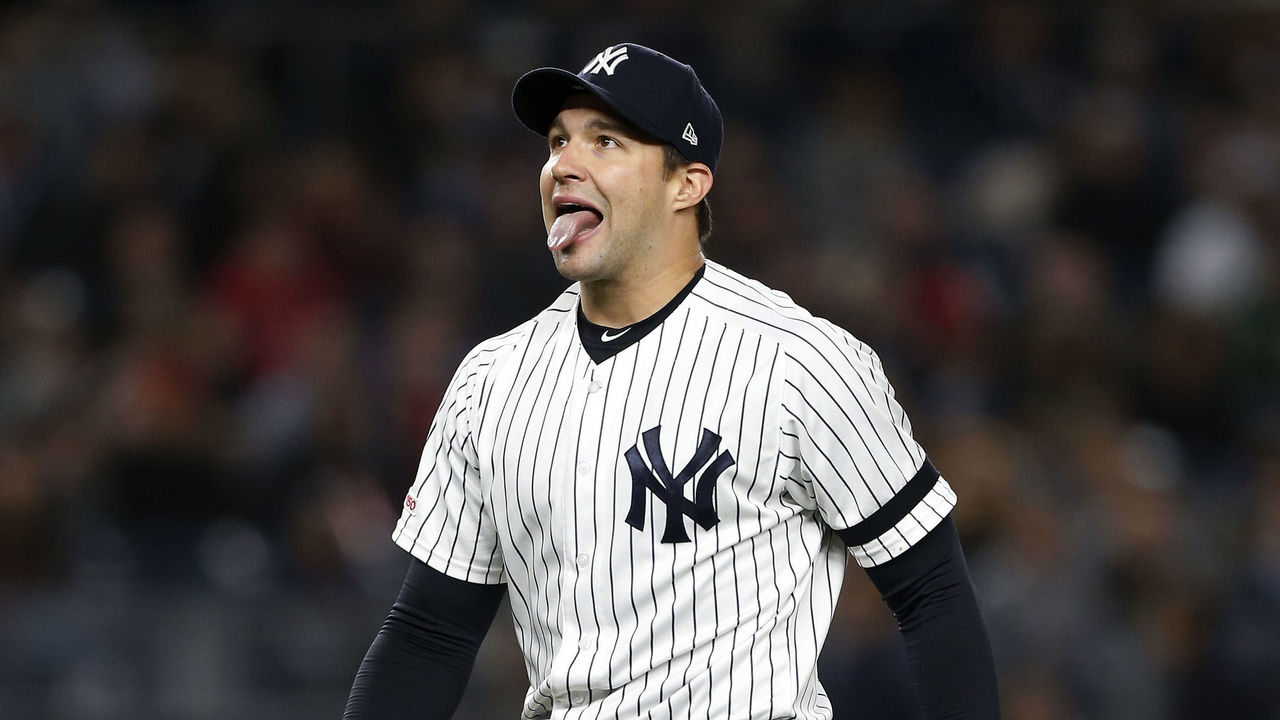 Whether or not Betances' return is imminent, what augurs especially well as the Yankees trudge deeper into the summer is that even their ostensibly bad relievers can capably step into high-leverage spots.
Take Chad Green, for instance, whose numbers this year are positively ghastly. He owns an 8.27 ERA with 1.79 WHIP, and his early-season struggles were so outsized that he was sent down to Triple-A before the calendar flipped to May. Still, Green was a late-inning stalwart for New York the previous two seasons, and the 28-year-old right-hander has looked much more like his former self of late: Green has authored a 1.93 ERA over his last eight outings, with 13 strikeouts and no home runs allowed in 9 1/3 innings.
Then there's Jonathan Holder. Do you know who Jonathan Holder is? Of course you don't. But he nevertheless boasts a better strikeout rate (25.9 percent) than Houston Astros closer Roberto Osuna through 26 appearances, with a lower expected weighted on-base average (.302) than Jose Alvarado, Wade Davis, and Blake Treinen.
"It's just a fun group to be a part of, and it makes everyone's job easier when you have six guys that you can rely on down there and you're not having to (always) carry the load," Britton said. "I remember having to do that at certain stages when I was in Baltimore. I had to be the guy. And it's a lot of pressure.
"And sometimes, when you're not feeling great, it can be a grind. So it's nice to have six, seven guys; when Chapman needs a day, or I need a day, or Ottavino needs a day, we have guys that are capable of stepping up and doing just as good a job."
It is indeed an embarrassment of riches, as Britton suggested, and while even the most indomitable bullpen can't carry a team - you can't protect leads you don't have - a leaky bullpen can sink one. And the Yankees' bullpen has no leaks.
"Everybody's got to play their part," Kahnle said. "We've definitely been a big help in terms of being relied on late in games and just helping us get over that hump. I think it's just been a collective thing with the whole team. Everything's been 'next man up' with us this year so far, so it's been fun."
Jonah Birenbaum is theScore's senior MLB writer. He steams a good ham. You can find him on Twitter @birenball.