Last winter, after exercising uncharacteristic fiscal restraint in the previous two offseasons, the New York Yankees were widely expected to throw caution to the wind - to, y'know, act like the New York Yankees. Despite winning 100 regular-season games in 2018 after coming within one victory of a pennant the season prior, the Yankees were manhandled by the Red Sox in the American League Division Series, and a superstar, it figured, could put them over the top and help snap the franchise's almost decade-long World Series drought.
Instead, the Yankees were relatively staid once again, making a host of less-risky moves and opting not to break the bank for a top-of-the-market stud. They didn't sign Bryce Harper. They didn't sign Manny Machado. And despite the somewhat dubious state of their rotation, they didn't sign Patrick Corbin, who ended up with the Washington Nationals and months later earned a World Series ring.
For their part, the Yankees won 103 regular-season games before being ousted in the American League Championship Series by the Houston Astros. Notably, though, they incurred no luxury-tax penalties in 2019, a quiet goal of general manager Brian Cashman, who said last November that it "would not be the preference" to exceed the league's $206-million threshold.
As such, following yet another season in which the Yankees were good but not quite good enough, it was hardly a fait accompli that they'd go out this winter and sign a big-name starter who could usher them to the promised land, especially with $196 million already committed toward their 2020 payroll. After all, the franchise still made loads of money this past year - with playoff revenues to boot - and in a climate where fielding a competitive team had become optional, it was fair to wonder if the Yankees would ever start acting like the Yankees again.
Well, wonder no more. The Yankees are done messing around.
On Tuesday night, New York flexed its financial might in unprecedented fashion, signing free-agent right-hander Gerrit Cole to a nine-year, $324-million contract, reportedly outbidding the Los Angeles Dodgers, Los Angeles Angeles, and a pair of mystery teams for his services. It's both the largest free-agent contract in franchise history and the largest deal ever given to a pitcher, eclipsing, as expected, the $245-million contract that Stephen Strasburg inked with the Nationals on Monday.
Cole's annual average value of $36 million is also the highest in baseball history, and his new contract includes both a full no-trade clause and an opt-out clause after the 2024 campaign. With this one mammoth move, the Yankees instantly became the best team in the majors.
Even without Cole - and with Giancarlo Stanton, Luis Severino, Miguel Andujar, Aaron Judge, Aaron Hicks, and Didi Gregorius all missing extended periods of time because of injury - the Yankees finished 44 games above .500 in 2019 with a plus-204 run differential. Still, their rotation left much to be desired amid Severino's nearly season-long absence, with Masahiro Tanaka, J.A. Happ, CC Sabathia, Domingo German, and newcomer James Paxton forming a decidedly underwhelming quintet.
Collectively, New York's rotation finished ninth in the American League in WAR (10.6), eighth in fielding independent pitching (4.74), and tied for eighth in quality-start rate (33%). That lack of top-end starting pitching factored heavily into their ALCS defeat, too: Paxton and Tanaka each managed one good start and one shaky outing in the best-of-seven series against Houston, and manager Aaron Boone tellingly opted to use an opener in a must-win Game 6.
Cole, however, changes things dramatically. Over two seasons with the Astros, the former No. 1 overall pick of the Pittsburgh Pirates became arguably the game's most dominant starter. A repertoire tweak and a marked increase in spin rate helped make Cole - already blessed with a triple-digit heater and a nasty curveball - effectively unhittable for much of the last two years, during which he led the AL in WAR (13.4) while fashioning a 2.68 ERA (164 ERA+) and a 0.96 WHIP.
In 2019, Cole put up the finest season of his career, managing a 2.50 ERA (185 ERA+) and a 0.90 WHIP over 212 1/3 regular-season innings while leading the majors in strikeouts (326), strikeout rate (39.9%), and, among pitchers with at least 500 plate appearances, expected weighted on-base average (.238).
In case that doesn't get the point across, consider this: Cole suffered his final regular-season loss on May 22. From July 17 onward, the Astros didn't lose a single contest started by Cole until Oct. 22, when he allowed five runs over seven innings in Game 1 of the World Series.
With Cole atop their rotation, the Yankees - who aren't poised to lose any key players to free agency - should waltz to a third straight 100-win season, and they're better equipped for a deep October run than they've been at any point in the last decade. If Severino bounces back, it's difficult to imagine any other team hoisting the Commissioner's Trophy in 2020.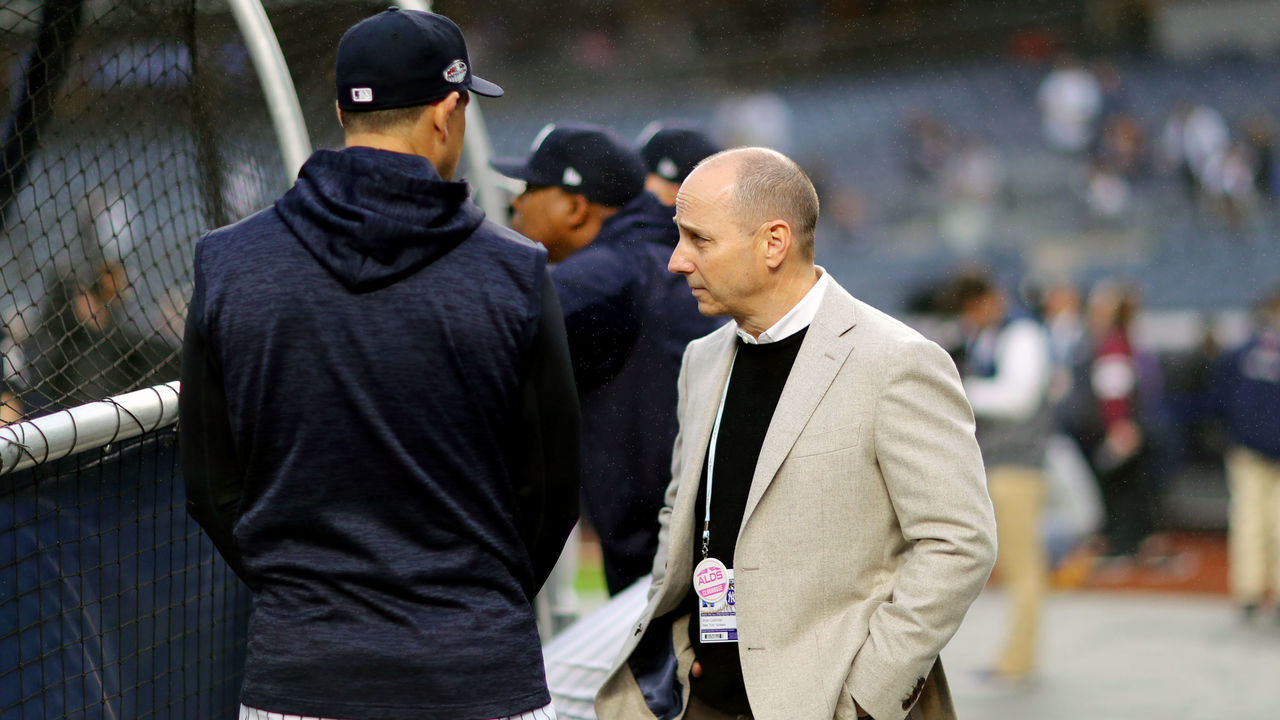 Of course, any deal of this size comes with considerable risk, too. Cole is still a pitcher, and while he's eclipsed 200 innings in each of the last three seasons, he dealt with persistent elbow inflammation in 2016 and battled shoulder fatigue and lat soreness in 2014. Moreover, the correlation between velocity and injury risk is clear: The harder you throw, the likelier you are to get hurt. Few starters throw harder than Cole, whose four-seamer averaged 97.4 mph in 2019, according to Brooks Baseball, and topped out at 101.4. In any event, the possibility of the Yankees paying him $36 million a year to be hurt or ineffective down the road is very real. He'll be 37 in the final season of his contract. In the last half-decade, only four pitchers tossed enough innings to qualify for the ERA title in their age-37 season. Only one of them, John Lackey, posted an ERA+ that was well above average.
Additionally, unless the Yankees find a way to clear out some payroll (they're reportedly trying hard to trade Happ), they'll incur luxury-tax penalties in 2020, having blown well past the new $208-million threshold after signing Cole. Right now, the team's projected cap hit is $245 million, according to Cot's Contracts, which means penalties could include draft-pick forfeiture and a reduction of international bonus pool money in addition to paying the tax.
Clearly, though, all that other stuff doesn't matter anymore. The Yankees wanted to add the best pitcher available, no matter the cost, and they did. Doing so evoked the good old days of George Steinbrenner. Or, y'know, 2014, when the Yanks spent almost $450 million in the span of a few months to acquire Jacoby Ellsbury, Masahiro Tanaka, and Brian McCann.
Those Yankees, at long last, are back.
Watch out.
Jonah Birenbaum is theScore's senior MLB writer. He steams a good ham. You can find him on Twitter @birenball.