Hall of Fame debates are a staple of sports arguments - whether a player's amassed the credentials to be honored among the best in their sport is prime fodder for discussion over a beer. We're spotlighting a collection of players who we believe either deserve the distinction but haven't yet been inducted, or don't quite measure up but had a great impact on their franchise or sport.
Long before Jose Bautista's indelible bat flip, the bat flip, another prodigious Toronto Blue Jays slugger pulled off a pretty epic one himself.
On a balmy September evening in 2003, Carlos Delgado, the heavy-hitting first baseman whose mighty bat gave the Blue Jays something throughout one of their most forgettable epochs, uncorked a bat flip that, in terms of both distance and velocity, put Bautista's to shame. The circumstances warranted it: Delgado had just clobbered his fourth home run in as many at-bats, becoming at the time only the 13th player ever to go deep four times in a game.
Delgado's burst of elan, however, didn't capture the public imagination like Bautista's did. To be sure, there are legitimate reasons for that - the stakes were lower, for one, and there was no social media to make his bat flip go viral - but it's nevertheless fitting that the single most unforgettable moment of Delgado's superb career doesn't really exist in the collective memory of baseball fans outside Toronto.
After all, Delgado's brilliance was routinely overlooked throughout his 17 years in the majors, either dwarfed by the eye-popping, performance-enhancing-drugs-inflated numbers of his contemporaries or flat-out ignored because he spent the bulk of his career playing for a perennial non-contender in a different country.
For those reasons, Delgado earned just two All-Star appearances throughout his career, which spanned from 1993-2009, and only twice did he crack the top five in MVP voting. But his relatively bare cupboard belies his greatness. Blessed with immense power and a discerning eye, Delgado was one of the best hitters of the Steroid Era, a model of consistency and excellence who never elicited an incriminating whisper. And he was a historically prodigious slugger - his 473 career home runs place him 34th on the all-time list.
That Delgado never had a fighting chance of being voted into Cooperstown by the BBWAA says more about the Hall of Fame's flawed electoral process than it does about his career. In 2015, his first year on the ballot, Delgado received just 3.8% of the vote thanks to the influx of deserving candidates and the Hall's nonsensical rule limiting writers to voting for only 10 players. Thus, he was unjustly rendered a one-and-done. "Carlos Delgado is the best player in history to get booted off the Hall of Fame ballot after his first year," ESPN's Jayson Stark wrote at the time.
While there's no disputing that, Delgado's case is, in truth, a borderline one. By JAWS, Jay Jaffe's widely used Hall of Fame evaluation model that averages out a player's career WAR with his WAR during his seven-year peak, Delgado falls well below the threshold for induction for first basemen. He doesn't have any team success supporting his case either, as foolish as that notion may be in a sport like baseball. He wasn't able to meaningfully burnish his resume in the postseason because he almost never played into October.
Still, all hope isn't lost. Last year, one of the Hall's auxiliary voting committees elected Harold Baines, a plainly inferior hitter. That should give Delgado reason for optimism heading into the next meeting of the Today's Game era committee in 2021.
Whether he ends up in Cooperstown or not, though, as one of the few unimpeached stars of the Steroid Era, Delgado deserves to be remembered regardless.
So let's remember him.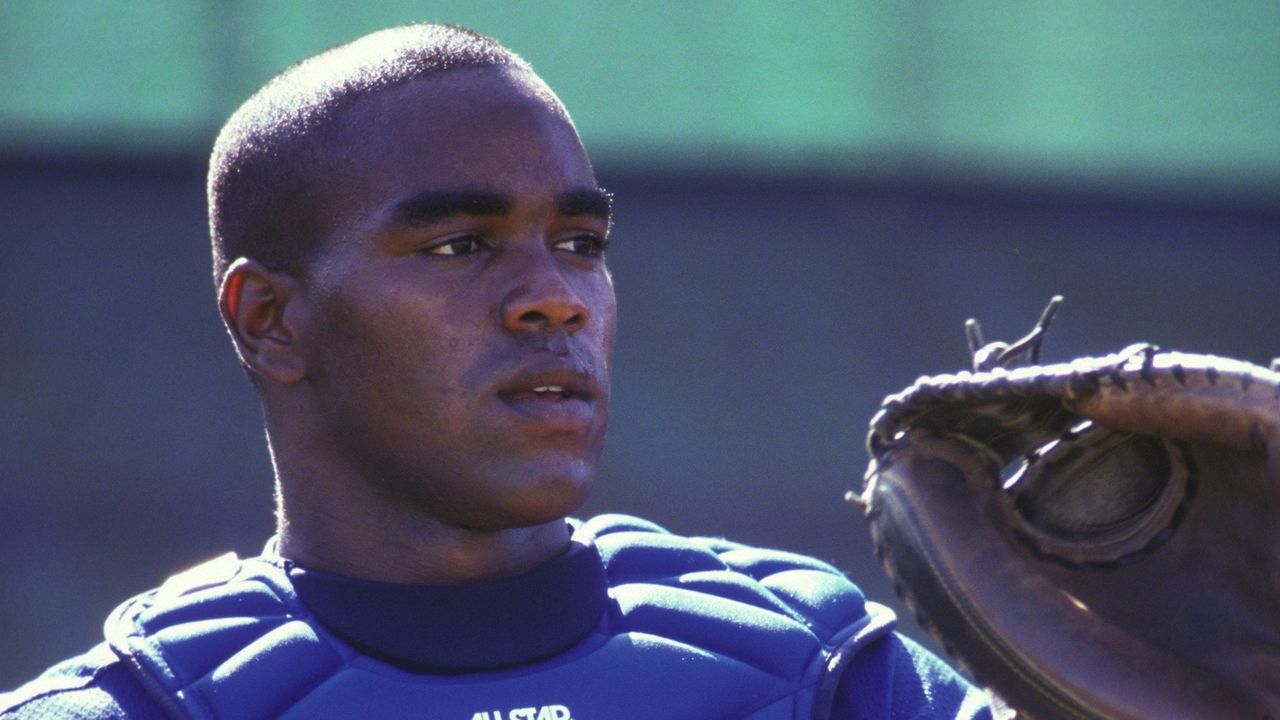 In 1994, as the Blue Jays began a swift transition into a perpetual bottom-feeder following a second straight World Series championship, Delgado, an ascendant 22-year-old catcher whom the club signed as a teenager out of Puerto Rico, broke camp with the big-league club. He didn't last long. Though he got off to a torrid start at the plate, smashing eight homers in his first 13 games, Delgado was a disaster playing in left field, the new position foisted upon him, and his bat soon cooled.
In June, the Blue Jays sent Delgado, whose average had plummeted to .215 because of a massive strikeout problem, back to the minors. He didn't return to Toronto that year, and his limited action with the Blue Jays in 1995 was no more promising: in two stints with the big-league club, Delgado, still a begrudging left fielder, hit .165/.212/.297 in 99 plate appearances.
Finally, though, the Blue Jays abandoned the outfield experiment in 1996, deciding instead to simply let the kid hit. With Paul Molitor gone to Minnesota as a free agent, the Blue Jays made Delgado their primary designated hitter. After slashing .318/.403/.610 in Triple-A in 1995, he was ready, and he flourished.
In his first full season at the big-league level, largely free of defensive responsibilities, Delgado hit .270/.353/.490 in 138 games, smashing 25 home runs while adding 28 doubles and leading the newly moribund Blue Jays' everyday players in OPS (.843) and wRC+ (111). The following year, Delgado settled into first base, replacing outgoing franchise legend John Olerud. Delgado reached the 30-homer plateau for the first time and finished fifth in the American League with 75 extra-base hits.
Those two seasons only hinted at the potential lurking inside his bat. He didn't hit fewer than 30 home runs in any of the next nine seasons, ultimately stringing together more consecutive campaigns of 30 or more dingers than every player in baseball history except Barry Bonds, Alex Rodriguez, Albert Pujols, and Jimmie Foxx.
Delgado blossomed into a bona fide star in 1998, adding more power while also hitting for a higher average to thrust himself into the league's upper class of hitters. That summer, as Mark McGwire and Sammy Sosa's unforgettable home-run chase hijacked every sports page in the country, Delgado inconspicuously put up 5.7 WAR, good for 10th in the AL, while hitting .292/.385/.592 (145 wRC+) with 38 homers, 43 doubles, and 115 RBI en route to a down-ballot MVP vote.
So began the most productive stretch of Delgado's unfailingly productive career, an eight-year run in which he consistently raked at an elite level - albeit in the shadow of drug-fueled titans like Bonds, Rodriguez, and Manny Ramirez. He commandeered the Blue Jays' franchise record book and became (for a time, at least) the game's highest-paid player.
From 1998 through 2005, Delgado put up a .987 OPS, ninth among qualified hitters over that span, while averaging 38 homers, 39 doubles, and 93 walks per season. In 1999, he clobbered a career-high 44 home runs. In 2000, he set personal bests in batting average (.344) and OPS (1.134), while leading his league in doubles (57) and total bases (378).
In 2003, the year of his four-homer performance, Delgado drove in 145 runs - the ninth-highest single-season mark of the 21st century - and led the AL with a 1.019 OPS, good enough to finish runner-up to Rodriguez in MVP voting. Over that span, only once did Delgado appear in fewer than 142 games.
By the time he signed his four-year, $52-million deal with the Florida Marlins ahead of the 2005 campaign, Delgado had annexed first place on the Blue Jays' all-time leaderboards in homers, doubles, OPS, isolated power, walks, runs, and RBI, records he still holds to this day.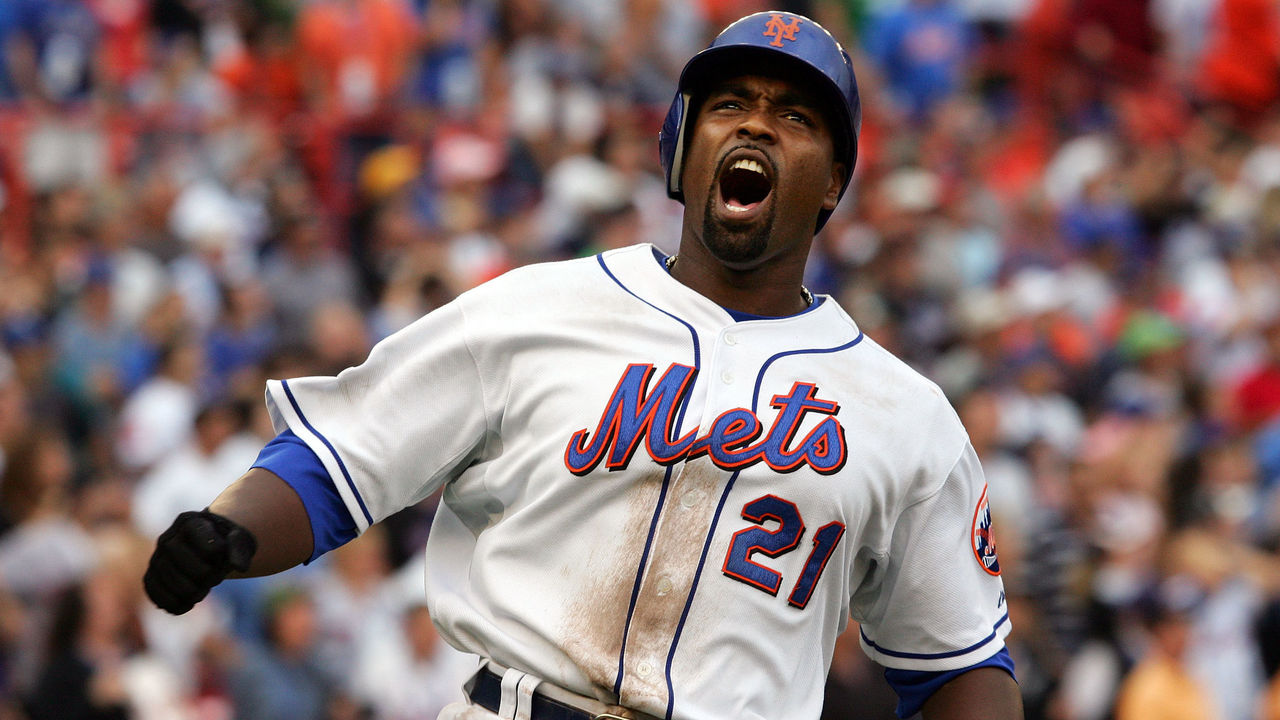 Delgado continued to swing it at a high level after leaving Toronto, too. In his only season in Florida, he finished sixth in NL MVP voting after hitting .301/.399/.582 with 33 homers and 44 doubles. The Marlins then shipped Delgado to the New York Mets as part of a broader payroll-slashing scheme.
Delgado proved to be the missing ingredient in Queens, as his still-potent bat - he managed a .909 OPS with 38 dingers - helped propel the Mets to their first division title in nearly two decades. His efforts to push the club to a pennant were nothing short of Herculean: in 10 games that October, the only postseason action of his career, Delgado hit .351/.442/.757 with four homers.
His second season with the Mets was a disappointment, and perhaps a foreboding one for Delgado, who, at 35, hit only 24 homers with a .781 OPS en route to his worst season since becoming a full-time player in 1996. Delgado bounced back the following season, at least momentarily, when he blasted 38 homers in 159 games while dealing with a hip impingement.
The Mets exercised the team option on his contract for the 2009 season, but almost immediately Delgado's body started to break down, precipitating a quick and unceremonious end to his career. Five weeks in, as he was enjoying a sensational start to his 17th big-league season, Delgado started experiencing pain in his hip and was shortly thereafter diagnosed with a bone spur and a torn labrum.
Surgery was expected to sideline him for 10 weeks, enabling him to return shortly after the All-Star break, but Delgado never played another game in the majors. He missed the remainder of the 2009 season after undergoing surgery and called it quits two years later following unsuccessful attempts to revive his career in Puerto Rico and in the Boston Red Sox' minor-league system.
Ultimately, had his body cooperated a little longer, Delgado likely would've reached the 500-homer plateau and been enshrined in Cooperstown years ago. (Only six of the 24 Hall of Fame-eligible members of the 500-homer club have been excluded, and all six have either been linked to or admitted to using PEDs.)
Even without that proverbial feather in his cap, though, Delgado's overall body of work is still damn compelling. He hit more homers than Carl Yastrzemski and Vladimir Guerrero. He posted a higher OPS than Hank Aaron and Frank Robinson. After adjusting for league and park effects, he was a more dangerous hitter than Ken Griffey Jr., and George Brett. He was feared even in an era when every hitter was capable of going deep at any time, and his year-in, year-out excellence cemented him both as a franchise icon and one of the greatest hitters of his generation, even if most fans didn't realize it at the time.
Maybe, one day, he'll be a Hall of Famer, too.
Jonah Birenbaum is theScore's senior MLB writer. He steams a good ham. You can find him on Twitter @birenball.