Full Count is theScore's weekly baseball notebook.
Pitching depth has been more critical than ever in 2020, a uniquely taxing season due in part to its unusually condensed schedule, and that depth will continue to play an immense role in each team's success or failure come October.
Major League Baseball's postseason schedule, which was released this week, notably includes no off-days during each series. This makes for an unprecedented development - made possible by the use of neutral sites for the majority of the postseason and the consequent elimination of in-series travel - that will fundamentally alter the way teams construct their rosters and strategize.
Historically, teams have been able to navigate the postseason without relying on their back-end starters or most untrustworthy relievers thanks to timely off-days for travel. Last year, for instance, the Houston Astros didn't use a fifth starter in the World Series, and one of either Gerrit Cole, Justin Verlander, or Zack Greinke started six of their seven games against the Washington Nationals. Meanwhile, the triumvirate of Max Scherzer, Stephen Strasburg, and Patrick Corbin logged nearly 60% of Washington's postseason innings en route to the team's championship.
It was regular rest that allowed the two pennant winners to rely so heavily on their respective stars, and that kind of optimization is out the window this year, at least through the first three rounds of the postseason. (The World Series will still have its traditional off days following Game 2 and 5.) The league division series could mean five games in five days, and the league championship could mean seven games in seven days. Within that context, each roster decision carries far more weight and each tactical maneuver has outsized consequences. It may well be the deepest team - not the most star-studded one - that has the best chance to hoist the Commissioner's Trophy.
| Round | Best of | AL | NL | Off days |
| --- | --- | --- | --- | --- |
| Wild card | 3 | Sept. 29-Oct. 1 | Sept. 30-Oct. 2 | 0 |
| Division | 5 | Oct. 5-9 | Oct. 6-10 | 0 |
| League champ. | 7 | Oct. 11-17 | Oct. 12-18 | 0 |
| World Series | 7 | Oct. 20-28 | | 2 |
No team in the American League has a better record than the Chicago White Sox, but are the Cleveland Indians - currently six games behind their resurgent division rival - better suited for a deep October run thanks to their superior rotation depth? Can the New York Yankees snap their drought with only one trustworthy starter - Gerrit Cole - and no built-in rest days for their trove of high-octane relievers?
In any event, with its compressed, unforgiving schedule, the 2020 postseason will at least resemble the regular season that preceded it from a tactical perspective, which distinguishes it from a typical October. Managers won't be able to hide behind their stars this postseason. Every pitcher on every roster will have to contribute, including those guys who wouldn't have sniffed a postseason spot in years past. It'll be a slog.
It'll also be a lot of fun.
Who did what now?
When Major League Baseball announced its plan for a sprint of a season in June, it seemed like a foregone conclusion 2020 would feature more than a few statistical aberrations. Sixty games is a small sample, after all, and crazy things happen over small samples. It seemed possible some schlub could end up taking home one of the game's major awards thanks to an uncharacteristically hot eight-week stretch.
As it happens, with just over a week left in the regular season, most of the leaderboards look rather … normal. Fernando Tatis Jr. and Freddie Freeman are tied for the MLB lead in WAR; Juan Soto leads the majors in OPS; Trevor Bauer boasts the game's lowest ERA; Liam Hendriks has the most saves. Nothing too out of the ordinary there.
Still, that's not to say there haven't been some commanding, completely out-of-nowhere performances this year, because there have. Here are a few of them: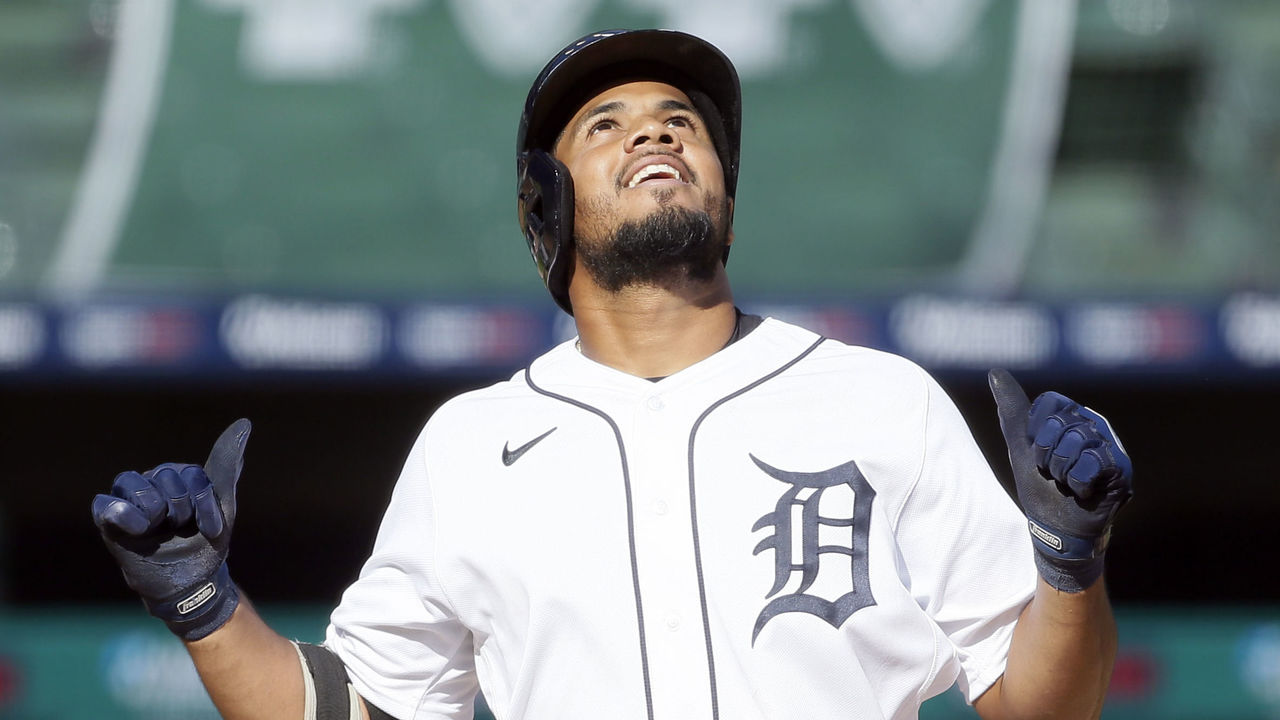 Jeimer Candelario (DET), a 26-year-old corner infielder who mustered a .693 OPS through his first four seasons in the big leagues, owns a .325/.381/.554 line in 2020 and a higher wRC+ (152) than Eloy Jimenez, Rhys Hoskins, and Jose Ramirez.

Donovan Solano (SF), a 31-year-old utility man who spent the entirety of 2017 and 2018 in the minor leagues, is tied for fifth in the majors in batting average (.342) and has more three-hit games (seven) than every player except Jose Abreu, Tim Anderson, and Trea Turner.

Mike Yastrzemski (SF), the once-frustrated grandson of Red Sox legend Carl Yastrzemski, sits in the top 20 in the majors in OBP (.390), wOBA (.397), and wRC+ (153) one year after making his big-league debut at age 28.
Rejoice, Mets fans
Over the past two decades, the Wilpons - patriarch Fred and son Jeff - turned the New York Mets into a punch line with their incessant meddling, penny-pinching, and garden-variety incompetence. So it was welcome news in Queens when they sold their controlling stake in the franchise to hedge fund billionaire Steve Cohen earlier this week for roughly $2.4 billion.
Will a new owner immediately transform the Mets, a team that hasn't made the postseason since 2016, into a perennial World Series contender? Not necessarily. But Cohen's immense wealth, even by baseball-owner standards, is reason for optimism, as is the fact Cohen needs only to get out of the way and not undermine his club's baseball operations department in order to be an improvement over his predecessors.
La Stella's standout season
Of all the statistical anomalies to come out of this bizarre season, few are as astonishing as Tommy La Stella's walk-to-strikeout ratio, which has been downright Bonds-ian in 2020. Thanks to a marked improvement in his two-strike whiff rate, La Stella, who has always been difficult to strike out, has fanned just eight times in 173 plate appearances this season, or just 4.2% of the time. It's a rate so low it's anachronistic: no qualified hitter has managed a strikeout rate below 5% since Placido Polanco in 2007, and only four other players have done it this century. (Yes, this truncated season complicates what it means to be a "qualified hitter" within a historical context. Still.)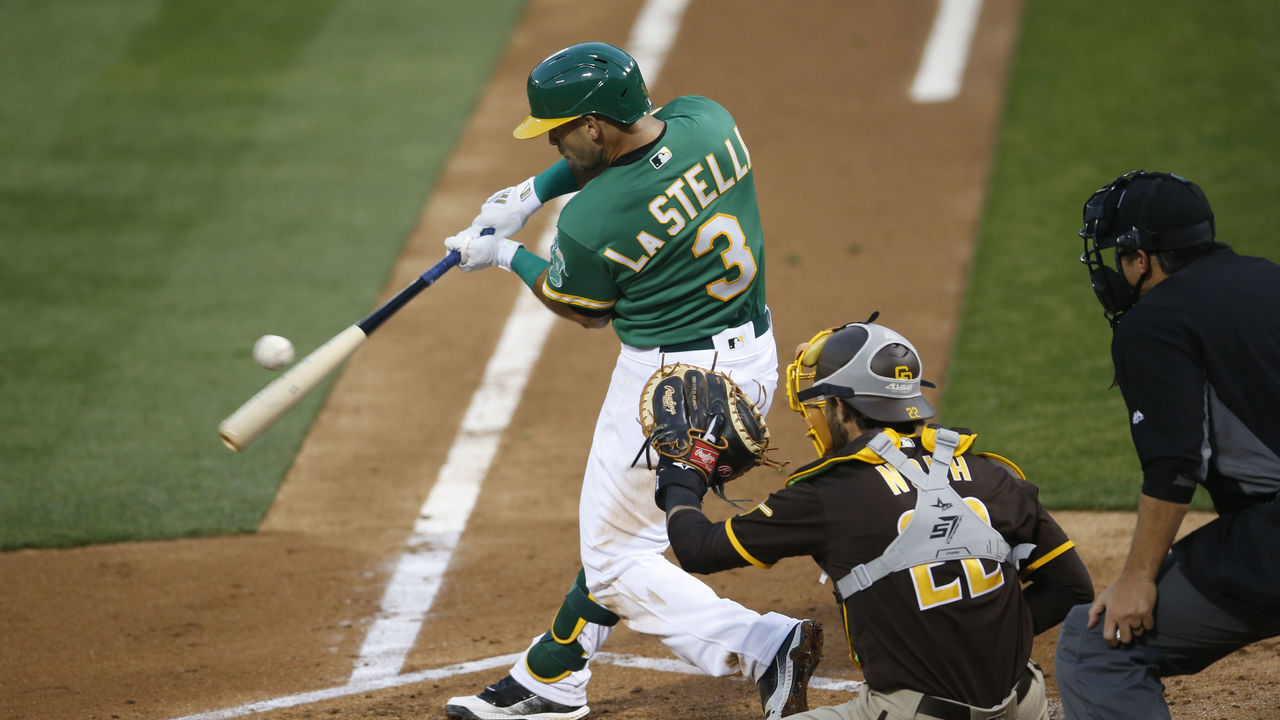 Meanwhile, La Stella - whom the Los Angeles Angels shipped to the Oakland A's ahead of the trade deadline - has also been far more selective at the plate this year, swinging at a career-low 36.7% of the pitches he's seen. Only six qualified hitters have been more selective in 2020 than La Stella, whose newfound patience has fueled a walk rate (11.6%) that's almost double what it was in 2019 (6.2%), when he earned an unexpected All-Star nomination following five seasons as a role player.
Together, those changes have propelled him to the finest offensive season of his career by OPS+ (125) while giving him the highest walk-to-strikeout ratio (2.75) by a qualified hitter since Barry Bonds in 2004, when the seven-time National League MVP drew 263 walks - 120 of which were intentional - and struck out only 41 times.
Talk about elite company.
Jonah Birenbaum is theScore's senior MLB writer. He steams a good ham. You can find him on Twitter @birenball.