The Golden State Warriors lived to fight another day with a 106-105 win over the Toronto Raptors, but Kevin Durant's injury left a grim cloud hanging over the proceedings.
Here are some takeaways from Game 5 of the NBA Finals:
A strange, somber scene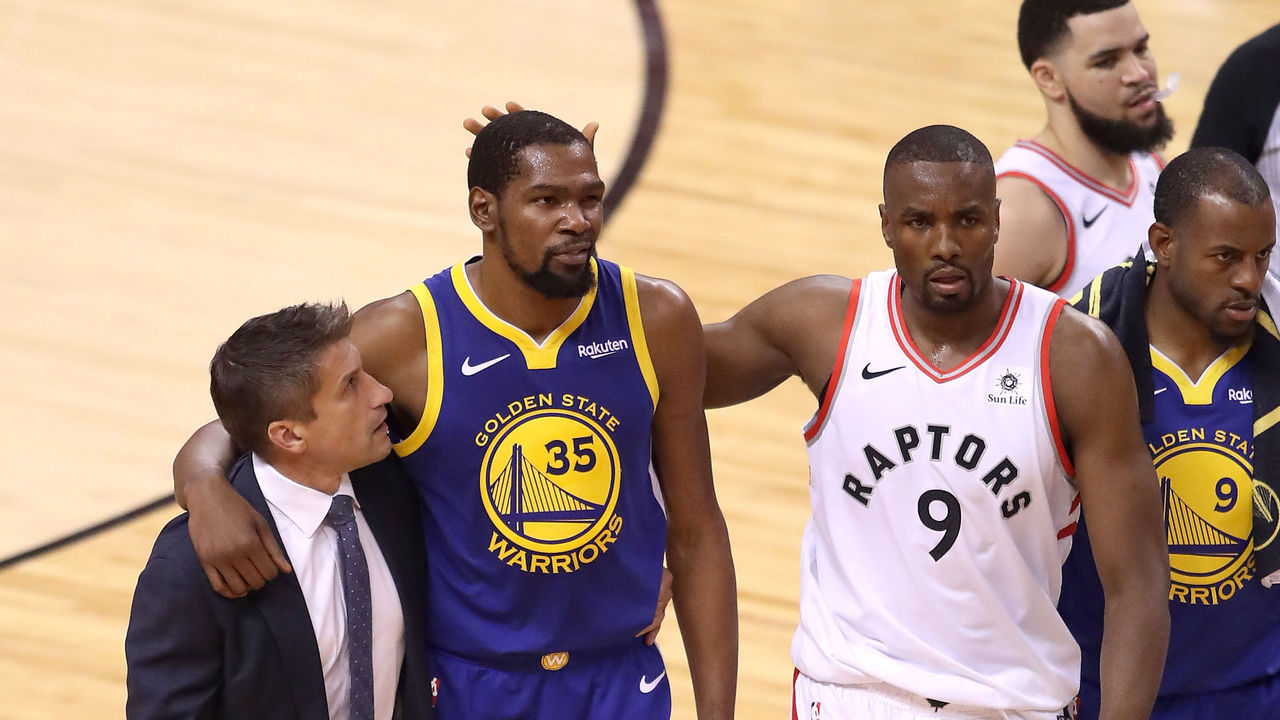 The backstage area that media has access to at NBA games is usually a busy blur of stars and activity, particularly during events like The Finals, and especially following a tight finish. But the postgame scene after Monday's Game 5 in Toronto was one of the strangest, most eerie atmospheres I've ever encountered in an arena.
The Raptors were dealing with all of the emotions that come with losing a potential closeout game in the NBA Finals after blowing a six-point lead down the stretch. Championship apparel waited outside the home locker room in the final minutes of regulation, while Bill Russell was on the scene and ready to present The Finals MVP award (presumably to Kawhi Leonard). But after a 9-2 Warriors run and a blocked Kyle Lowry buzzer-beater attempt, the championship swag was being hastily moved out of sight, Russell was being escorted away, and the Raptors were mentally preparing for another trip to Oracle Arena.
For the Warriors, and for the NBA community at large, there was no time to celebrate. Instead, team president Bob Myers addressed the media to confirm that Durant had suffered an Achilles injury when he crumpled to the floor in the second quarter, only 12 minutes of action into his return from a calf strain that had sidelined him for a month.
Stephen Curry and the rest of the Warriors were visibly shaken as news began to trickle in. A choked-up Myers fought through tears during his five-minute news conference, and by the end of it, the result of a Finals game seemed trivial.
With all due respect to Golden State's resilience, there were no winners on this night. The Raptors lost the game in heartbreaking fashion, but the Warriors, Durant, and the game of basketball lost so much more. We're talking about perhaps the best pure scorer the sport has ever seen, and certainly one of its greatest singular talents, suffering a potential Achilles tear on the wrong side of 30.
In the days and weeks to follow, there will be plenty of debate and investigation into how a star of such magnitude was put in such a perilous position. Was Durant misdiagnosed from the beginning? Was he under indirect organizational pressure to get back on the court with the Warriors down 3-1 and some of his teammates playing through injuries of their own? How could he have been cleared when he was at risk for this type of catastrophic injury?
The answers will come, but until we know them, we should appreciate the sacrifice Durant made to appear in this series. A future first-ballot Hall of Famer with two Finals MVP awards to his name has nothing left to prove, regardless of what professional trolls or the minority of fans in Toronto who cheered his injury believe. That Durant risked his body in a free-agent year to get back on the court, anyway, is a testament to his love of the game and his dedication to his team; a dedication far too many pundits were questioning just last week.
Remarkably, though he was playing on a compromised leg, Durant walked off the court having scored 11 points on 3-of-5 shooting, and was a team-high plus-six in his 11:57 of game time. That's just unconscious offensive greatness.
A trademark Warriors run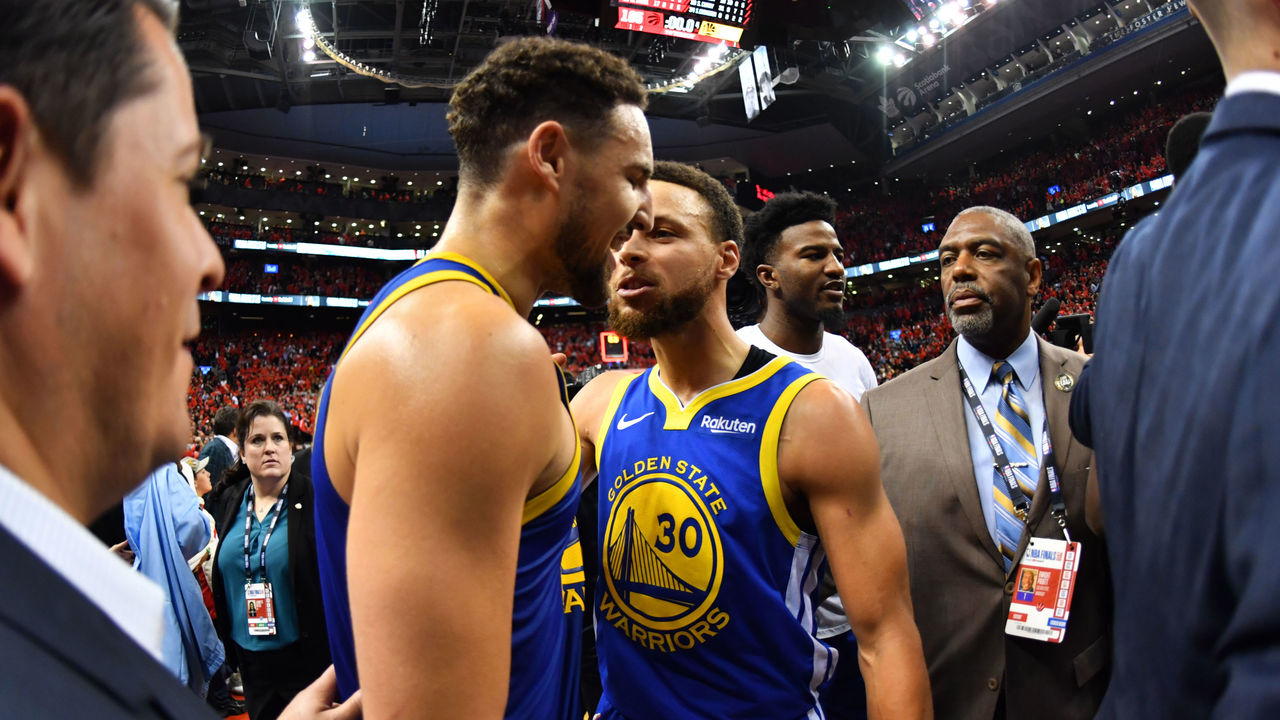 After Leonard and Lowry fueled a fourth-quarter run to put the Raptors up six, the wheels came off for Toronto down the stretch, and the defending champs refused to go quietly into the night.
With two-and-a-half minutes remaining, Klay Thompson used two (flipped) Draymond Green screens on Leonard - one freeing Thompson up to receive the ball, and the second giving him the required space to shoot it - to unload a 3-point bomb. One-possession game.
With a minute and a half remaining, Curry gave the ball up on the perimeter, sprinted through the paint and around a pindown screen from DeMarcus Cousins to get all the separation he needed from a pursuing Fred VanVleet, and calmly buried his fifth 3-pointer of the night. Tie game.
Then, with just under a minute left, a possession that saw four Warriors touch the ball ended with Thompson catching it on the perimeter, pump-faking and waiting out Leonard's closeout, and knocking down his seventh trey of the night to give the Warriors a three-point lead with 56.6 seconds to go.
Lowry answered with a layup that cut Golden State's lead to one - sandwiched between two Warriors turnovers - giving Toronto the ball for a potential championship-winning possession. With the Splash Brothers already stealing enough of the spotlight, it was time for Green's otherworldly defense to shine, as the former Defensive Player of the Year deflected Lowry's potential game-winner to send the series back to California.
There was plenty more to dissect from those frantic final minutes. Lowry committed a crucial turnover, he and Leonard both missed jumpers, Marc Gasol was stonewalled by Cousins on a contentious play at the rim, Andre Iguodala made a fantastic defensive read on the final possession to force the ball out of Leonard's hands, and the Warriors were far too careless for a team playing for its life. All that aside, if Golden State's reign atop the NBA comes to an end at some point in the next couple games, at least the trio of Curry, Thompson, and Green gave us one last patented run to remember them by. Cue Rudy Tomjanovic.
A tale of two timeouts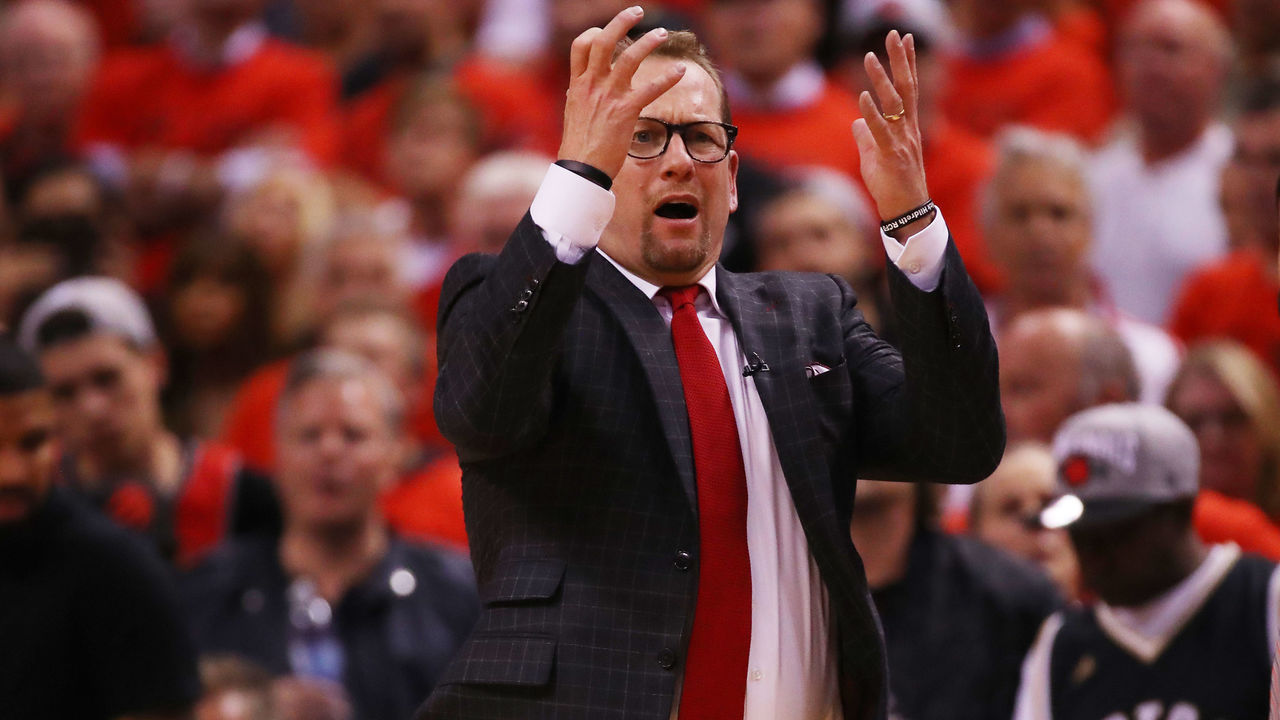 Raptors head coach Nick Nurse has orchestrated an impressive postseason to date, but his timeout management down the stretch of Game 5 left many scratching their heads.
The first decision in question was calling two timeouts with 3:05 remaining - with the Raptors on a 12-2 run and fresh off their sixth stop in the last seven defensive possessions.
"We had two free ones that you lose under the three-minute mark, and we just came across and decided to give those guys a rest," Nurse said of using back-to-back timeouts at such an unusual time, referring to the rule that any timeouts in excess of two will be scrapped after the three-minute mark (the Raptors had four remaining).
There are holes in Nurse's theory.
For one, the wounded Warriors appeared far more fatigued than the Raptors did at the time, so by calling not one, but two timeouts at such a critical juncture, Nurse let the winded champs off the ropes.
Second, if Nurse subscribes to a use-it-or-lose-it mentality when it comes to timeouts, then why didn't he take his final timeout of the game when the Raptors secured possession down one with 15.7 seconds remaining and a chance to win the championship? It would have been one thing if the Warriors had committed a live-ball turnover and Nurse didn't want them to set their defense, but the Raptors had gained possession thanks to an offensive foul on Cousins, so it was already a dead-ball scenario.
If Lowry hits a corner three to win the title, nobody's thinking about these puzzling decisions, but the spacing between Gasol and Lowry on that final possession wasn't great (Gasol was too close after an attempted screen gone awry, allowing Green - Gasol's defender - to more easily contest Lowry's shot), and those are the details that could come back to haunt you when you give a team like the Warriors new life.
What to watch for
It'll be the last game at Oracle.
The NBA's oldest arena will host its final game Thursday night, and the Warriors will want to give Oakland a worthy send-off before they move across the Bay to San Francisco next season.
The Raptors are 3-0 at Oracle this year, making them the first team in 24 years to win three road games at Golden State. Can they possibly make it four, ensuring the final images of Oracle feature celebrating Canadians?
Another Game 6 storyline to monitor is Green's temperament after he received his sixth technical foul of the postseason on Monday. Getting T'd up in Game 6 would result in a suspension for Game 7.
Quote of the game
"F--- them. F--- 'em." - DeMarcus Cousins, on those who doubted Kevin Durant's heart while he was sidelined with a calf injury.
Finals MVP if series ended today
1. Kawhi Leonard
2. Stephen Curry