After "The Last Dance" reminded fans of the greatness of Scottie Pippen existing in the shadow of Michael Jordan, theScore's feature writers decided to examine some of the most compelling second bananas in other sports. Previous entries in the series came from college football, MLB, the NHL, and the NFL. Today, we look at Pippen himself.
"The Last Dance" gave us another excuse to marvel at the greatness of Michael Jordan and appreciate the competitive fires that burned within His Airness. But the 10-part docuseries also provided us a window into what made those great Chicago Bulls teams tick, whether it was Dennis Rodman's need to be free, or the growing divide between Phil Jackson's zen-master style and general manager Jerry Krause's need for validation.
Look deeper into how those Bulls were built - and how they ultimately unraveled - and one thing becomes clear: Scottie Pippen was the glue that held it all together.
Jordan might've breathed life into a moribund franchise when he arrived in 1984, but it would take him four years to transform the Bulls from a cute sideshow into a winning ball club.
Sure, the Bulls made three straight playoff trips in Jordan's first three seasons, but they won only one postseason game. They went a combined 108-138 during that period, topping out at 40 wins. It was Pippen's arrival in 1987 that turned Chicago into a perennial juggernaut. The 1987-88 Bulls went 50-32 and finally won a playoff series.
Pippen's skill set was ahead of its time. The Central Arkansas product could serve as a point-forward or small-ball big man on offense - years before anyone was even using those terms - while providing a matchup nightmare across all five positions on the defensive end.
Jordan and Krause took home MVP and Executive of the Year honors for Chicago's 1987-88 breakthrough, but both men owe some of that recognition to Pippen for elevating the team's two-way potential.
Chicago was coming off six straight losing seasons when Krause traded for Pippen at the 1987 draft. The Bulls enjoyed 11 winning campaigns in Pippen's 11 years in the Windy City and won at least one playoff series each year. That run included Jordan's 21-month basketball hiatus; when everyone else wrote the Bulls off, Pippen used those two seasons to showcase his transcendent talents.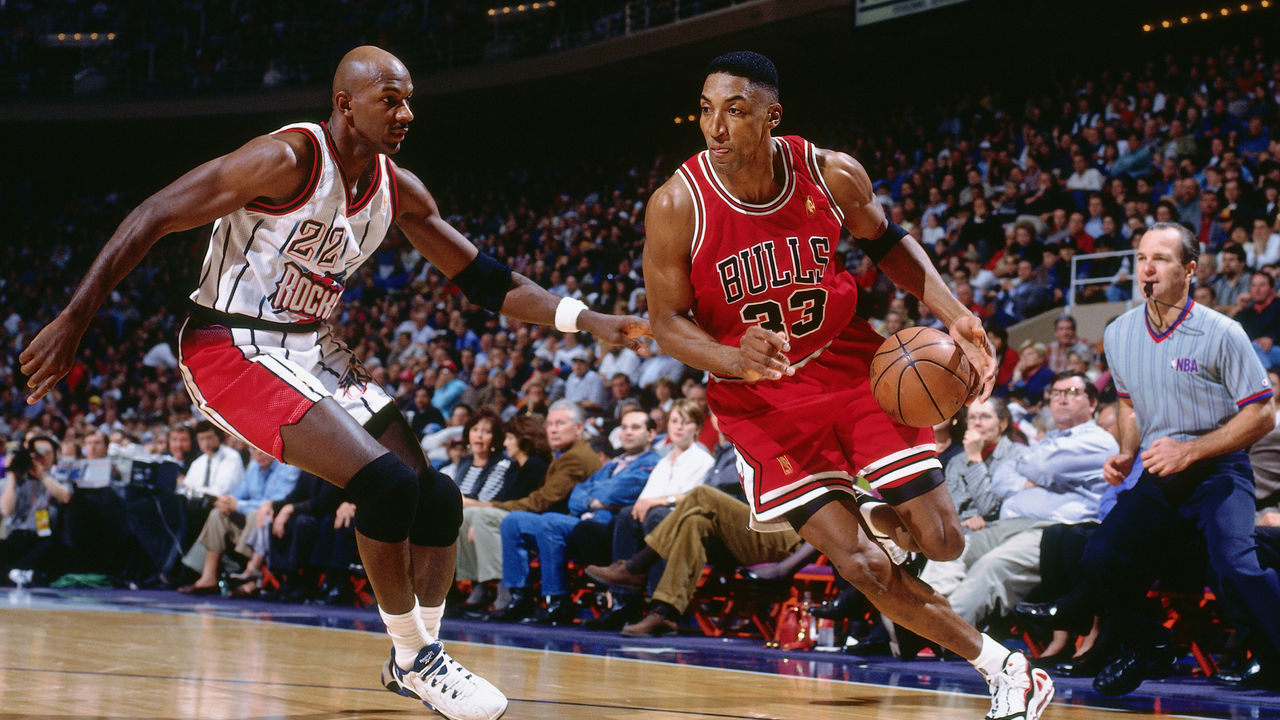 If anyone doubted Pippen's alpha potential through Chicago's first three-peat, Jordan's premature retirement exposed the folly of that belief. For the 1993-94 and 1994-95 seasons, Pippen averaged roughly 22 points, eight rebounds, five assists, three steals, and one block while shooting nearly 49% from the field and knocking down a three-pointer per game.
The Bulls won 55 games without Jordan in 1993-94 - a season that included All-Star Game MVP honors for Pippen - before taking the eventual conference champion Knicks to seven games in the Eastern semis. And no one has ever put together a season quite like Pippen's 1994-95 campaign. His stat combination that season - at least 21 points, eight rebounds, five assists, two steals, and a block per game - has never been matched. The only guys to even come close are Magic Johnson, Larry Bird, and Jordan himself.
Pippen's value was skyrocketing in every conceivable way except one: his salary.
A small-town underdog from a family of 12 children with a brother and father in wheelchairs, Pippen believed he couldn't let long-term security pass him by when he was offered an extension in 1991. He signed a seven-year, $18-million contract, and quickly became the NBA's biggest bargain.
Krause and Bulls owner Jerry Reinsdorf refused to renegotiate that deal, even as Pippen emerged as one of the game's preeminent superstars. The team-friendly contract allowed Chicago to further bolster Jordan's supporting cast, so no one was jumping at the opportunity to stand up for their underpaid teammate.
Pippen outperformed his contract beyond the Bulls' wildest dreams. And as the team's multidimensional second banana grew restless, the cracks in Chicago's foundation - cracks that would bring the empire tumbling down years later - began to reveal themselves.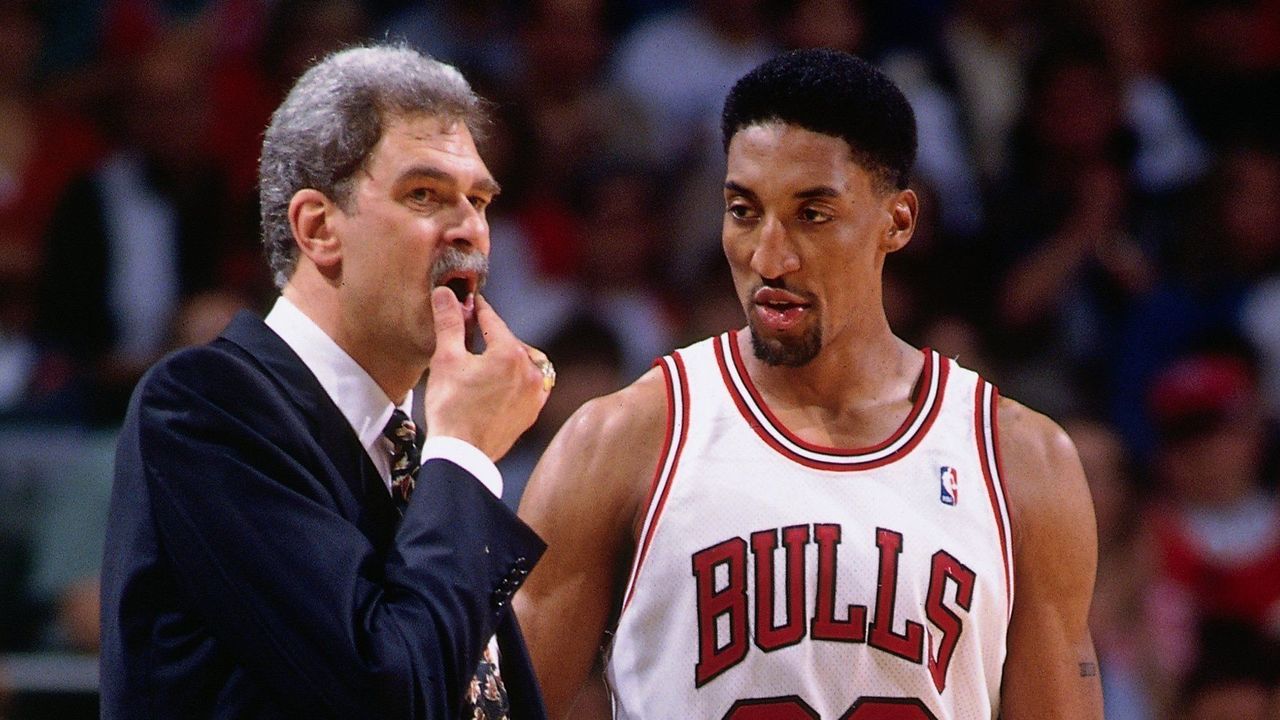 Pippen famously refused to re-enter the closing seconds of Game 3 against the Knicks in 1994 after Jackson drew up the play for the eventual game-winning shot by Toni Kukoc. The Croatian phenom and Krause favorite had been brought over from Europe with money Pippen surely felt could've been spent on himself.
Pippen also put off ankle surgery during the 1997 offseason because, as he so eloquently put it in the documentary, he wasn't going to "f--- my summer up."
Given the player empowerment era in which we find ourselves today, who can blame Pippen - a seven-time All-Star who was somehow the sixth-highest-paid player on his team and the 122nd-highest-paid player in the league - for rehabbing on company time?
Krause's public comments about trade talks involving Pippen and a trade demand from Pippen later that season all played into the drama spotlighted in "The Last Dance."
What might have been had Pippen held firm in his demand? Does that last dance of 1997-98 end with a whimper in Indiana or Utah, rather than with Jordan securing Chicago's sixth championship with one of his most iconic sequences?
The story of the Chicago Bulls of the 1990s is as compelling through Pippen's eyes as it is through Jordan's. It was Pippen's hounding, full-court defense on Magic Johnson that turned the 1991 Finals and helped deliver the Bulls their first title. It was Pippen's migraine that sunk the Bulls in Game 7 against the Pistons. It was Pippen's arms that Jordan collapsed into after The Flu Game in Utah. It was Pippen who was holding up the franchise when Jordan was riding a bus in the Southern League with his Birmingham Barons teammates.
In the aftermath of the Bulls' last dance, Jordan enjoyed another three-year sabbatical before returning for two more seasons with the Wizards. Rodman went on to play just 35 more NBA games. A past-his-prime Pippen, though, played a starring role for postseason contenders in Houston and Portland, helping a 59-win Blazers team push Shaq, Kobe, and the rest of Jackson's Lakers to the brink of elimination in the 2000 Western Conference finals before a Game 7 meltdown.
Pippen, according to Basketball-Reference.com, earned nearly $110 million in his 18-year, Hall of Fame career. But after spending the majority of that time as the underpaid Robin to Jordan's Batman, Pippen goes down as the greatest second banana and most underappreciated star in NBA history.
Joseph Casciaro is theScore's senior basketball writer.