NBA free agency: Breaking down every deal from Day 2
Jonathan Daniel / Getty Images
Though new contracts can't be signed until Friday, the NBA's free-agency negotiation period is officially open. Here, NBA feature writer Joe Wolfond analyzes every significant deal reportedly agreed to on Day 2. For a breakdown of Day 1, tap here.
Bulls acquire DeMar DeRozan (3 years, $85M) in sign-and-trade for Thaddeus Young, Al Farouq-Animu, 2025 1st-round pick, 2 2nd-rounders
DeRozan's an interesting fit in Chicago in many ways. He brings yet more passing and shot creation to a team that's now rife with both, and he should allow Zach LaVine to tap into more of his off-ball verve. It's cool to see the Bulls fully going for it after years of listlessly building toward some undefined future. That said, for a player who'll create some offensive redundancies while compromising an already shaky defense, this is a lot.
The money is one thing, but shelling out a quarter of the cap and moving Thaddeus Young - a vital connector on both ends of the floor, and probably the Bulls' third-best player last year - and a first-round pick feels like a significant overpay. Though Chicago's offense is likely going to be very good, trying to craft functional defensive units around DeRozan, LaVine, and Nikola Vucevic will be a big challenge. As will sorting out a crowded backcourt rotation that also features third-year gunner Coby White and free-agent signings Lonzo Ball and Alex Caruso (though the ability to mix and match with a diverse group of guards makes that more of a good problem).
Will it be DeRozan or LaVine serving as primary initiator when both are on the floor? Is there enough connective tissue, between Ball's secondary playmaking and Vucevic's shooting, to make all the offensive pieces fit together? Because ultimately what will determine the success or failure of this gambit is whether DeRozan can bring enough surplus value on offense, where the Bulls now have a whole lot of mouths to feed, to offset the defensive deficiencies. If nothing else, this will be one of the most fun and interesting and under-pressure teams in the league.
On the other side of things, pulling in a first-rounder and Young (who can be flipped elsewhere for more future assets) is a nice piece of business for a Spurs team that seemed prepared to simply let DeRozan walk for nothing.
Lakers sign Carmelo Anthony (1 year), Malik Monk (1 year), Kendrick Nunn (2 years, $10M), re-sign Talen Horton-Tucker (3 years, $32M)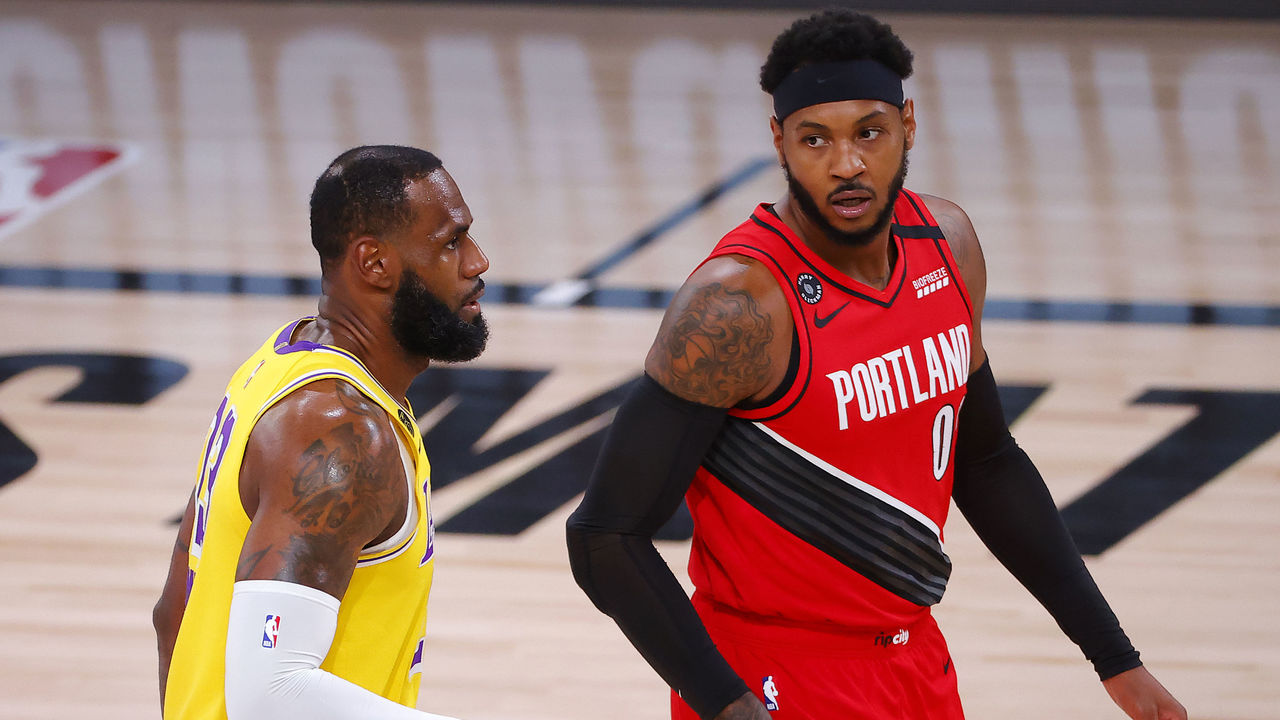 It's been a busy couple days for the Lakers, who've now signed eight players in the last 24 hours to fill out their roster after acquiring Russell Westbrook on draft night.
The most fun element of Tuesday's signing spree is Carmelo teaming up with LeBron at long last, and getting a chance to compete for a championship alongside his age-old friend and fellow 2003 draftee before his career is through. Anthony isn't all that good anymore (he can't really move well enough to get past or stay in front of anyone), but he did shoot a career-best 40.9% from three last season, and he still has his strength and his post game to fall back on. So long as the Lakers don't mistake past for present and overplay him, he should be able to chip in as a scorer off the bench without taking too much off the table.
The most impactful signing might be Monk, who the Hornets curiously chose not to qualify after a career year in which he shot 40.1% from deep on five attempts per game. He'll be under pressure to back that up, given that he's shot just 33.9% for his career. Monk got off to a rocky start in the NBA, but in the past couple years he's started to showcase the multi-level scoring chops that made him a lottery pick four years ago. He's always excelled in the open floor, which should make him a good fit on a Lakers team that's presumably going to run a ton with Westbrook in the fold.
Retaining Horton-Tucker, the herky-jerky 20-year-old guard with a nose for the basket, is a nice forward-looking move. If he continues to show the kind of growth he demonstrated last season, that contract should prove to be very team-friendly. I'm not a huge Nunn fan, but he does offer a bit of secondary creation and pull-up shooting, which the Lakers can certainly use more of. He had an efficient scoring season last year, shooting 58.3% from 2-point range and 38.5% from deep.
The big concern for the Lakers overall is that they've lost a huge chunk of their defensive identity and haven't really replaced it. LeBron and Anthony Davis can make up for a lot, but losing their best point-of-attack defenders in Kentavious Caldwell-Pope and Alex Caruso, plus a solid wing defender in Kuzma, and then acquiring a slew of defensive minuses, from Westbrook to Anthony to Nunn to Monk, will make it extremely difficult for the team that finished first in defensive efficiency last season to come anywhere close to repeating that feat. They're clearly banking on the offense, which ranged from so-so to putrid last year, taking a significant leap.
76ers sign Andre Drummond (1 year, vet minimum), Georges Niang (2 years, $6.7M)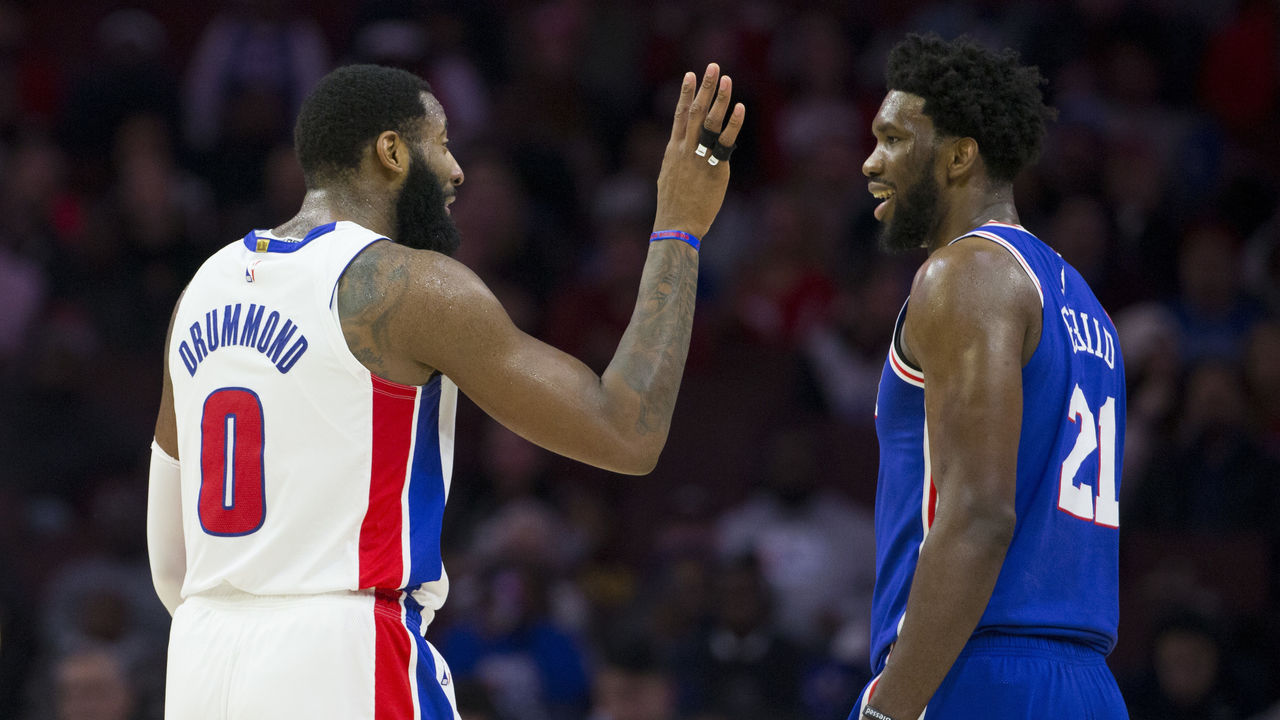 The Sixers' age-old quest to find a suitable backup for Joel Embiid continues. After the Dwight Howard experience flopped, that quest has now brought them to the doorstep of one of Embiid's favorite punching bags.
On the surface, Drummond on the minimum is good value. He's probably better than Howard (though not by nearly as much as his counting stats would suggest), and should be perfectly serviceable against opposing bench units for 15 minutes a game. But if the Sixers go into next season with Ben Simmons still on the roster, which is starting to feel like a distinct possibility, the same issues that plagued their transitional lineups last season - wherein splitting Simmons and Embiid up became untenable because Simmons-Howard minutes were such a train wreck offensively - will persist.
Niang, on the other hand, is an objectively nice addition for the bi-annual exception. He's a solid wing defender who can slot in at the 3 or the 4, and he's shot at least 40% from 3-point range in each of the last three seasons. That shooting is about the extent of his offensive skill profile, but he's a quick enough decision-maker to keep the gears moving when opponents force him to put the ball on the floor. If nothing else, he's a better small-ball power forward than Mike Scott. As a floor spacer and multi-positional defender, he'll give the Sixers a bit more lineup optionality.
Nets sign Patty Mills (2 years, $12M), James Johnson (1 year, vet minimum), re-sign Bruce Brown (1-year qualifying offer, $4.7M)
The rich get richer. Nabbing Mills for the taxpayer mid-level exception is an absolute coup. He's a lights-out shooter and one of the best microwave guards in the league, a guy who helped the Spurs' bench units win their minutes by at least 1.5 points per 100 possessions in each of the last 10 years. He gives the Nets yet another knock-down shooter (38.8% from deep for his career on huge volume) and will make their offense that much more of a nightmare to try and stop.
Meanwhile, Brown takes the qualifying offer, which should work out nicely for both player and team. On top of his gritty, versatile defense, Brown was a revelation operating in pockets of space within the Nets' cavernous offense last season, thriving as a roll man, cutter, and floater artist.
It's unclear what kind of role there will be for Johnson in Brooklyn, but having another rugged forward defender who can pass and handle the ball in a pinch is a nice card for Steve Nash to have up his sleeve.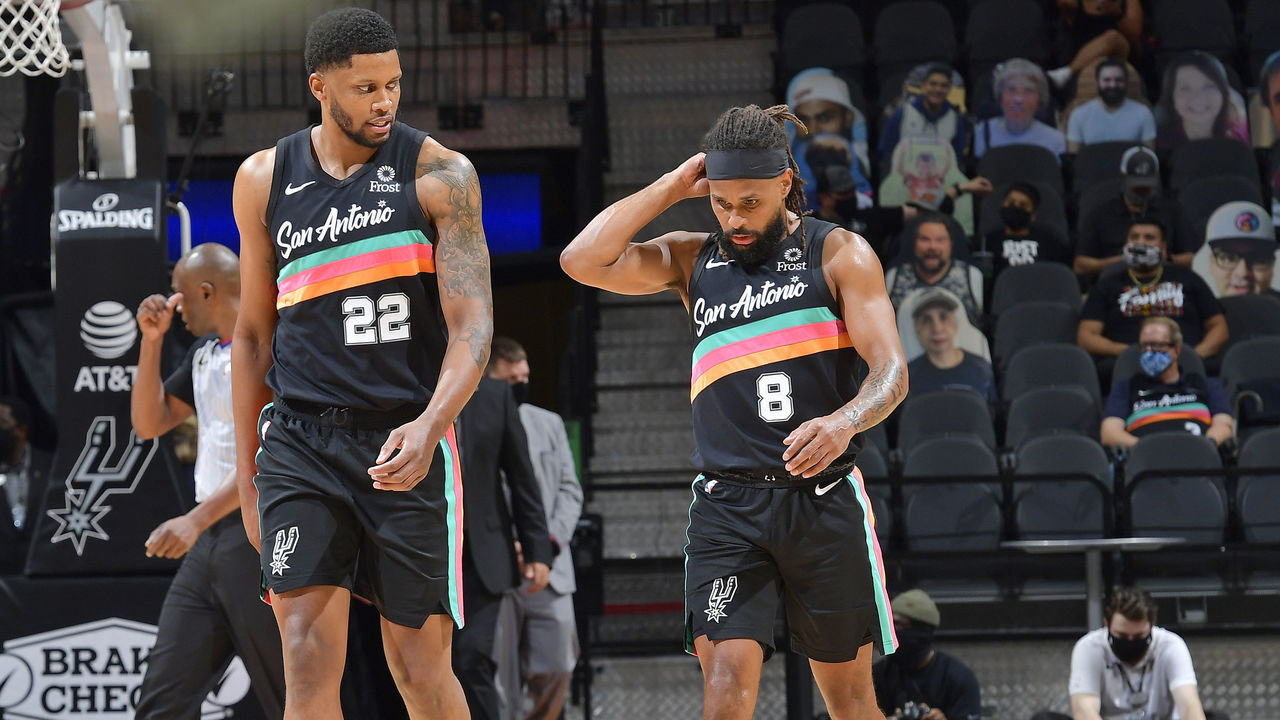 Jazz sign Rudy Gay (2 years, $12M), Hassan Whiteside (1 year)
A pair of nice additions for the Jazz, who restock their bench by replacing the outgoing Derrick Favors and Niang.
Gay's declined physically, can't do a whole lot off the dribble anymore, and is basically a full-time small-ball big man at this point. But with the Jazz punting on the Favors reunion after one year, small-ball bigs are the kinds of players they can use, and Gay still has plenty of utility as a pick-and-pop threat and a guy who can create his own shot or post up a mismatch in a pinch. Even in a down year with the Spurs last season, he averaged 19 points, eight rebounds, 2.3 assists, 1.2 steals, and 1.1 blocks per 36 minutes, and San Antonio was 9.9 points per 100 possessions better with him on the floor.
Whiteside comes in as the replacement at backup center, though he'll take up a far lower share of the cap than Favors and presumably be relied upon far less. While always prone to his share of lapses in focus and effort, Whiteside is perfectly serviceable in that role, bringing value mainly as a rim deterrent and rebounder.
Bucks sign George Hill, Rodney Hood to 1-year deals
After being waived by the Sixers ahead of his contract guarantee date, Hill returns to the Bucks, for whom he played a sizeable role off the bench in 2018-19 and 2019-20. Between spotting up off the ball and shooting the lights out, providing a steady hand when asked to initiate, and defending ably at the point of attack, Hill gave the Bucks everything they needed from the backup point guard spot. His play slipped last season, but he should still be a significant upgrade over Jeff Teague.
Hill was also a strong voice in the Bucks' locker room, notably triggering the league-wide wildcat strike when he refused to take the court for a first-round playoff game in the bubble following the shooting of Jacob Blake in Kenosha, Wisconsin, last year.
Milwaukee probably shouldn't expect too much of Hood, who struggled badly in his return from a torn Achilles last season, shooting 40.8% from 2-point range and 30.1% from deep. He does have a long track record as an above-average 3-point shooter and serviceable wing defender who can create a bit for himself, but he'll need to bounce back in a big way to become a mainstay in the Bucks' rotation.
Hornets sign Ish Smith (1 year, $4.5M)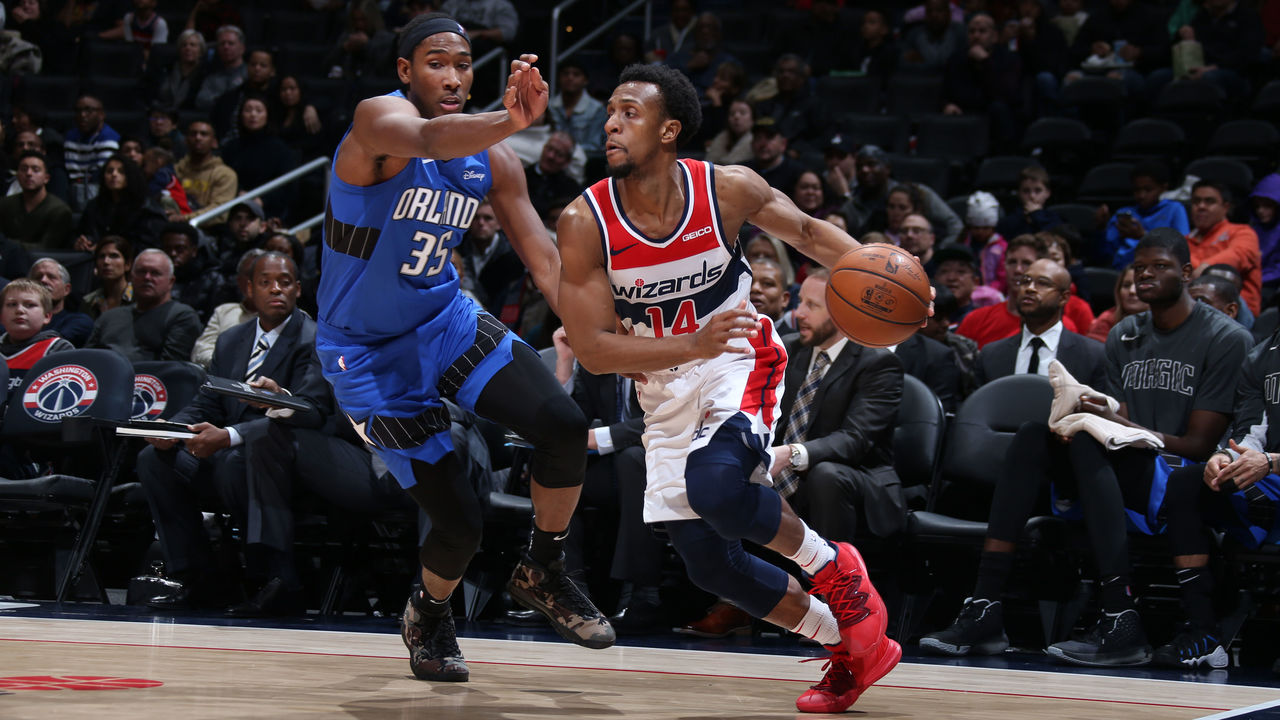 The NBA's preeminent nomad adds a league-leading 12th team to his list of NBA employers. With Devonte' Graham headed to the Pelicans in a sign-and-trade, the Hornets needed a third guard, and while Smith is clearly a downgrade from Graham, especially as a jump shooter, he can fill that role more than capably.
Smith is one of the fastest players in the league, which should pair nicely with Charlotte's penchant for up-tempo basketball. And in the half court, he mitigates his lack of 3-point volume with a highly effective floater. Whether he can play in three-guard lineups with LaMelo Ball and Terry Rozier, as Graham did to great effect at various points last season, is another matter.
Charlotte reportedly has a team option for a second year.
Knicks sign Taj Gibson (1 year, vet minimum)
After throwing gobs of money around Monday, the Knicks made a far quieter signing Tuesday, bringing back one of their most consistent contributors from last season for the minimum. Gibson, a longtime Tom Thibodeau favorite, was a stabilizing defensive force who played a big part in the team's stellar rim protection and rebounding. He's a creaky 36 and can't jump over a piece of paper at this point, but Thibs will always find a place for a guy with size and smarts.
Magic sign Robin Lopez (1 year, $5M)
Lopez had a really fun season with the Wizards last year. On top of being a reliable rim deterrent, he was literally the most efficient post scorer in the entire NBA. I'm just not entirely sure where he fits on a rebuilding Magic team that's trying to groom a pair of young centers in Wendell Carter Jr. and Mo Bamba. It's always nice to have a veteran to learn from, and having insurance is important, especially given Carter and Bamba's injury histories. But it's a strange place for Lopez to land, given the value he established last season and the future-focused mandate in Orlando.
Warriors sign Nemanja Bjelica (1 year, vet minimum)
Bjelica was pretty rough for the Heat after arriving in a deadline-day deal from the Kings last season, but he still brings pedigree as a stretch-big with some ball skills who's shot 38.7% from 3-point range for his career. He has some passing chops that should make him a decent fit in Golden State's motion offense, though the defensive end is another story. Having also signed Otto Porter for the minimum yesterday, the Warriors seem to be stocking up on buy-low shooters who may be in line for minor bounce-back seasons.
Heat sign Markieff Morris (1 year, vet minimum)
In case the Heat weren't already tough and physical enough, Morris is here to up the grime factor. He doesn't quite stretch the floor the way you'd like for a stretch-big, but the Heat can definitely use the frontcourt depth, and Morris is a solid defender who won't get in anybody's way.
Comments
✕
NBA free agency: Breaking down every deal from Day 2
  Got something to say? Leave a comment below!