Who: No. 4 Michigan (10-1, 8-0 Big Ten) at No. 10 Ohio State (10-1, 7-1)
When: Saturday, Nov. 24 at 12 p.m. ET
Where: Ohio Stadium, Columbus, Ohio
TV: FOX
Odds: Michigan -4.5
Over/Under: 56
Tale of the Tape
| 2018 STATS | Michigan | Ohio State |
| --- | --- | --- |
| Points Per Game | 36.6 | 41.6 |
| Points Allowed/Game | 13.6 | 24.6 |
| Rush Yards/Game | 219.2 | 182.4 |
| Pass Yards/Game | 210.5 | 359.5 |
| Total Yards/Game | 429.7 | 541.8 |
| Rush Yards Allowed/Game | 111.6 | 161.3 |
| Pass Yards Allowed/Game | 123.2 | 237.4 |
| Total Yards Allowed/Game | 234.8 | 398.7 |
| Third-Down Offense | 50% | 48% |
| Third-Down Defense | 31% | 30% |
| Red-Zone Offense | 86% | 76% |
| Red-Zone Defense | 95% | 87% |
| Team Sacks | 31 | 31 |
| Turnover Margin | +8 | +4 |
Season in review
Michigan
This is the breakthrough year that Michigan fans have been waiting for since Jim Harbaugh returned to Ann Arbor. An early-season loss to Notre Dame dampened expectations, but since then, the Wolverines have run through their schedule unblemished. Nobody's come close to knocking them off.
Harbaugh's done an excellent job of adjusting his offense to fit with starting quarterback Shea Patterson. The partnership was awkward at first, but now it looks like the next evolution of offensive football.
Still, this team is led by Don Brown's defense, which ranks second nationally in S&P+. And the gap in defensive S&P+ between Michigan and No. 3 Notre Dame is the same as the difference between the Irish and sixth-ranked Alabama. Aside from Clemson, Michigan's been that much better than everyone else.
Ohio State
Away from the field, the ongoing Zach Smith-Urban Meyer controversy has dominated conversations about Ohio State all season.
On the field, the team's never reached its potential. The Buckeyes were shellacked 49-20 by Purdue and then escaped with a win over Maryland last week after being out-schemed and out-coached in both contests. They were also fortunate to win a pair of toss-up games against TCU and Penn State.
This isn't a vintage Meyer team. It's still fifth in offensive S&P+ despite a mediocre run game, but the defense has been a disaster, ranking 38th in S&P+. That would be OK for a normal team, but it's awful given the talent Ohio State puts on the field every week.
Still, a victory over Michigan would make this season a success, and give the Buckeyes an outside chance to reach the playoff. "The Game" has rarely had bigger stakes.
Players to watch
Michigan DL Chase Winovich
Winovich epitomizes everything that's great about Michigan's defense. He's tenacious, technically sound, and blessed with hops that unnerve opponents.
Again, this defense is fierce. And Winovich is the face of that ferocity. He's already tallied 13 tackles for loss, four sacks, and 19 run-stuffs. Nineteen! Brown will shift Winovich across the front, hunting for the right matchup. Buckeyes left tackle Thayer Munford has extraordinary potential, but he struggled against Winovich last year. It will be a key battle this time around.
Michigan S Tyree Kinnel
Kinnel's the most underrated member of Michigan's D and he's the leader on the field who everyone looks to for signals. Whenever an offense shifts or motions pre-snap - a constant strategy in the modern game - Kinnel's the guy who makes the quick adjustments.
Similarly, his instincts are off-the-charts good. Kinnel constantly sniffs out plays before they've been run, which is a credit to his film study of opponents' tendencies. He often reads the game so fast that he doesn't arrive at the collision point on time - he arrives early.
Watch Kinnel (No. 23) below. He knows exactly where the ball is going prior to the snap (the motion also helps widen his alignment). He closes in quickly to make the tackle, but he essentially made the play before the ball was snapped.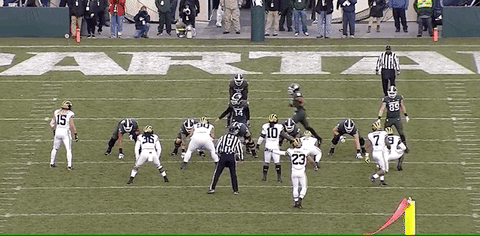 Kinnel's a stud. Ohio State must be wary.
Ohio State QB Dwayne Haskins
Haskins is Ohio State's offense. This isn't your typical Urban Meyer spread-to-run unit, as the Buckeyes rank 57th in rushing efficiency and are averaging 4.4 yards per carry - a figure that puts them behind teams such as Coastal Carolina, Vanderbilt, and Florida International. Meyer's group also isn't compensating with more splash plays, as they rank a measly 114th in run-game explosiveness.
Like the underachieving defense, the running game should be much better given Ohio State's talented roster. Meyer made a big deal about adding offensive coordinators Ryan Day and Kevin Wilson to build a more expansive downfield passing attack, and it worked. But OSU still hasn't paired that success with a competent running game.
Still, Haskins has been so good this season that he's dragged OSU's offense into the top five in overall efficiency despite the anemic rushing attack. He'll need to be at his very best to give the Buckeyes a chance against the Wolverines' fearsome defense.
Ohio State DL Dre'Mont Jones
Jones is constantly behind the opposing line of scrimmage. He leads the Buckeyes in tackles for loss (12), sacks (7.5!), run-stuffs (15!!), and average yards per tackle (0.3!!!). There aren't many athletes walking the earth who are as physically impressive as Jones.
And just as importantly, Jones understands his physical advantage - specifically, the uniqueness of someone so big being able to move so fast. Greg Schiano likes to put Jones in different spots, and Michigan's offense will have to account for the playmaker on every down. He has the potential to take over any game.
Biggest mismatch
Michigan WR Grant Perry and TE Zach Gentry vs. Ohio State S Brendon White
OSU safety Brendon White has endured a rough 2018, particularly when he's rotated toward the line of scrimmage. Purdue picked on White during its upset win by isolating the safety in space and running a series of double-moves and high-low concepts (one route over the top, one underneath).
On Saturday, Michigan will chuck some weapons at White. Grant Perry's a shifty slot receiver who's adept at running twisting routes - feigning one way before zagging the other. White possesses excellent straight-line speed, but he struggles against nimble athletes, mostly due to a lack of awareness.
Tight end Zach Gentry presents a different problem. He's bigger and longer than White, so he'll be a matchup nightmare in coverage. And Gentry should cause even more issues in the running game, as he's a quality in-line blocker who's brilliant on the move.
Meanwhile, White's been mostly dreadful against the run this season. He takes bad angles toward the line and is a poor tackler in space. Here's an example of Maryland going at White on the ground last week: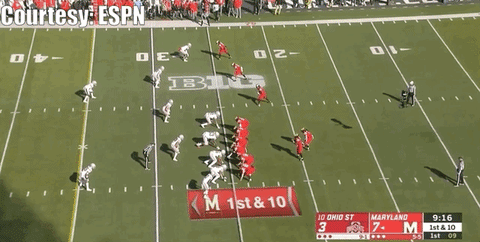 White continually gets himself into bad positions, meaning he's forced into arm tackles. Runners shake those away effortlessly.
And bad angles take him out of plays before he even has a shot at the ball-carrier. Watch here, as White (No. 25) pinches inside, giving the running back an angle to jet by him with ease: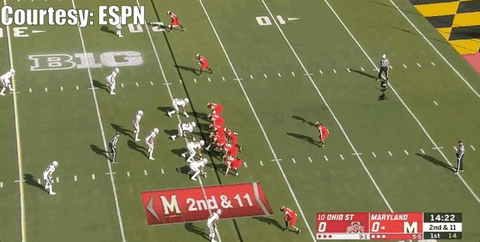 Worst of all, White consistently fills the wrong gap: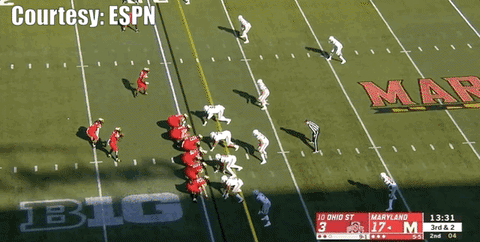 It's simple mathematics: Two defenders in one gap means there are zero in another. White was so bad - and ill-disciplined - against Maryland that OSU was forced to take him off the field to stop the onslaught.
The Wolverines will run at White early and often. They will isolate and attack him on the ground and through the air. Gentry will lead the way. Will White hold up?
Michigan's keys to victory
Hit a couple explosive plays
Michigan's not a splash-play offense. It relies on methodical, test-your-will drives, motored by its run-game and offensive line. But whether on the ground or through the air, it will have to create a couple of explosive plays this week.
Ohio State's defense has been a disaster in that regard this season, ranking a preposterous 108th in conceding plays of 20-plus yards. It's not in their DNA, but the Wolverines will need to take advantage.
Do better on early downs
As I detailed earlier this week, Michigan ranks 118th in the percentage of its first downs gained on first or second down. The offense is regularly forced to rely on third-down magic from Patterson to move the chains.
Getting into third-and-long is playing into Schiano's hands, so Michigan will have to adjust its early-down run packages to find success.
Ohio State's keys to victory
Get off the field on third down
Again, Michigan's not a big-play offense and lives in third-and-short. Meanwhile, Ohio State's struggled to get off the field on third downs all season, ranking 44th in defensive third-and-short success rate. It doesn't help that Schiano's group hasn't created enough negative plays, as it ranks 31st in sack rate (a decent number by normal standards, but not with OSU's talent).
No turnovers
Sure, this is obvious. But it's also worth pointing out. The Buckeyes aren't going to magically find a run game, particularly against this front. Their best hope is to put the ball in Haskins' hands and let him chuck it all over the field. But with that strategy will come the risk of interceptions, which could be the difference in this game.
Prediction
Now's the time for Harbaugh and Michigan, as Ohio State's never looked more vulnerable during the Meyer era. But it's also a true crossroads moment for Harbaugh. Win, and his team will make the playoff. It might even end Meyer's tenure in Columbus. Lose, and all the momentum built this year will evaporate in one afternoon.
Michigan has the defense to slow down Ohio State's passing game. OSU's defense has shown no signs of improvement throughout the season. It feels like now or never for the Wolverines. Give me Michigan in a close one. Michigan 35, Ohio State 28.