NFC championship guide: Rams seek redemption in rematch with Saints
NFC Championship Game
Who: Los Angeles Rams (13-3) at New Orleans Saints (13-3)
When: Sunday, Jan. 20 at 3:05 p.m. ET
Where: Mercedes-Benz Superdome, New Orleans
TV: FOX
Odds: Saints -3.5
Over/Under: 56.5
Last Meeting: Week 9 - New Orleans 45, Los Angeles 35
Tale of the tape
| 2018 Stats | Rams | Saints |
| --- | --- | --- |
| Points Per Game | 32.9 (2) | 31.5 (3) |
| Points Allowed/Game | 24.0 (20) | 22.1 (14) |
| Rush Yards/Game | 139.4 (3) | 126.6 (6) |
| Pass Yards/Game | 282 (5) | 253 (12) |
| Total Yards/Game | 421.1 (2) | 379.2 (8) |
| Rush Yards Allowed/Game | 122.3 (23) | 80.2 (2) |
| Pass Yards Allowed/Game | 236 (14) | 269 (T-29) |
| Total Yards Allowed/Game | 358.6 (19) | 349.1 (14) |
| Third-Down Offense | 45.0% (5) | 44.6% (7) |
| Third-Down Defense | 37.2% (12) | 41.3% (24) |
| Team Sacks | 41 (15) | 49 (T-5) |
| Turnover Differential | +11 (4) | +8 (7) |
(Regular-season rank in parentheses)
Game-breaker
Can a healthy Rams secondary slow down Saints' passing?
When the Rams traveled to the Mercedes-Benz Superdome in Week 9, they were undermanned and outgunned against the Saints' vaunted aerial attack. The absence of Aqib Talib - arguably Los Angeles' best defensive back - allowed New Orleans to take advantage, as quarterback Drew Brees went 25 of 36 for 346 yards and four touchdowns in a 45-35 victory.
In that game, the Rams had no answer for Saints wide receiver Michael Thomas, who finished with 12 catches for 211 yards and a touchdown. At times, Los Angeles tried shadowing Thomas with cornerback Marcus Peters, but that matchup largely worked out in New Orleans' favor.
In man coverage, Peters is most comfortable playing physically at the line of scrimmage, but Thomas is too refined with his releases to let himself be disrupted on most plays. Here's a great example:
Here, Thomas is lined up in a "plus" split - outside the numbers - at the near side of the field with Peters in press coverage. Once the ball is snapped, Thomas takes a hard jab step inside, which forces Peters to follow suit, giving the receiver space to release outside. From there, Thomas separates just enough at the top of his route to make the catch despite pass interference from Peters.
Later in the game, Thomas capitalized on Peters again, showing off his ability to avoid contact throughout a route:
On this play, Thomas is aligned in a reduced split - between the hash marks and the numbers - on the wide side of the field with Peters in press coverage. The receiver then releases outside while using his inside hand to swipe away Peters' attempts to make contact. Due to the clean release, Thomas is able to get behind and stack Peters, before using his speed to pull away and give Brees a target.
However, things should be a little easier for the Rams this time, as Talib will be active and should see plenty of snaps against Thomas. They've never faced off before, but Talib possesses the length, speed, and awareness to give Thomas some trouble. And while Peters certainly struggled against Thomas, he won't have the same problems against the rest of New Orleans' receiving corps.
Overall, the domino effect of Talib being in the lineup will aid the Rams' entire secondary and give the group a much better shot at slowing down Brees, Thomas, and Co. through the air.
Biggest mismatch
Rams DT Aaron Donald vs. Saints LG Andrus Peat
Brees is the NFL's best at stepping up in the pocket to avoid pressure - giving himself extra time to throw - which is why opposing defenses must create havoc in the interior of the line.
Luckily for the Rams, they possess one of the best interior pass-rushers of all time in Aaron Donald, who led the league in sacks (20.5) and quarterback hits (41) this season.
One of the men who will be charged with blocking Donald this week is Saints left guard Andrus Peat, who's been playing with an injured hand. And even when healthy, Peat struggles against quick interior defenders who can attack laterally and force him to move his feet at the point of attack. Here's an example:
On this play, Peat's lined up as the uncovered left guard. At the snap, Redskins nose tackle Da'Ron Payne (No. 95) slants right because of a slot blitz, putting him in a one-on-one matchup with Peat.
Peat tries to quick-set Payne, but does a poor job of moving his feet to mirror the defender's lateral swim move. To make matters worse, Peat lunges with his strike, making it impossible to recover once Payne gets to his outside edge. From there, the defender penetrates into the backfield and sacks Brees.
Like most teams, the Saints will probably double-team Donald as much as possible. However, Rams defensive coordinator Wade Phillips is excellent at manipulating alignments to create one-on-one matchups for the superstar. When that happens against Peat, look for Donald to take full advantage and spend plenty of time in the backfield.
3 keys to the game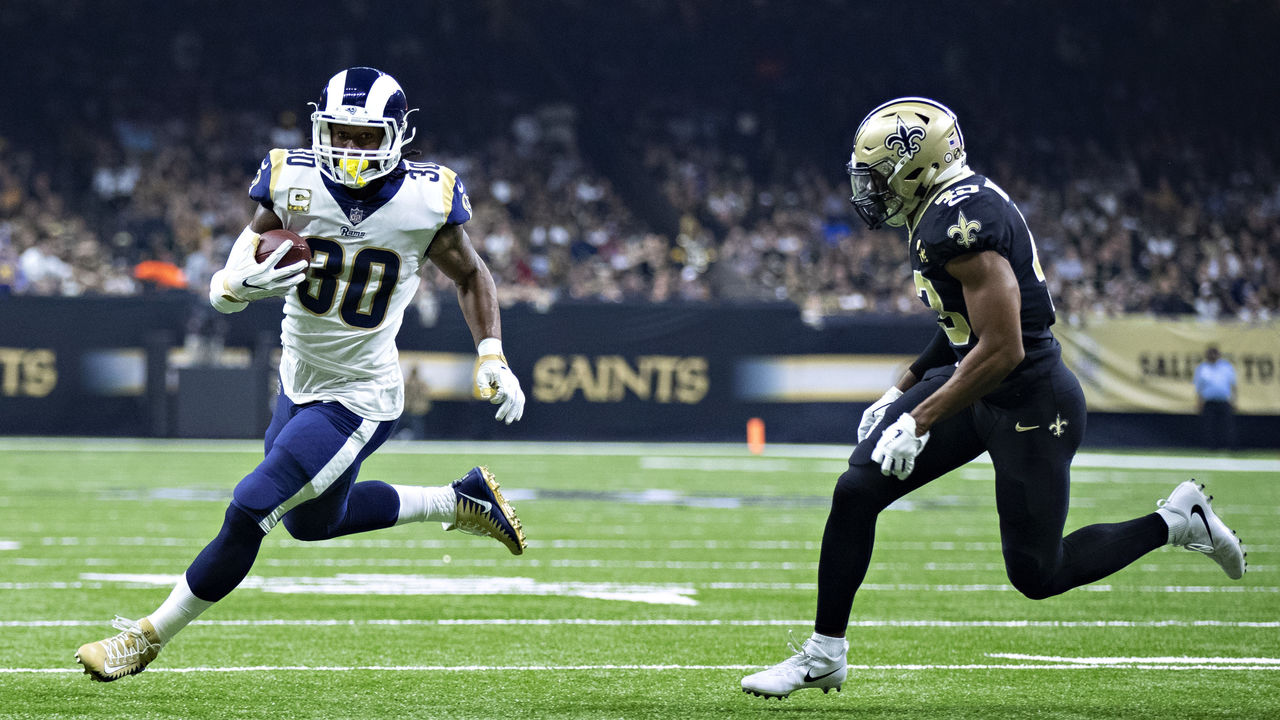 Can the Saints limit the Rams' running game without stacking the box? Todd Gurley finished third in rushing yards this season, which was aided by seeing eight-plus defenders in the box on just 8.2 percent of his runs (the third-lowest rate in the league), according to Next Gen Stats. That's because Rams head coach Sean McVay often uses alignments and formations that make it difficult for opposing defenses to stack the box. New Orleans will likely have to find a way to stop the run without loading up.
Will the Rams be better on third and fourth downs? In the Week 6 matchup, Los Angeles' third- and fourth-down struggles were a major factor. While the Saints went 7-for-12 on third downs and converted both of their fourth-down opportunities, the Rams went just 3-for-8 on third downs and failed to convert either of their fourth-down tries. L.A. must sustain more drives to win Sunday's game.
Kicking game could be X-factor: Given how close this matchup is on paper, it wouldn't be surprising to see the contest decided by field goals - and both teams possess very good kickers. Los Angeles' Greg Zuerlein went 27-for-31 on field goals this season, including 8-for-12 from 40-plus yards, while New Orleans' Wil Lutz finished 28-for-30 and went 13-for-15 from 40-plus. If Sunday comes down to a last-second kick, both teams should feel confident in their guy - although pressure has a way of making things more difficult.
Betting action report
New Orleans opened as a three-point favorite, hit -3.5 shortly after, were bet back down to -3, and once again pushed up to -3.5 during the week. However, the early money and the ticket count are both backing the Rams on the spread. So is the moneyline at approximately +155.
After these teams combined for 80 points in the regular season, it's no surprise that 55 percent of tickets and 71 percent of the overall money are on the over. This matchup opened up at 56 before immediately jumping to 56.5.
Predictions
John Owning: McVay proves to be the preeminent offensive mind in the NFC while Donald gets well-acquainted with Brees in the backfield and Talib slows down Thomas. Rams 27, Saints 24.
Alex Kolodziej: After a slow start in last week's win over the Eagles, the Saints come out firing and don't look back in a lower-scoring game than the experts are predicting. Saints 26, Rams 17.
Comments
✕
NFC championship guide: Rams seek redemption in rematch with Saints
  Got something to say? Leave a comment below!