It was 2008, Patrick Surtain Sr.'s last NFL season, and giants surrounded his eight-year-old son in Kansas City. Patrick Surtain II was at midfield to watch the Week 11 coin toss, an invitation for the kid to crane his neck 90 degrees and marvel at how big dad's peers were.
Inactive due to injury, Surtain Sr. didn't face the visiting Saints that afternoon, but that mattered less to Surtain II than the bond this experience fortified. Here was an 11-year vet, twice an All-Pro at cornerback, about to retire and intent on sharing with his namesake a memory that would stick. The captains and officials chopped it up for a minute, New Orleans won the toss, and Surtain II walked off the field with his mentor.
"Him on my side is a very good helping hand," Surtain II said last week.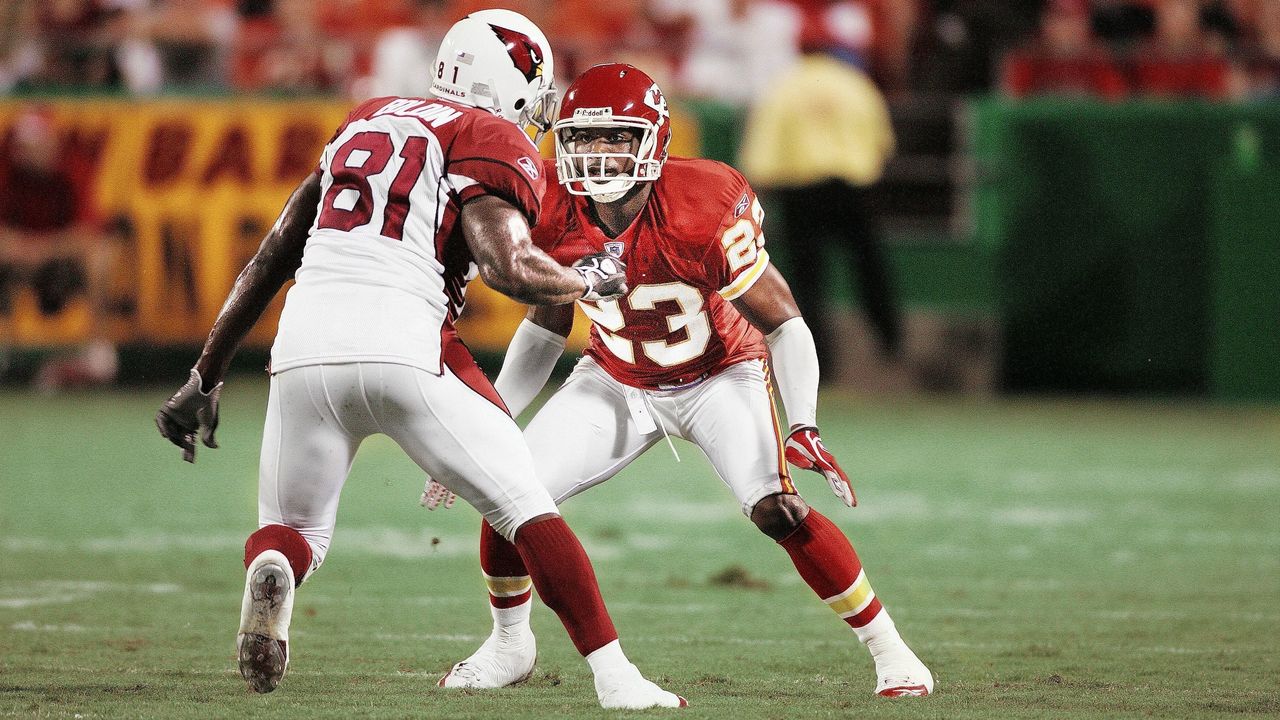 Surtain II is one of the best cornerbacks available in this year's NFL draft, though that only starts to spell out his intriguing story. Three standout corners - three of the top four in the class in theScore's opinion - are the sons of Pro Bowlers whose NFL careers overlapped in the mid-2000s, and whose offspring now link them in retirement.
Surtain II, Jaycee Horn, and Asante Samuel Jr. were born within a six-month window in 1999 and 2000, setting the stage for them to star at major southeastern colleges the past three seasons. Each of them has shutdown or playmaking upside; none shy from vocalizing their self-confidence, a merit for players who have to defend opposing stars on an island. And they're all out to strike the same balance: proudly rep their family and follow the example their dad established while seeking to make their own name in the game.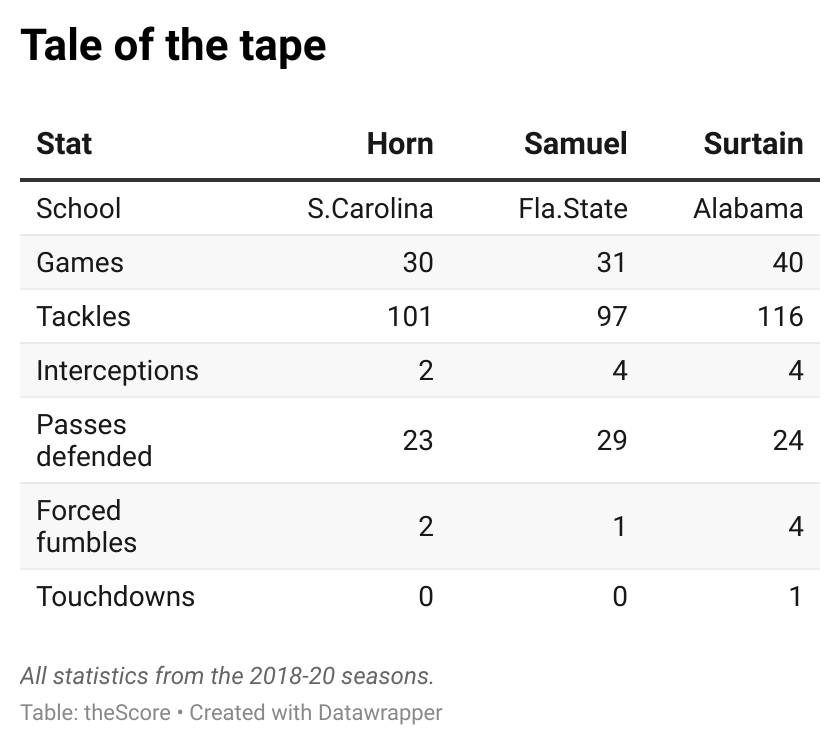 The fatherly generation set a high bar. Surtain Sr. nabbed 37 picks, just shy of a top-100 career mark, over his 11 seasons with the Dolphins and Chiefs. The elder Asante Samuel snared 51 picks in 11 years, defended 164 passes (sixth-most in the league this century), and won back-to-back Super Bowls with the early dynasty Patriots. Joe Horn recorded four 1,000-yard seasons as a Saints receiver, and he got flagged on a four-touchdown day in 2003 for stashing a flip phone inside the goalpost padding to jump-start an end zone celebration.
The dads didn't enter the NFL as can't-miss prospects: Joe Horn was drafted 135th overall in 1996, Surtain Sr. 44th in 1998, and Samuel 120th in 2003.
Their sons command more hype. Surtain II and Jaycee Horn have top-15 potential while Samuel Jr. is seen as a fringe first-rounder.
"You've got to understand that your dad's legacy is his legacy. You've got to make your own legacy. You can't live off your dad's name. You've got to build your brand," Surtain II said.
"That's something that he tells me every day."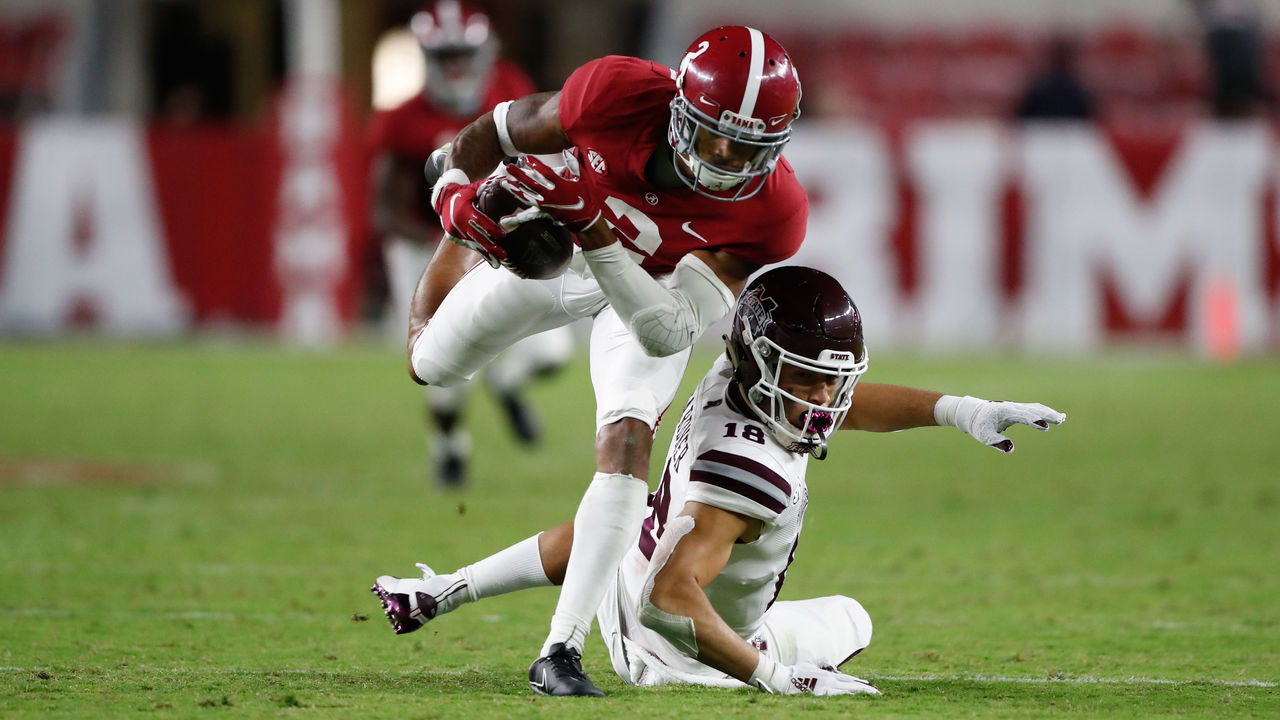 At Alabama, the 6-foot-2, 208-pound Surtain II proved himself to be the college game's most refined corner. He's got the length, strength, and technique to bottle his man; the 4.42 40 speed and patience to shadow receivers downfield; the timing and active hands to disrupt passes when quarterbacks test him. Over his sophomore and junior seasons, Surtain II permitted just three touchdown grabs on 1,026 coverage snaps, per PFF. He was the SEC's Defensive Player of the Year in 2020.
If Surtain II or Virginia Tech's Caleb Farley isn't the first corner selected Thursday, in all likelihood it will be Horn, who opted out of his junior season in 2020 after seven games to focus on draft prep. Before that, he held opponents to a 33.3% completion rate when targeted - a lockdown rate. Horn is Surtain's size and dynamic, with wheels, burst, and physicality that suit his dogged approach to the role.
He's also handsy and got dinged for five penalties (to Surtain's zero) in 2020, though Kyle Krantz, one of Horn's position coaches at South Carolina, chalks this up as an occupational hazard of press coverage.
"I think it's a lot easier to try to get a young man to say, 'Whoa, whoa,' instead of (having to tell) him to go," Krantz, who is now the special teams coordinator at Washington State, said in a recent interview.
"It's a fine line, but his aggressiveness is part of what makes him a really talented player. It makes him a hard matchup for receivers."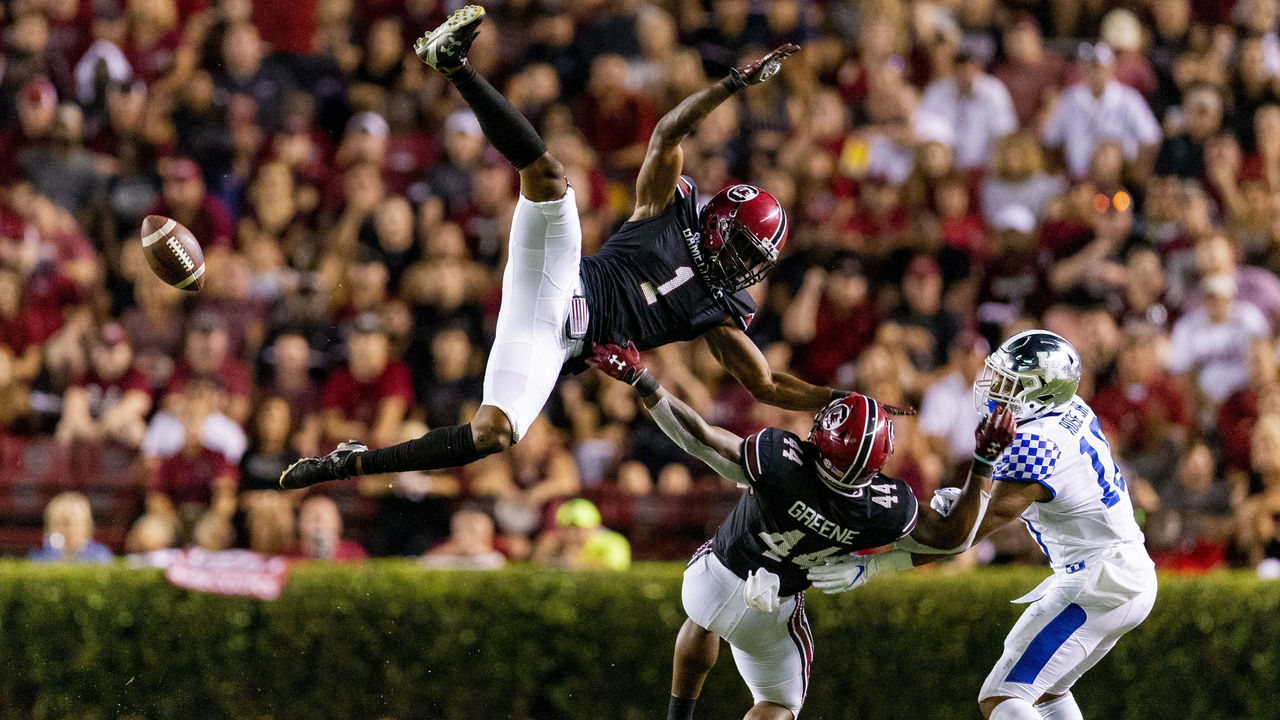 Then there's Samuel Jr., the fluid, technically sound, anticipatory ball hawk who racked up three interceptions in the first three games of his junior campaign.
At 5-foot-10 and 180 pounds, he'll concede half a foot in height to some NFL wideouts, not that that prohibits excellence. His father had the same frame and twice led the NFL in picks. When Samuel Jr. spoke to reporters at Florida State's pro day last month, he compared himself to Packers All-Pro corner Jaire Alexander, another undersized "dog."
"Some of (my ability stems from) genetics, but I mean, I've always assumed nothing is just going to be given to me because of my name," Samuel Jr. told Yahoo Sports in December. "I want to work for everything I have a shot at."
Though he beat them to the NFL by a year, this trio shares a backstory with Antoine Winfield Jr., the Tampa Bay safety whose cornerback dad reached three Pro Bowls. Taken 45th overall in 2020, Winfield Jr.'s rookie season was influential and triumphant. He started 16 games, forced a playoff fumble, intercepted Patrick Mahomes in Super Bowl LV, and celebrated the Buccaneers' title early by trolling Tyreek Hill.
Surtain II celebrated a national title and 13-0 season a few months ago, the product of Alabama fielding three other projected top-15 picks: QB Mac Jones and receivers Jaylen Waddle and DeVonta Smith. Some of his toughest SEC assignments, and favorite college memories, came in the run-up to Saturdays at Crimson Tide practices, which pitted him against the explosive Waddle or Heisman winner Smith in the struggle to win rep after invaluable rep.
"Iron sharpens iron," Surtain II said.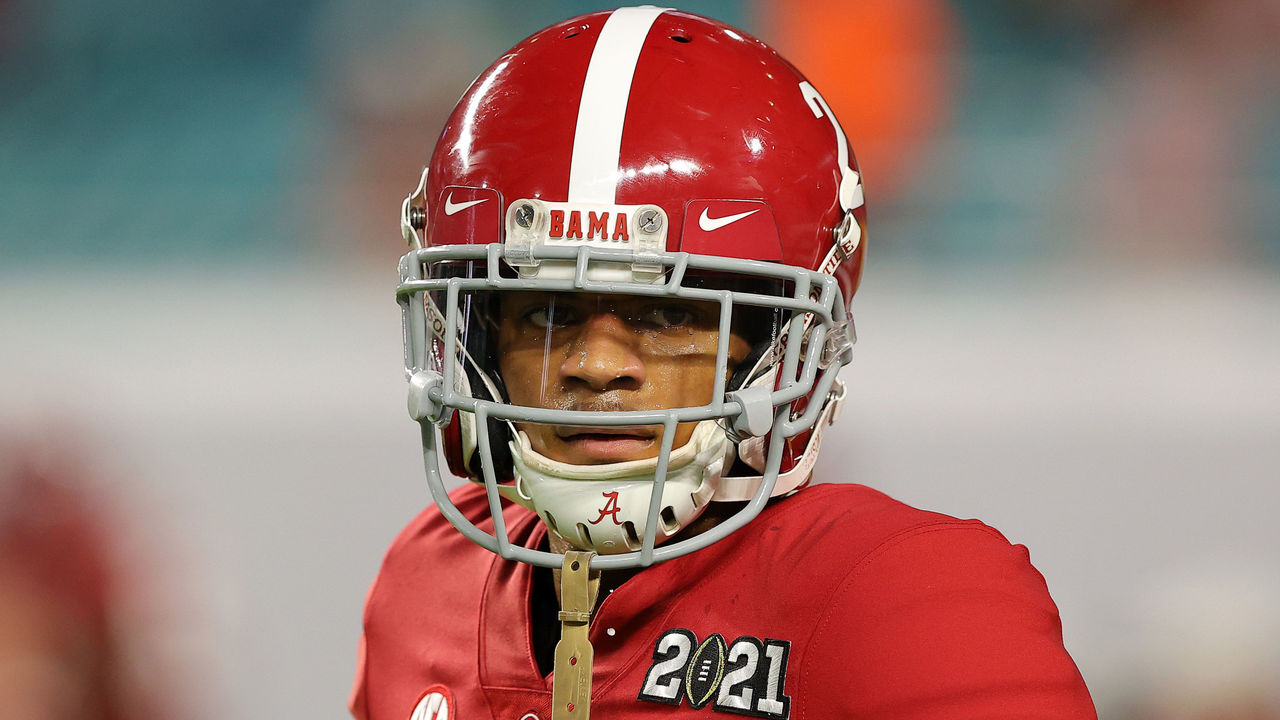 That mantra could define his upbringing in the sport. Surtain II prides himself on being smart, efficient, and adept at the little things - eye control, footwork - he's sought to master since shifting to corner as a high school freshman in Plantation, Florida. Fittingly, his dad was his coach at American Heritage School. Surtain Sr., the reigning national Coach of the Year as named by High School Football America, convinced his son he needed to outwork everyone.
Coach, son, and program won 5A state titles in 2016 and 2017, and along the way Surtain Sr. shared wisdom to defend and live by. Be humble, he told Surtain II, and seize the opportunities the game affords you. Another sentiment was all the more meaningful coming from an accomplished dad.
"There's nothing like being yourself. Staying true to yourself," Surtain II said. "The only person that can be you is you."
Nick Faris is a features writer at theScore.