Where do NFL quarterback contracts go from here?
Michael Hickey, Jason Miller, Timothy T Ludwig / Getty Images
The greatest team-building asset an NFL team can possess is a quarterback on a rookie contract. In the last three years, the Baltimore Ravens, Buffalo Bills, and Cleveland Browns all capitalized on this by constructing championship-caliber rosters around the respective talents of Lamar Jackson, Josh Allen, and Baker Mayfield, at a time when those QBs consumed no more than 5% of the salary cap.
That sort of extreme discount and cost certainty at the game's most valuable position can't last forever, though. All contracts for drafted rookies run for four years, with a team option for a fifth for every first-round pick. But negotiations toward a second, market-level deal can begin after Year 3, which is right where Jackson, Allen, and Mayfield are in their careers. This means the Ravens, Bills, and Browns are at an inflection point. Let's break it down.
What makes this an inflection point?
Quality quarterbacks remain scarce commodities, so it's crucial for teams to keep them once they get them. But that scarcity also drives up the price, and the top of the quarterback market has risen considerably in the last five years.
In June 2016, Andrew Luck set the league standard with a deal worth $24.6 million in average annual value, or 15.8% of that year's salary cap of $155.27 million. By last summer, Patrick Mahomes landed a contract worth $45 million in AAV, or 22.7% of the 2020 cap of $198.2 million. Mahomes' deal is a bit of an outlier due to its 10-year length. But the Dallas Cowboys gave Dak Prescott $40 million in AAV this spring, which amounts to 21.9% of this season's reduced cap of $182.5 million and 19.2% of next year's projected ceiling of $208.2 million.
You're losing me with all these numbers.
Fair. Here's the point: The top of the QB market has jumped 63% since 2016, even though the cap can rise by no more than 34% in the same period, including next season. Holding onto a good signal-caller is very expensive, and it figures to keep getting costlier in the years ahead.
Didn't all three teams trigger the fifth-year options on Jackson, Allen, and Mayfield?
Yes.
So doesn't that mean they're under contract for two more years?
Yep, for 2021 and 2022. And all three teams have the franchise tag as an option beyond that.
So what's the rush?
The league's new lucrative broadcasting rights deals should kick in by 2023, which means the cap should begin to skyrocket around then. Also, Over the Cap projects the franchise tag running as high as $28.9 million next year, so there's no telling how pricey those tags will be by 2023. And remember, the franchise tag is what a team has to pay in cash and carry on its cap, fully guaranteed, with no way to massage that over multiple seasons. New contracts can help provide some cap flexibility, in large part by spreading cap dollars across the life of the deal.
Which means it's probably better for the Ravens, Bills, and Browns to do a deal with their QBs sooner rather than later?
Now you're picking up what I'm putting down.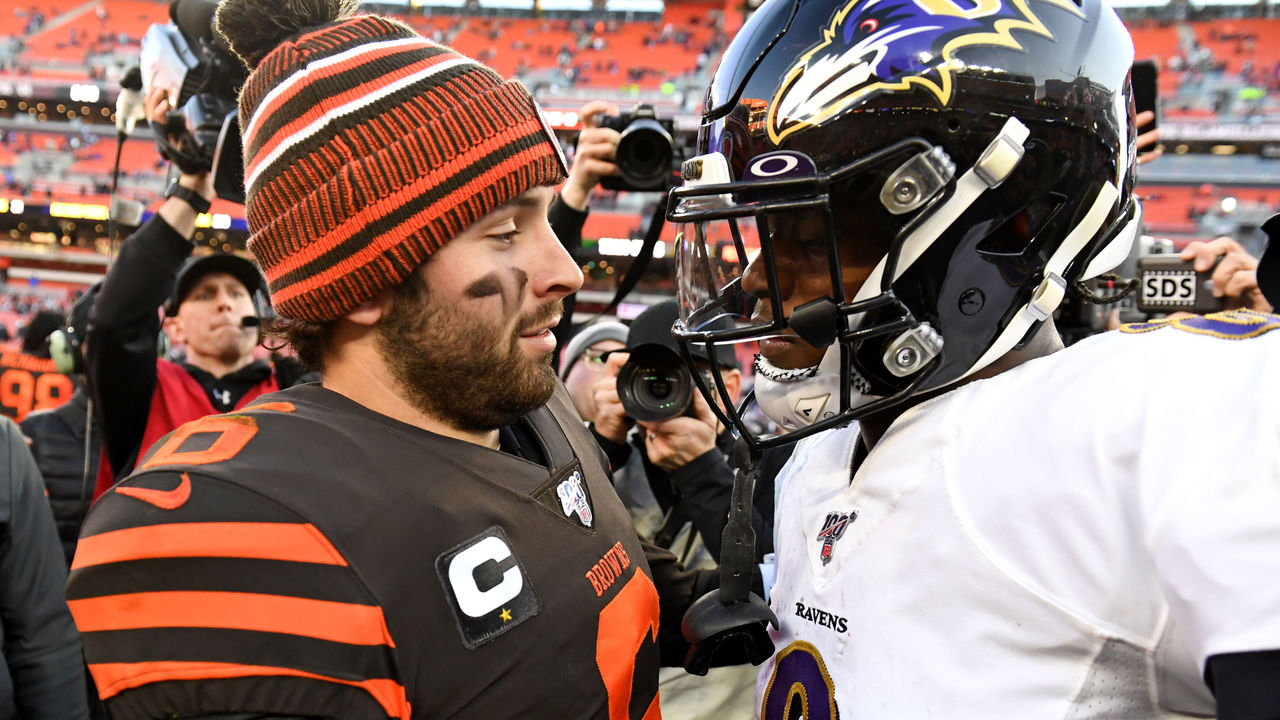 OK, but are Jackson, Allen, and Mayfield worth top-of-the-market money?
That's a trickier question, but they're at or close to that range, given recent history and what all three have achieved. From when Luck signed in 2016 through April 2019, Derek Carr, Matthew Stafford, Jimmy Garoppolo, Kirk Cousins, Matt Ryan, Aaron Rodgers, and Russell Wilson have all reset the AAV market, which by then topped out at $35 million a year. Around the same time, Ben Roethlisberger, Carson Wentz, Jared Goff, and another Cousins deal all came in between $32 million and $34 million annually. You have to remember that each QB's value is dictated by the supply of good-to-great QBs, along with what his current team is willing to pay to keep him.
Right, but ...
Let's quickly go over Jackson, Allen, and Mayfield's credentials.
Jackson has taken the Ravens to the playoffs in all three of his seasons. He was the league MVP in 2019. Per Ben Baldwin's database, Jackson ranked third in the league in expected points added per play (0.222) from 2018-20. Yes, he's had his struggles in the postseason, but he won a playoff game on the road last year. Yes, the Ravens love to run the ball, but Jackson's a significant part of that equation. He rushed for more than 1,000 yards in each of the last two seasons. He puts his body at risk, but a lot of teams would want a QB like him in today's game if he were to hit free agency.
Allen's progression in 2020 pretty much speaks for itself. He led the Bills to the postseason twice, including the AFC Championship Game last season. He ranked fourth in EPA/play in 2020, according to Baldwin's stats, and his passer rating on deep throws increased from 64.4 in 2019 to 103.0 in 2020, according to PFF. After some struggles in his first two seasons, Allen has shown he's got all the potential to be a true franchise quarterback.
Mayfield's a bit less accomplished than the other two, but he led the Browns to the postseason and won a playoff game last campaign when he ranked 11th in EPA/play. He seems to have found his stride in coach Kevin Stefanski's play-action-heavy, designed-rollout scheme. Even if a case can be made that Mayfield's managed that system well without elevating it the way Allen and Jackson have, he's certainly established his bona fides as a solid NFL starter.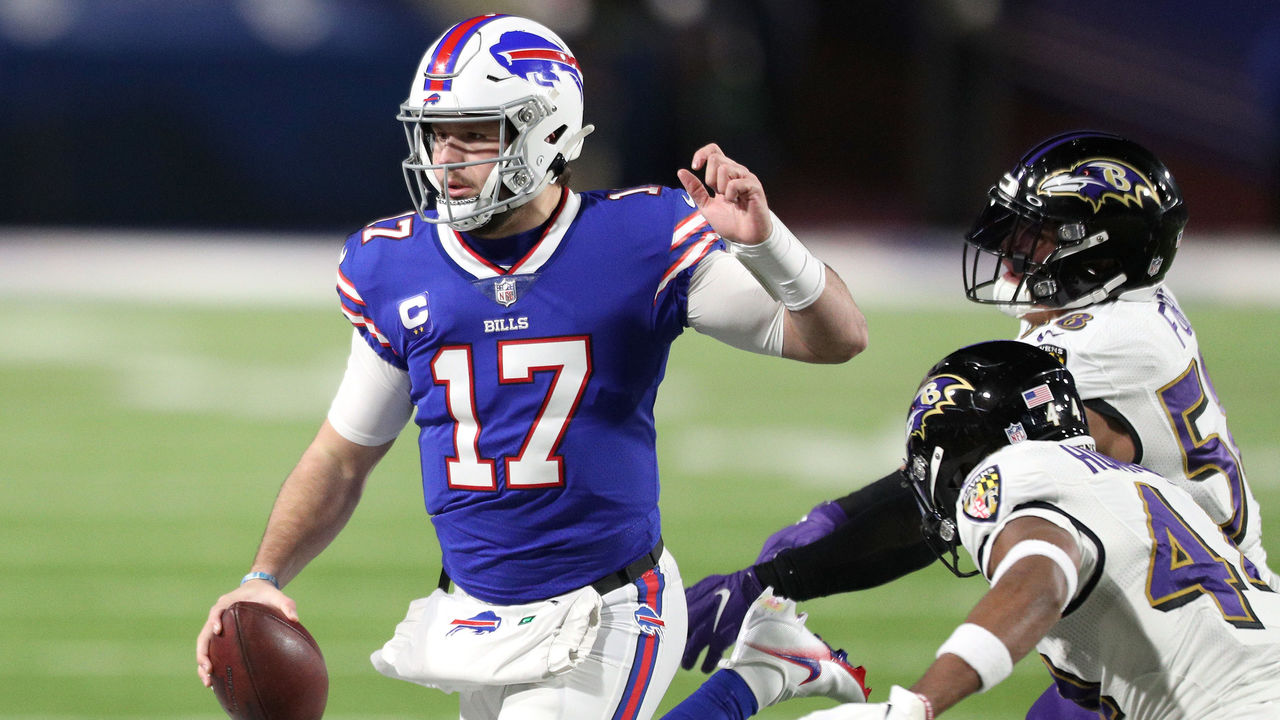 The question in all three cases is: What's that worth? Allen seems likely to get something north of Prescott's $40 million annually, and Jackson's AAV should approach that. Mayfield may not reach that threshold, but he figures to get paid handsomely, too.
According to Over the Cap, a total of 14 QBs - nearly half of the league's starters - are making at least $25 million in AAV. That includes Tom Brady, who has often played for far less than fair market value. But it doesn't include Roethlisberger, who took a $5-million pay cut this year so the Steelers could squeeze one more season out of his old bones and become cap compliant. Again, QBs are costly and only figure to get more expensive in the years ahead.
Wait, though. Didn't Wentz and Goff get traded a few months back because their expensive deals basically blew up in their team's faces?
Yep, and that's a factor that'll complicate things for Jackson, Allen, and Mayfield - and their teams. The Philadelphia Eagles are stuck with a $33.8-million hole in their 2021 cap because of money they already paid Wentz. The Los Angeles Rams are carrying $24.8 million in dead money on Goff, in addition to the $20 million going to Stafford, who was brought in to replace Goff. Both of those scenarios highlight the real risks teams take when signing QBs to such lucrative, long-term deals. They certainly don't anticipate the performances of those QBs falling off a cliff, to the point they might have to move on within two years.
It's kind of new territory, right?
It is. Don't forget, the pay scale that restricts what drafted QBs can earn went into effect in 2011, which is fairly recent. Twenty QBs were taken in the first round between 2011-17. The only QBs from that group to receive market-level second contracts from the teams that selected them were Mahomes, Deshaun Watson, Goff, Wentz, Luck, and Cam Newton. (Blake Bortles got a second contract from the Jaguars, hilariously, but it didn't pay top-of-the-market money.) Wentz, Goff, Mahomes, and Watson all inked their deals after their third seasons. Watson's situation is in its own category at the moment, but Goff and Wentz's deals are really the only ones that completely backfired.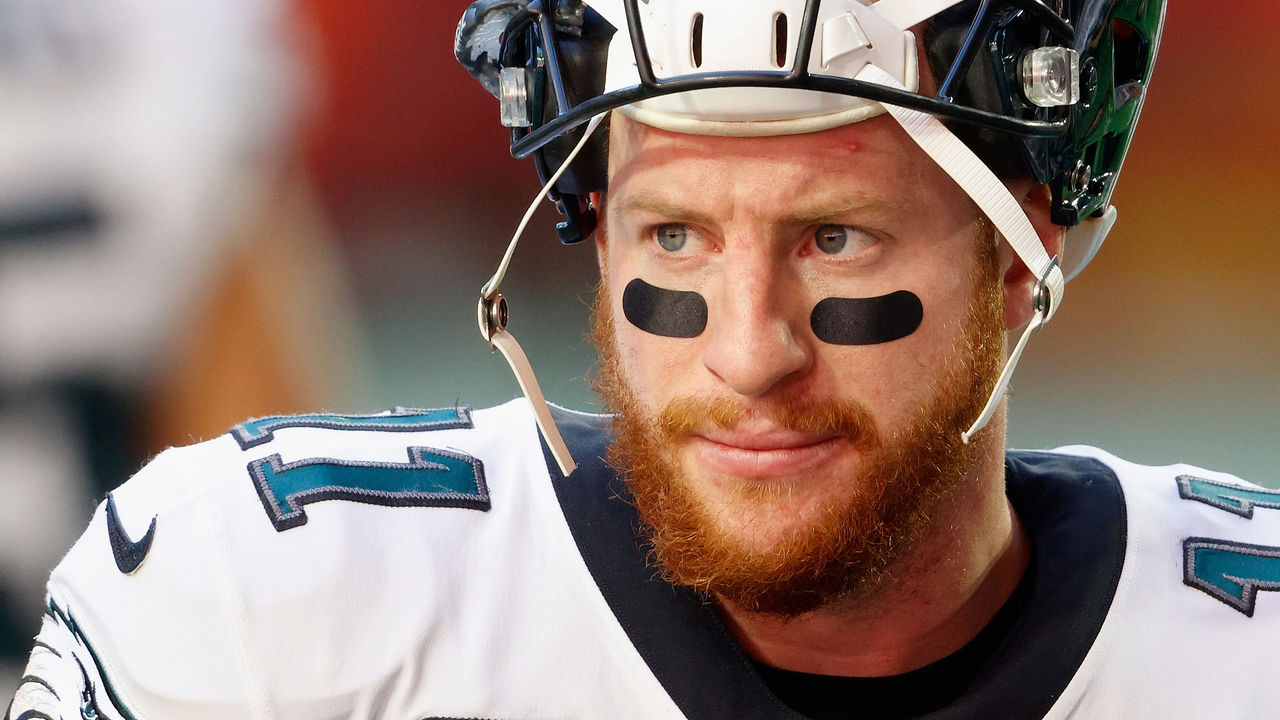 A team with a top-of-the-market QB has never won a Super Bowl, right?
That's correct, but some context is required. The Atlanta Falcons had a 28-3 lead on the New England Patriots in the Super Bowl with Ryan getting paid in that range. The San Francisco 49ers led the Kansas City Chiefs by 10 in the fourth quarter of a Super Bowl with Garoppolo on a massive deal. Mahomes got the Chiefs back to the Super Bowl last year after signing his huge second contract. And of the 14 teams in last year's playoffs, 10 had QBs with cap hits that exceeded $20 million. Three of the other four were the Ravens, Bills, and Browns.
Brady winning four of the last seven Super Bowls - all after the age of 37 - has really messed with the narrative that it's impossible to win a title with a high-priced QB. Yes, he's often taken less money, but his success is so extraordinary and so unprecedented, it probably ought to be in a category all on its own.
Why don't teams keep cycling through drafted quarterbacks and move on once it's time to pay them?
Now that's an interesting question. On his show back in May, Rich Eisen proposed that an approach like that could be a new way forward for teams - exploiting a kind of market inefficiency, if you will. But when Eisen put that question to Chiefs general manager Brett Veach, he got an answer that spoke to the added complications of going that route.
"It's hard because everything has to line up," Veach said. "Where are you picking? How many quarterbacks are available in the draft? Certainly, you don't want to be picking in the top 10 every year because you're not very good, and that would mean the quarterback didn't play very good.
"It's one of those fine lines where, if you have success with a rookie quarterback on his rookie deal, you're picking (at No.) 30, 31. Well, how many true, surefire, plug-in-and-play starters do you think you're going to have access to? So then if you do let him go and you're picking 31, who are you going to get there at 31?
"I just think it's very hard to land one of these guys. Teams that get stuck in purgatory, so to speak, are teams that have quarterbacks that are just good enough, and they're picking 19 or 20, and quarterbacks are going in the top 10, and their guy's OK and they want to get better, and it's just hard. It's kind of like a dog chasing its tail."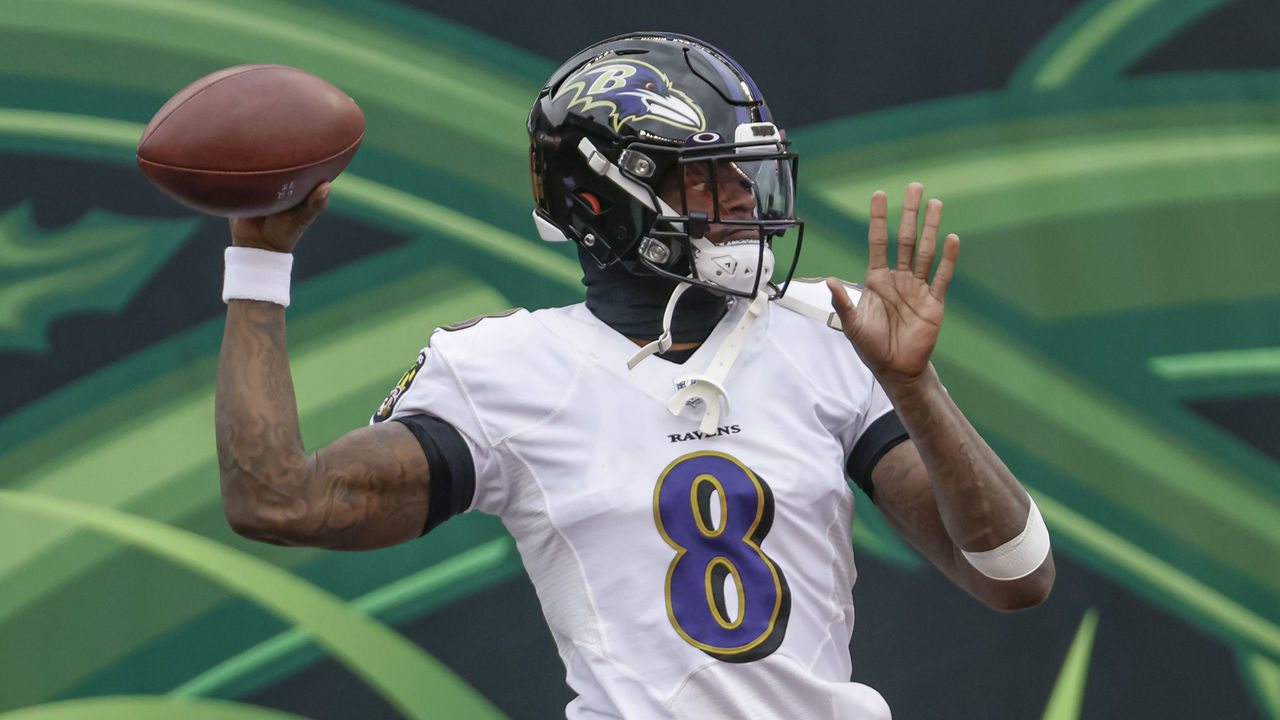 It's true the Ravens found Jackson at pick No. 32, and the Chiefs traded up from No. 27 to select Mahomes. But considering how hard it can be for QBs to pan out even at the top of the draft, what's the likelihood of landing picks like that again from those late-round spots four or five years later?
"The natural inclination," Veach went on to tell Eisen, "would be to draft and extend, with some flexibility within that extension."
So what does this mean for the Ravens, Bills, and Browns?
I posed that question a few months back to former agent Joel Corry, and he suggested it might incentivize the Ravens and Browns, in particular, to wait another year to see how Jackson and Mayfield perform in 2021 before pulling the trigger. He also acknowledged the risk in that approach because if either or both play really well, they're only going to cost more next offseason.
"The problem really isn't paying early," Corry said. "It's paying elite money when the player isn't elite or close to elite."
At the same time, Over the Cap founder Jason Fitzgerald suggested to me that teams might be more inclined to structure deals differently by deferring more money until later or establishing some kind of vesting date on future guarantees.
How so?
Corry, in a recent column for CBS Sports, provided a specific example of how this might work. He noted the Bills could use some sort of signing bonus and option bonus combo in Allen's deal, as they did last year for left tackle Dion Dawkins and cornerback Tre'Davious White. Like a signing bonus, the option bonus can be prorated against the cap, which would keep Allen's number low in the short term while also providing a vesting schedule for payment in the event Allen's play slips. A lot will depend on how hard Allen wants to bargain.
What about Jackson?
Interestingly, he's representing himself, so there's no telling how that might go. But as Corry noted, DeAndre Hopkins, Laremy Tunsil, and Bobby Wagner all did quite well for themselves by bargaining without an agent.
And Mayfield?
Again, it's a bit complex, but Corry envisioned the possibility of a shorter deal (think two or three years) that might allow Mayfield to prove himself and get another bite of the apple when the market takes off again while also providing the Browns with a bit of protection. Cousins did this last year with the $33 million AAV extension he signed with the Minnesota Vikings.
In the end, what might matter most for all three quarterbacks is which one signs first since that would then allow the other two to work off of that. One way or another, though, they're all going to get paid.
Dom Cosentino is a senior features writer at theScore.
Comments
✕
Where do NFL quarterback contracts go from here?
  Got something to say? Leave a comment below!