Biggest question for every AFC team this season
With the 2021 season getting underway this week, let's take a look at the most pressing on-field question facing every team in the AFC. The NFC questions can be found here.
Baltimore Ravens
Will conventional wisdom finally accept that Lamar Jackson is legit?
Jackson has been a league MVP. He's 30-7 as a starter. He's guided Baltimore to the playoffs three times. He won a playoff game last season. Yet there's somehow still so much doubt about whether he can thrive as an NFL quarterback.
He did slip to 13th in EPA/play and 22nd in DYAR last season after having led the league in EPA/play and Total QBR and finishing fifth in DYAR during his 2019 MVP campaign. Jackson generally thrives in a Ravens system that relies heavily on running the ball - although the team may need to adjust after losing three of its top four running backs to season-ending injuries - and takes advantage of his dual-threat ability.
Jackson arguably does struggle with sideline throws from the pocket; Baltimore attempted a league-low 25.4% of such passes last year, well below the league average of 35%, per the Football Outsiders Almanac. But how much of that was by design in offensive coordinator Greg Roman's run-heavy system? How much is on the receivers? These are the sort of nuanced questions worth considering instead of piling on a quarterback who's already had a fair amount of success as an NFL starter.
Buffalo Bills
Can Josh Allen sustain this?
Let's compare Allen's career arc to Jackson's. At this time last year, Allen had two seasons under his belt, largely characterized by what he couldn't do. Now, after just one outstanding season of unprecedented progress - Allen raised his completion rate by more than 10 percentage points and played like an MVP - the consensus is that Allen is a slam-dunk, no-holds-barred franchise quarterback for years to come.
And he probably will be! The Bills have developed a foundation for Allen that's as hospitable as any in the league. They also rewarded him with a market-level second contract that all but yokes him to Buffalo for several years, no matter how he performs.
By all indications, Buffalo is set up to succeed with Allen for a long time. But past performance is no guarantee of future success, particularly when it's just one season of excellent play. Let's see whether Allen can keep it up.
Cincinnati Bengals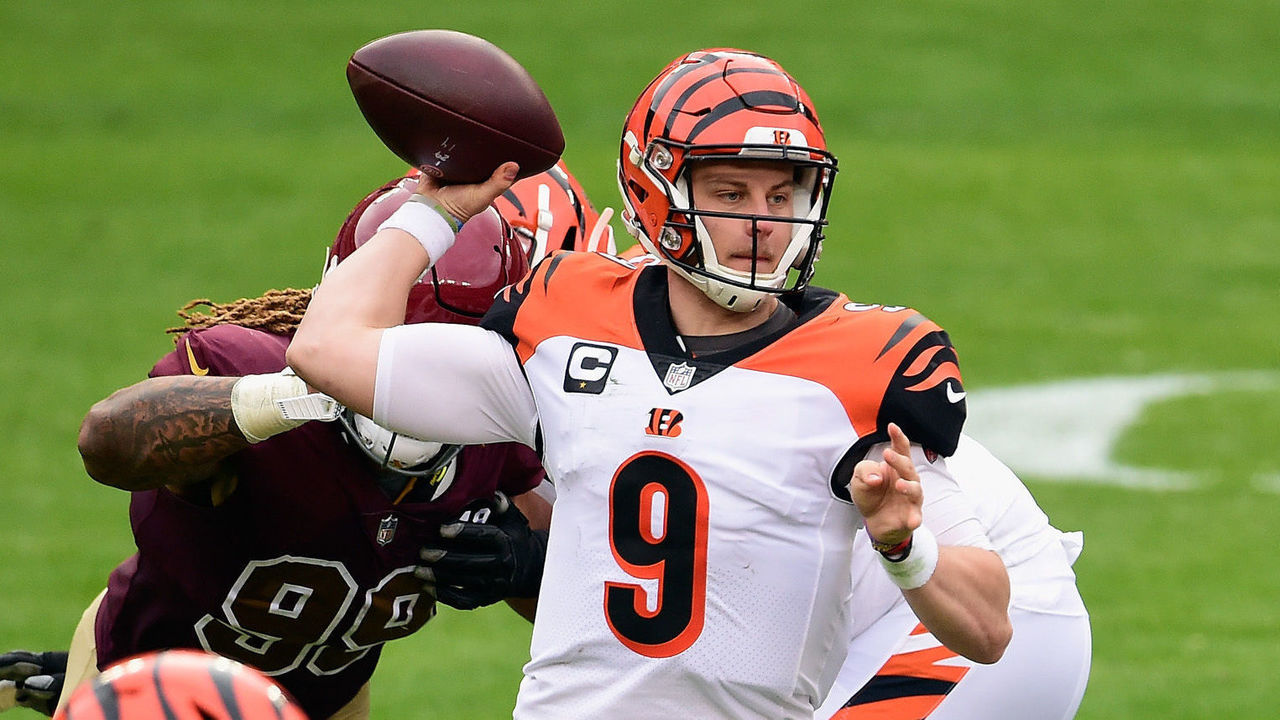 Can they protect Joe Burrow?
Since 2016, the Bengals have not ranked better than 19th in adjusted sack rate, per Football Outsiders. They finished 24th last year, and their offensive line ranked 29th in pass-block win rate.
Burrow, last year's No. 1 pick, was on pace to get sacked more than 50 times when he was lost for the season with an ACL injury. At the draft, Cincinnati passed on selecting tackle Penei Sewell with the fifth overall pick, opting instead for Burrow's ex-LSU teammate, wideout Ja'Marr Chase.
The Bengals didn't ignore the O-line this offseason. Cincinnati signed Riley Reiff away from the Minnesota Vikings, but he's switching from left to right tackle. The Bengals also took three offensive linemen after the first round, though none are expected to start. Protecting the passer has been a problem in Cincinnati for some time. If Burrow isn't able to make a big leap in Year 2, it will be a big part of the reason why.
Cleveland Browns
Are they - dare anyone suggest it - Super Bowl contenders?
The Browns went to great lengths to shore up their defensive backfield this offseason, signing safety John Johnson and cornerback Troy Hill away from the Los Angeles Rams and grabbing cornerback Greg Newsome and jackknife linebacker Jeremiah Owusu-Koramoah with their first two draft picks.
That group will play behind a pass rush anchored by Myles Garrett, who ranked third in pass-rush win rate. On offense, Odell Beckham Jr. should be back from injury, which ought to give quarterback Baker Mayfield a full arsenal of weapons behind an offensive line that ranked second in pass-block win rate.
The Browns, in short, have as complete a roster as any team in the NFL. They also exorcised their demons by thumping the rival Pittsburgh Steelers in the playoffs. Yes, the Cleveland Browns really should be Super Bowl contenders. The rest of us will just have to get used to it.
Denver Broncos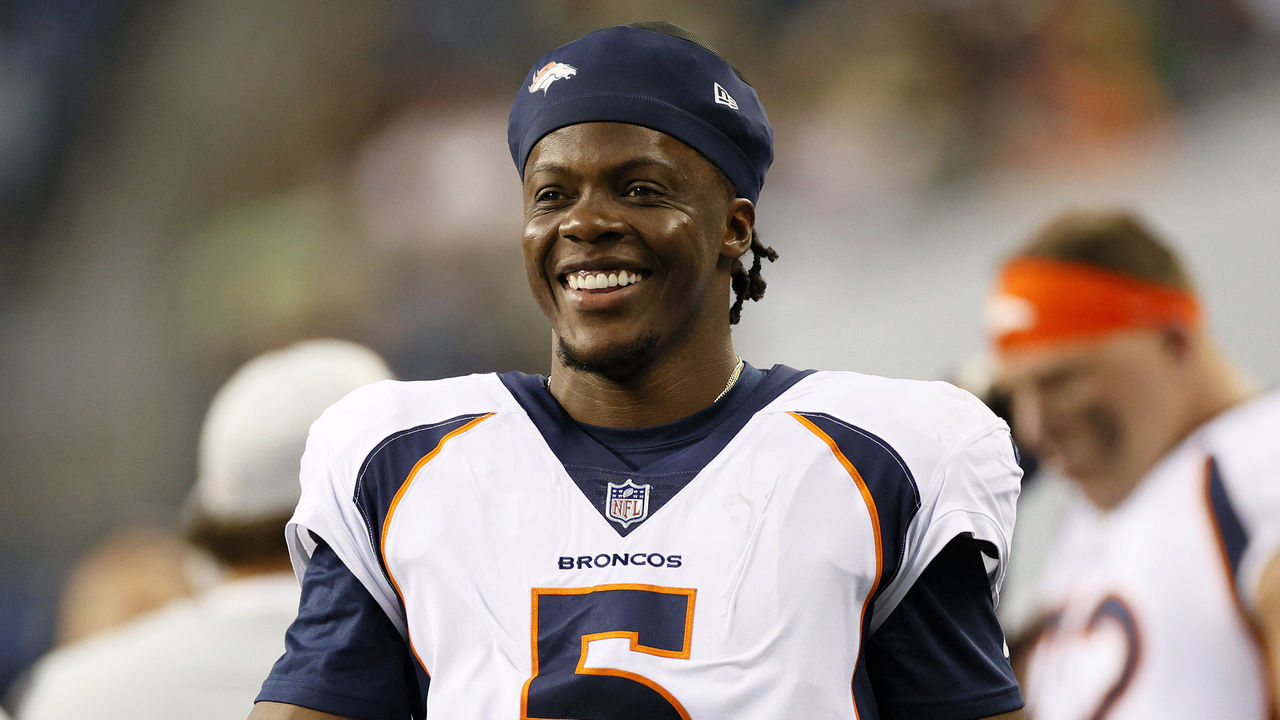 How long will they remain stuck in QB purgatory?
Since winning the Super Bowl in 2015, the Broncos haven't made the playoffs, and only the New York Jets have a longer postseason drought. With Vic Fangio in charge, Von Miller back from injury, and Patrick Surtain II on board at cornerback, the Broncos potentially have one of the league's best defenses. As for the other side of the ball …
It's pretty safe to say the Drew Lock experiment is over. Instead, Denver will roll with Teddy Bridgewater, whom it acquired for a sixth-round pick. Bridgewater's low-risk style wasn't a good fit in his lone season with the Carolina Panthers, but it might be better suited to a Broncos system that will rely on its defense.
There's obviously a ceiling here, however. The best-case scenario for the Broncos seems to be sneaking into the playoffs while continuing their search for a quality starting quarterback.
Houston Texans
Is there any light at the end of the tunnel?
There's not much to analyze here. The Texans have the league's worst roster. It's going to take time - and lots of it - to clean up this mess. The best outcome for 2021 is being bad enough to land the No. 1 pick in the 2022 draft. Anything less would be a tremendous disappointment. The end.
Indianapolis Colts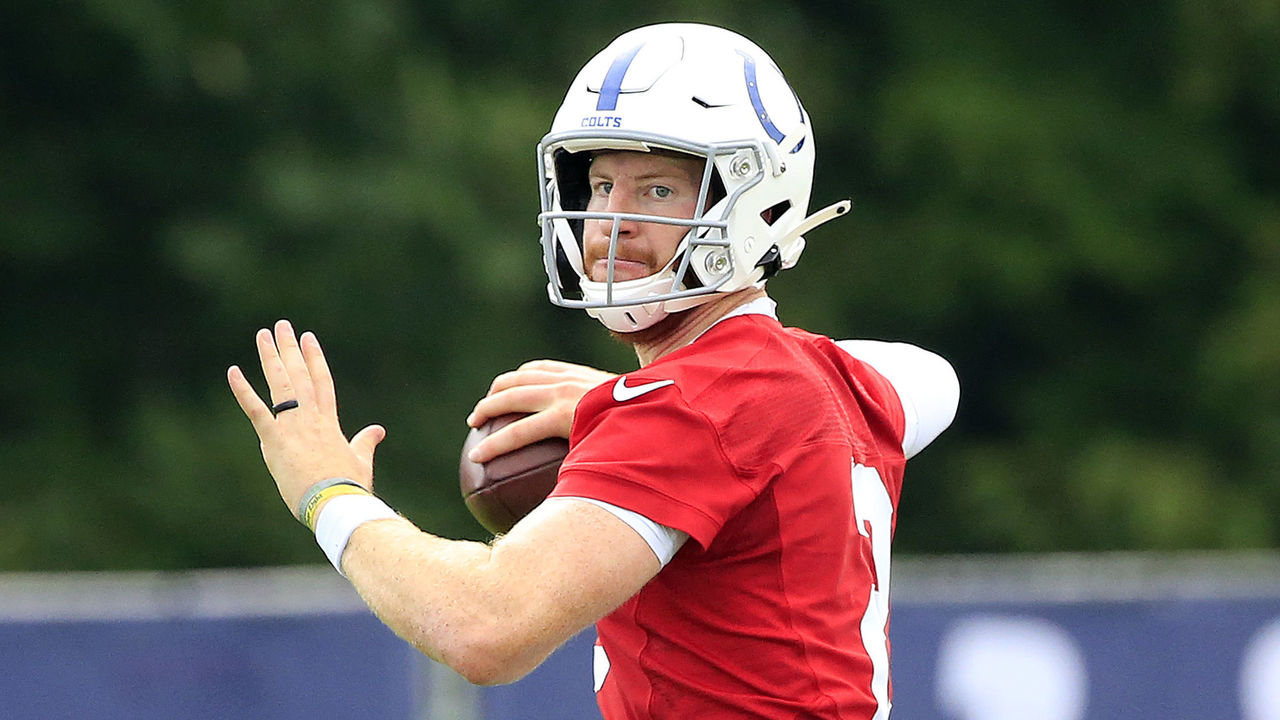 Can Frank Reich fix Carson Wentz?
The Colts are still trying to overcome Andrew Luck's sudden retirement just before the start of the 2019 season - understandably so, since the only thing rarer than a legit franchise quarterback is a legit franchise quarterback who walks away from the game in the prime of his career.
Indy has done all it can to keep its otherwise solid roster intact, preventing the team from mortgaging too much to leap into the sort of draft position necessary to select a top quarterback prospect. The results: rolling out Jacoby Brissett, riding out the last of Philip Rivers, and now taking a chance on Wentz, last seen devolving from a surefire franchise signal-caller into one of the NFL's worst quarterbacks.
The Colts are betting that reuniting Wentz with head coach Frank Reich will generate some of that old magic. If it works, they've got themselves a relative bargain at an average cap hit of $24 million per year for the next two seasons. If it doesn't …
Jacksonville Jaguars
Can Urban Meyer actually coach in the NFL?
The Jags have a long way to go with their rebuild, and Trevor Lawrence is the right quarterback to get it started. Preseason is preseason, but he has already flashed plenty of raw potential. The larger issue is whether head coach Urban Meyer is cut out for this.
Meyer had plenty of success at the college level, but it remains to be seen whether his control-freak style will translate to the NFL. Tim Tebow's short-lived stay on the roster - on the grounds that Tebow is an impressive competitor, as Meyer explained to Cris Collinsworth in May - was a prime example: Pro athletes don't need lessons on competitiveness from inferior players. That's what makes them professionals.
Perhaps Meyer will learn from this. He'll certainly be given the time and opportunity to get things right. But the Tebow bit wasn't an encouraging sign.
Kansas City Chiefs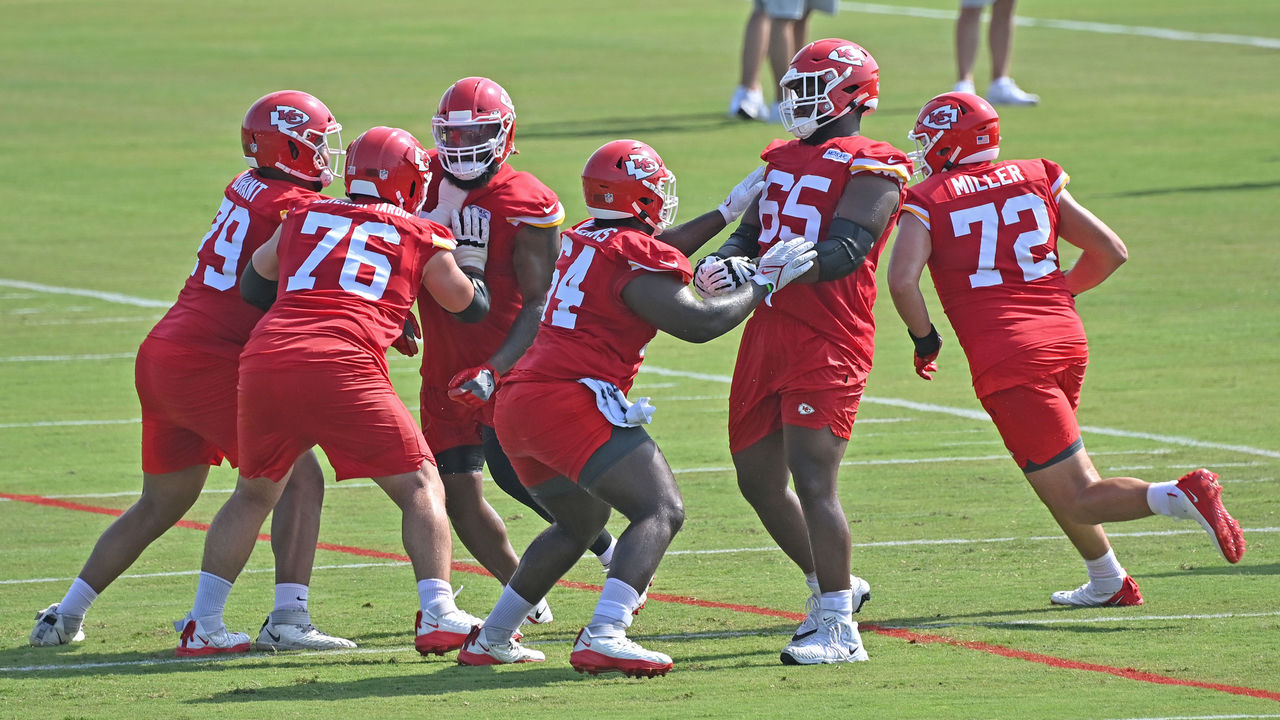 Did they make the right upgrades along the offensive line?
The Chiefs appeared in the last two Super Bowls and were one Tom Brady overtime drive from making it three in a row. It seems nitpicky to identify a flaw, but a big blemish was on full display in Super Bowl LV, when Mahomes was left to run for his life behind a makeshift offensive line.
Left tackle Eric Fisher and right tackle Mitchell Schwartz both missed the Super Bowl due to injuries. That created a nightmare scenario against the Tampa Bay Buccaneers' ferocious pass rush, which pressured Mahomes on 31 of his 56 dropbacks, per PFF. Fisher and Schwartz have both since been released. To make up for it, the Chiefs traded for Ravens left tackle Orlando Brown Jr., signed Joe Thuney from the New England Patriots in free agency, persuaded Kyle Long to come out of retirement, and drafted center Creed Humphrey in the second round. Also, right guard Laurent Duvernay-Tardif and right tackle Lucas Niang have both returned after being COVID-19 opt-outs last season.
That's a complete makeover of a line that just appeared in the Super Bowl. At full strength, the Chiefs seem unstoppable. And now they've fixed their one glaring flaw.
Las Vegas Raiders
Will Jon Gruden's seat heat up?
In his three seasons as head coach, Gruden has a 19-29 record and zero playoff appearances. In 2019, the Raiders started 6-4 but finished 7-9. Last season, they were 6-3 before winding up 8-8. Gruden signed a 10-year deal with the Raiders, but if he misses the playoffs again, his seat has to start getting warm. Same with general manager Mike Mayock.
The odd thing about the Gruden-Mayock Raiders is their scattershot approach to roster construction. They reached in the first round by drafting defensive end Clelin Ferrell in 2019 and cornerback Damon Arnette in 2020; neither one is now a projected starter. They reached again to select right tackle Alex Leatherwood this year. They sought to retool a defense that's been 31st, 31st, and 28th in DVOA during Gruden's tenure by using five of their seven draft picks this year on defense. Yet they also traded away three starters from an offensive line that was 10th in pass-block win rate, and they handed running back Kenyan Drake $11 million guaranteed even though Josh Jacobs is right there.
Quarterback Derek Carr has been a bright spot. He was ninth in EPA/play last year and 11th in Total QBR. Gruden has shown he can still coach offense, even after all those years in the broadcast booth. The rest? Maybe not so much.
Los Angeles Chargers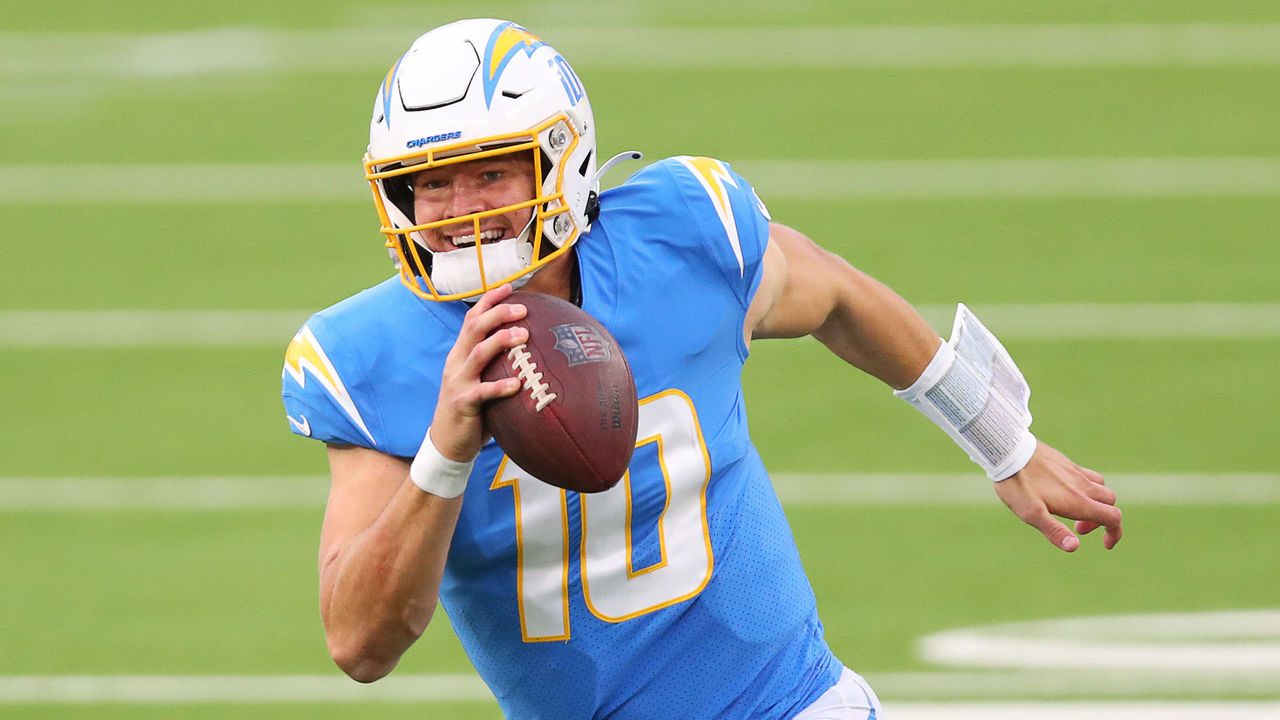 Is this the year they live up to the hype?
On paper, the Chargers frequently look like contenders. Then stuff just … happens, and they eventually slink back to mediocrity - or worse. After bottoming out and drafting quarterback Justin Herbert with the sixth pick in 2020, he put together the sixth-best rookie season in the history of Football Outsiders' DYAR metric. So L.A.'s got big expectations again. What could possibly go wrong?
The Chargers did right by Herbert by prioritizing getting him some protection. Last year, their O-line ranked 31st in pass-block win rate, and only Russell Wilson saw pressure on more dropbacks, per PFF. Herbert nonetheless posted a league-best passer rating of 99.4 when pressured. To aid Herbert, the Chargers signed center Corey Linsley and left guard Matt Feiler before using their first-round draft choice on left tackle Rashawn Slater.
If there's something to worry about, it's the defense.
Miami Dolphins
Is Tua Tagovailoa cut out to be a franchise QB?
Tagovailoa's 2020 rookie campaign can best be described as incomplete. He made nine starts and wasn't outright terrible, but he was frequently benched so Ryan Fitzpatrick could spot him as a kind of closer. With Fitzpatrick off to Washington (his ninth NFL team), it's Tua Time all the time in South Florida.
Tagovailoa had the fifth-best passing DVOA of the 10 quarterbacks drafted in the top five since 2015, according to the Football Outsiders Almanac. That's just fine for a rookie who didn't receive a full opportunity to sink or swim once he got a chance to be the starter.
Spending a full offseason knowing he's QB1 and getting the chance to work on the field with the offense can benefit Tagovailoa in Year 2. But there's no safety valve for him now.
New England Patriots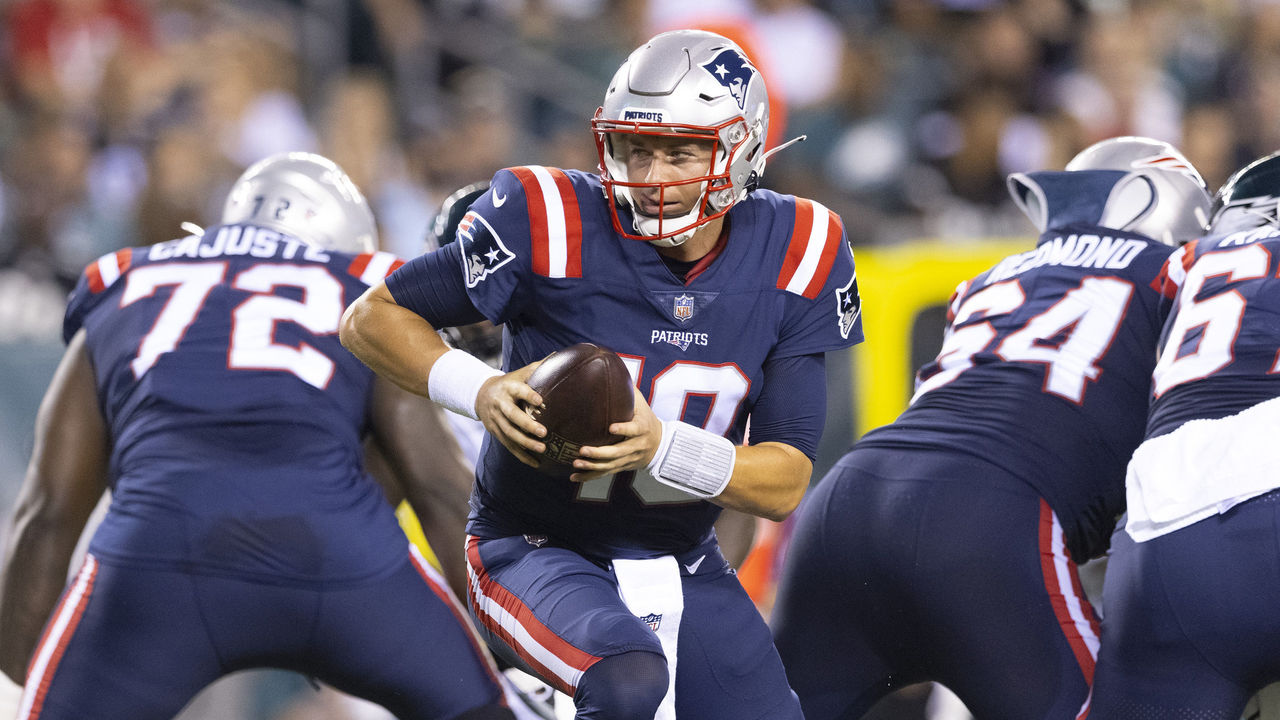 What's Bill Belichick got up his sleeve?
Belichick and the Patriots took their medicine in 2020, first by watching Tom Brady leave, then by stammering to a 7-9 finish, and then by having Brady win a Super Bowl without them. Now that Belichick's had a chance to restock his roster with an uncharacteristic spending spree, we'll see whether he still has enough genius to keep the Patriots contending in an AFC East that no longer belongs to them.
If there's one thing Belichick proved across New England's 20-year run of dominance, it's that he can put good players in positions to succeed - provided he has good players. New England's roster is much better than it was in 2020, but it's was rebuilt with expensive replacements, the very sort of approach Belichick avoided for so long.
He's the GOAT and there's no need to pretend otherwise, but it will be fascinating to see if he can make this work - with a rookie quarterback, to boot.
New York Jets
Where are the cornerbacks?
GM Joe Douglas is taking the right approach toward this latest Jets rebuild by developing lots of infrastructure (i.e., investing in the offensive line and pass-catchers) around rookie quarterback Zach Wilson, whom he drafted No. 2 overall.
The Jets' roster was pretty barren, however, so there's a lot more work to be done. While the Jets certainly ought to be better than last year's 2-14 Gaseplant, if they're going to struggle in any one area, it'll likely be defending the pass. Rookie sixth-round pick Brandin Echols and 2020 fifth-rounder Bryce Hall are manning the two starting corner spots, and losing edge rusher Carl Lawson to a torn Achilles won't help.
That said, what matters for the Jets in 2021 is progress - especially at quarterback. And everything is set up to give Wilson a chance to succeed in ways Sam Darnold couldn't.
Pittsburgh Steelers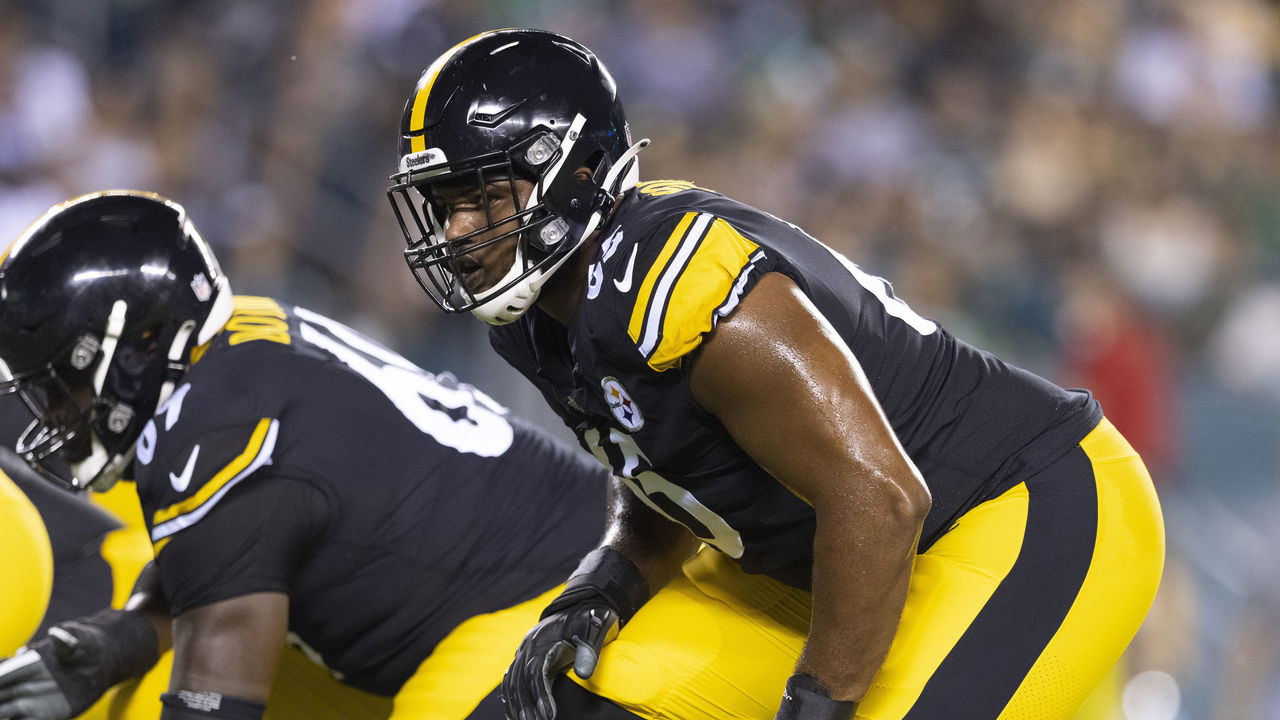 Who's on this offensive line, and can they block anyone?
Ben Roethlisberger's (possible) farewell tour at age 39 presents one set of questions. But the completely overhauled and inexperienced offensive line he'll play behind presents another.
The Steelers went into camp thinking Chukwuma Okorafor would be their starting left tackle. But with Zach Banner still recovering from an ACL tear and opening the season on IR, Okorafor moves back to right tackle, where he played all of last year. That leaves rookie fourth-round pick Dan Moore Jr. at left tackle, rookie third-rounder Kendrick Green at center, and 2020 fourth-rounder Kevin Dotson (who has all of four starts) at left guard. Free-agent pickup Trai Turner, the right guard, is the only Steelers offensive lineman with any significant experience.
Last season, Roethlisberger used a short, quick passing game to stay upright. This year, he's got a new, forward-thinking coordinator in Matt Canada, and do-everything rookie running back Najee Harris figures to line up all over the formation. But if the Steelers can't block anyone, there's no telling how any of their plans will pan out.
Tennessee Titans
Can the defense improve?
With A.J. Brown, Julio Jones, and Derrick Henry at Ryan Tannehill's disposal, the Titans figure to score points, though the loss of offensive coordinator Arthur Smith (now the Falcons' head coach) creates a whiff of uncertainty. But can they stop anybody?
Tennessee's defense was flat-out bad last year. It finished 29th in DVOA - including 30th against the pass - along with 30th in the red zone and last in stopping opponents on third down. The Titans added pass rusher Bud Dupree, defensive end Denico Autry, and cornerback Janoris Jenkins in free agency. They also hope to get more from cornerback Kristian Fulton, a 2020 second-round pick who played just 18% of the snaps due to injury but earned the starting job over Caleb Farley, this year's first-rounder. Linebacker Jayon Brown returns from injury as well.
Head coach Mike Vrabel designated Shane Bowen, last year's outside linebackers coach, as defensive coordinator after no one held that title last season. Vrabel also brought in veteran coordinator Jim Schwartz as a defensive assistant. Whatever it takes.
Dom Cosentino is a senior features writer at theScore.
Comments
✕
Biggest question for every AFC team this season
  Got something to say? Leave a comment below!