Biggest question for every NFC team this season
With the 2021 season getting underway this week, let's take a look at the most pressing on-field question facing every team in the NFC. Look for the AFC questions on Friday.
Arizona Cardinals
Can Kliff Kingsbury scheme his way out of trouble?
What happened to the Cardinals at the end of last season? After a 6-3 start that had them tied for first in the NFC West, they stumbled to a 2-5 finish and missed the playoffs. In a nutshell, defenses figured out Arizona's Air Raid passing attack and Kyler Murray's run options, and head coach Kliff Kingsbury failed to adjust.
Beginning with a Week 12 loss to the New England Patriots, the Cardinals' offense never posted a positive DVOA again after doing so eight times in their first 10 games, according to the Football Outsiders Almanac. The Patriots deployed five or more defensive backs on 69 of 70 snaps while also using two or fewer defensive linemen48 times (68.5%). That additional speed neutralized Arizona's attack and provided a blueprint for the Cardinals' opponents the rest of the way.
Football Outsiders drilled down on Kingsbury's inability to counter this approach: The Cardinals played at the league's fastest pace, but they used pre-snap motion less frequently than any other team. They also deployed the league's lowest rate of dig and post routes, which could have countered all the zone defenses that blanketed their receivers and took away Murray's running lanes. The Murray-Kingsbury combo has to progress in Year 3, and a lot of that depends on Kingsbury's ability to adapt. This ain't the Big 12.
Atlanta Falcons
Can Dean Pees get something out of this defense?
Pees had a solid track record coordinating defenses for the Patriots, Baltimore Ravens, and Tennessee Titans. He came out of retirement at 72 to take over an Atlanta unit that ranked 14th in DVOA last season despite the team's 4-12 record.
Last year's Falcons defense faced the league's toughest schedule by offensive DVOA and was 2-8 in one-score games. This year, the offensive DVOA of Atlanta's opponents ranks 21st, according to analyst Warren Sharp's preview.
Pees' ability to scheme things up is worth watching. Four of his six defenses with the Ravens ranked in the top 10 in DVOA. Although his two Titans defenses both ranked 18th, he developed the game plans to beat both Tom Brady and Lamar Jackson on the road in the 2019 playoffs.
Carolina Panthers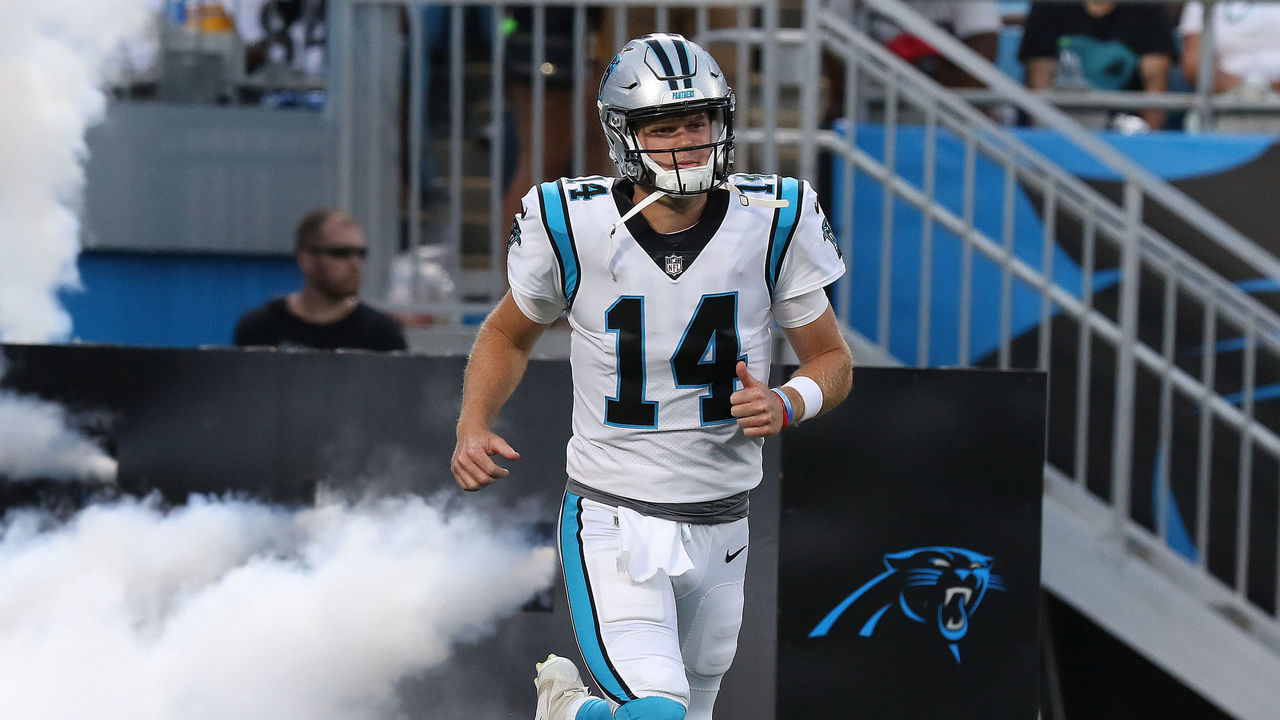 Can they salvage Sam Darnold?
The Panthers dealt for Darnold after swinging and missing on attempted trades for Matthew Stafford and Deshaun Watson. Darnold's struggles in his three seasons with the New York Jets are well known: Only Carson Wentz ranked worse in DYAR in 2020, and Josh Rosen is the only QB with a lower EPA/play since the start of Darnold's career. But how much of that was on Darnold, and how much of that was simply the stink of former Jets head coach Adam Gase?
Carolina is betting it was more of the latter. Darnold certainly had a crummy support system with the Jets, from Gase's clown-shoe coaching operation to an offensive line that ranked 29th in pass-block win rate last year to a group of pass-catchers best known for their anonymity.
Panthers head coach Matt Rhule and offensive coordinator Joe Brady are gambling that a better support system, including the return of running back Christian McCaffrey, can pry something better out of Darnold. The franchise was even willing to pass on drafting Justin Fields and Mac Jones to give it a go. Ryan Tannehill is an obvious example of what Darnold can perhaps become in a new setting, but Tannehill's improvement is much more the exception than the rule.
Chicago Bears
How long will Andy Dalton start ahead of Justin Fields?
In March, Chicago agreed to pay Dalton $10 million to take over for Mitchell Trubisky, a move that provoked all the excitement of a puddle evaporating. Six weeks later, the franchise traded up nine spots to land Fields, which changed the outlook just a little. Head coach Matt Nagy intends to start Dalton in Sunday night's opener at the Los Angeles Rams, but come on.
Nagy was the Kansas City Chiefs' offensive coordinator in 2017, the year Patrick Mahomes sat for 15 games as a rookie behind Alex Smith. But those Chiefs had head coach Andy Reid's credibility and a forward-thinking scheme that squeezed a season ranked eighth in EPA/play out of Smith. Dalton won't be doing that for Chicago this season.
There's no right or wrong time to hand the wheel to a first-round QB, but Bears fans have been waiting something like 70 years for a bona fide franchise quarterback. Nagy and GM Ryan Pace already whiffed on Trubisky. The instant Dalton whizzes a throw behind Allen Robinson, the clamor for Fields to take over will become deafening. When will Nagy pull the trigger?
Dallas Cowboys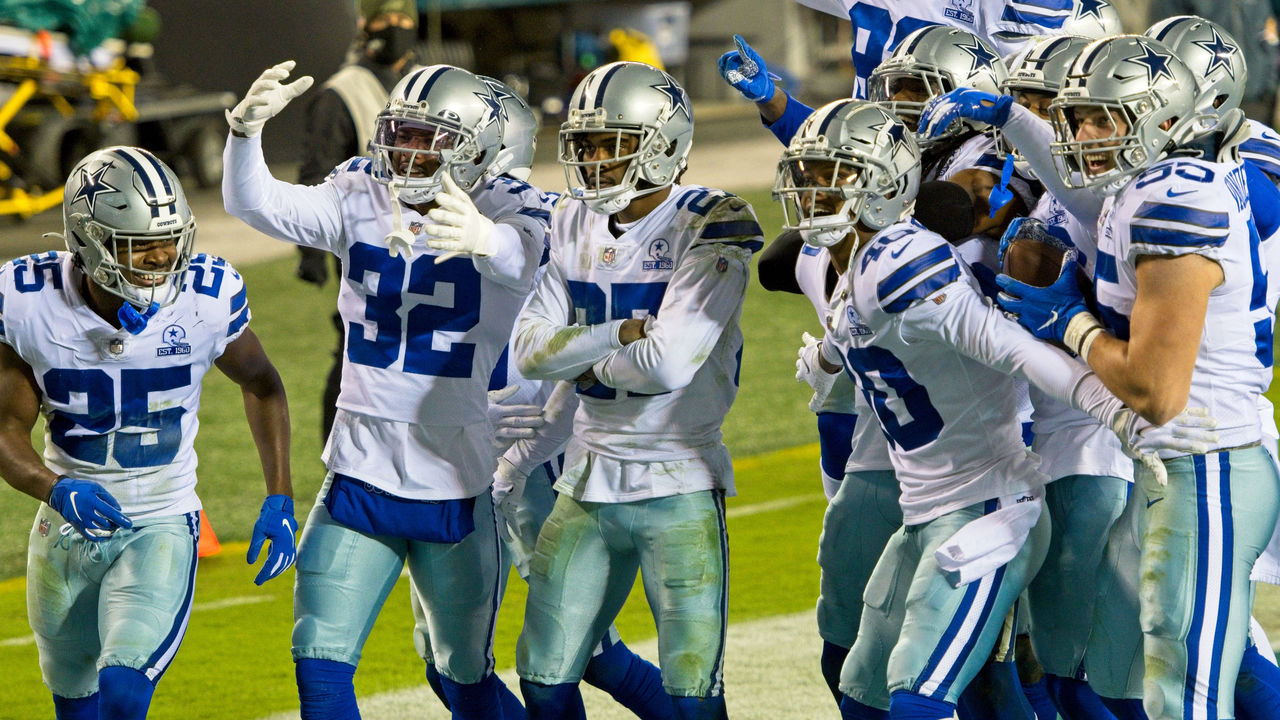 How much will the defense hinder this team?
After a disastrous 2020 lowlighted by quarterback Dak Prescott's ankle injury, the Cowboys invested heavily in trying to improve their defense. First, they hired Dan Quinn as coordinator. They then used their first six draft picks - and eight of 11 overall - on defensive players, starting with inside linebacker Micah Parsons, whose versatility could be a huge plus.
Quinn made his bones as a defensive coach, but his defenses in Atlanta never once ranked in the top half of the league in DVOA. Dallas' defense under Mike Nolan last season ranked 23rd in DVOA despite facing the second-easiest schedule (based on the offensive DVOA of its opponents). The Cowboys' secondary could be a problem. And according to Warren Sharp's data, the Cowboys are scheduled to face six of last year's top 10 quarterbacks in EPA/play.
A healthy Prescott complemented by Amari Cooper, CeeDee Lamb, Michael Gallup, and Ezekiel Elliott ought to score lots of points. They might need to, depending on how quickly Dallas' inexperienced defenders come along.
Detroit Lions
Is Dan Campbell cut out for this?
Since being hired as Detroit's head coach in January, Campbell has been a one-man meme generator because of his over-the-top enthusiasm. He's tasked with rebuilding a franchise that always seems to be rebuilding, but now the Lions will do it with a quarterback other than Matthew Stafford for the first time in 13 years.
Campbell is trying to create a culture of openness and communication - a complete 180 from his predecessor, Matt Patricia, whose approach was to behave like Bill Belichick without any of the substance.
Campbell's never been a coordinator, and he went 5-7 as an interim head coach with the Miami Dolphins after Joe Philbin was fired four games into the 2015 season. Not much will be expected this year - this Lions rebuild is going to take a while - but it will be fascinating to see whether Detroit can eventually do more than bite opponents' kneecaps this season.
Green Bay Packers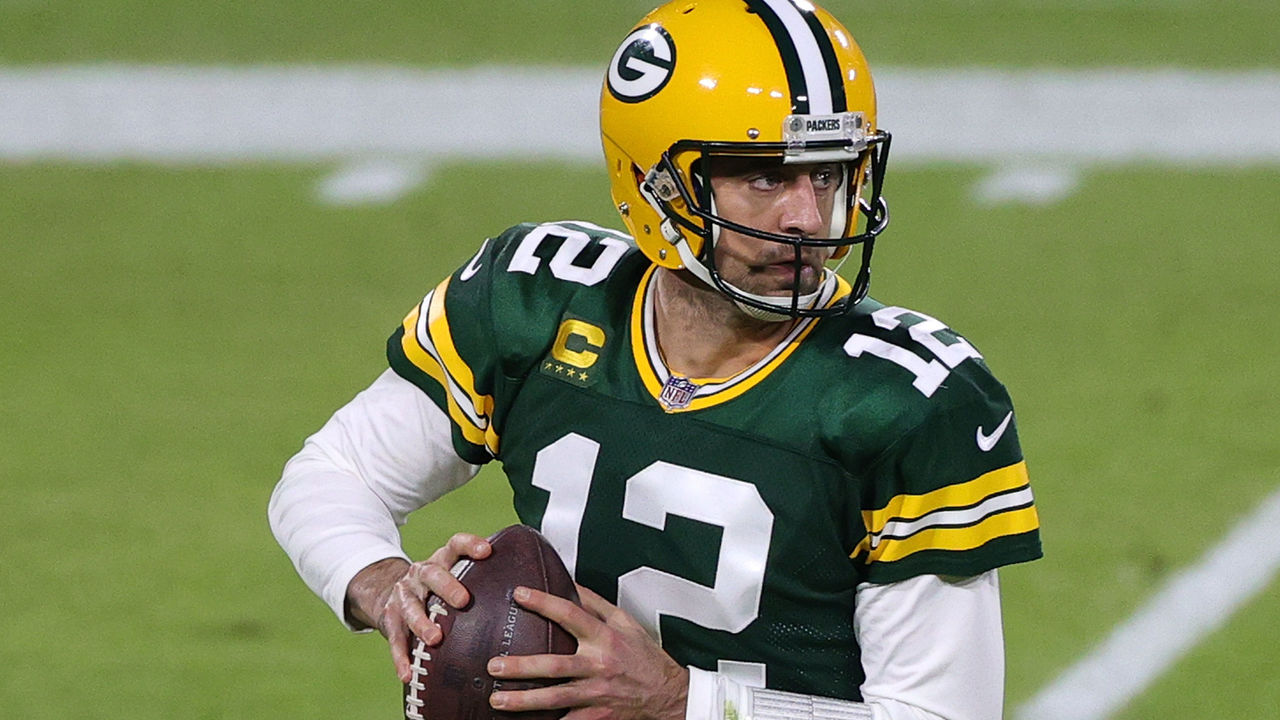 Will the Aaron Rodgers drama spill into the season?
On paper, there's no reason to think the Packers can't contend for the Super Bowl, just as they did in head coach Matt LaFleur's first two seasons. And while it's tempting to wonder whether Rodgers' long offseason tiff with management will have knock-on effects, it's important to remember what resulted from it all.
Rodgers secured a revised contract that basically sets things up for Green Bay to trade him next offseason. This is important because it gives both him and the Packers every reason to get along swimmingly this season - and to succeed, since another terrific year would enhance his trade value.
If this indeed is Rodgers' last season in Green Bay, it ought to be a good one.
Los Angeles Rams
Can Matthew Stafford lift Sean McVay's offense back to an elite level?
Stafford had long been a big-armed talent stuck in dire circumstances. McVay traded Jared Goff for him - and swallowed a mammoth cap hit from Goff's contract - in the hopes that Stafford would benefit from a change of scenery and the Rams might execute better on offense.
L.A. looked unstoppable with Goff piloting McVay's creation in 2018, but then his performance waned. Last year, Goff's passer rating under pressure (45.6) was the fourth-worst in the league, per PFF, while Stafford's (91.8) was second only to Justin Herbert's. Only Philip Rivers and Jameis Winston threw more picks in 2019 and 2020 than Goff's 29. The Rams finished 10th in offensive DVOA last year, but their passing offense ranked just 19th.
It's tricky to suss out exactly how McVay intends to tailor his offense to Stafford. Warren Sharp's data shows that the Rams used 11 personnel (one running back, one tight end, three receivers) on 89% of their plays in 2018 before dropping down to 73% in 2019 and just 65% last year. There's no telling what McVay might be ready to cook up.
Minnesota Vikings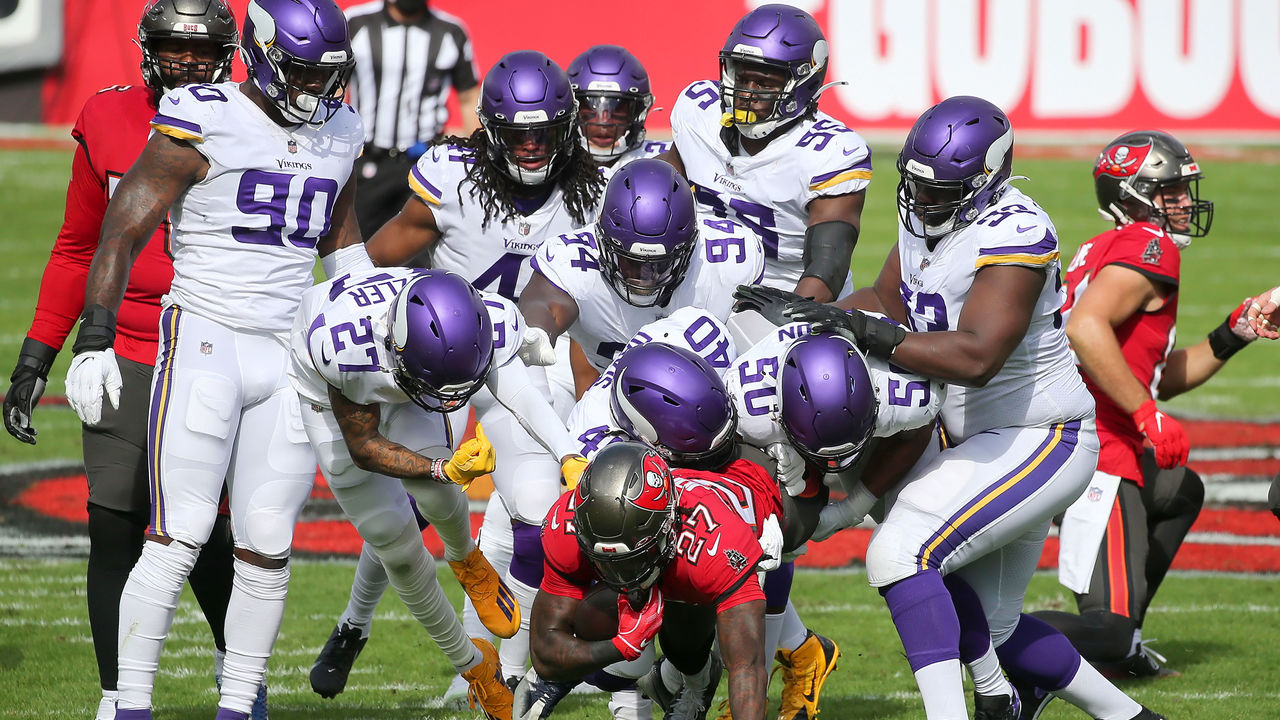 Can the defense get it back together?
The 2020 Vikings defense underwent a roster purge, losing seven key contributors - and nearly 4,200 snap counts from the previous year - to free agency or cap-related releases. Then defensive tackle Michael Pierce opted out due to COVID-19 and defensive end Danielle Hunter sustained a neck injury that sidelined him for the season. Then linebacker Anthony Barr and cornerbacks Holton Hill and Mike Hughes got hurt, and then ...
The Vikes still managed to win five of six after a 1-5 start, but they couldn't overcome a rash of additional injuries after Week 12, including a calf issue that kept linebacker Eric Kendricks out. Only the San Francisco 49ers and New York Jets had worse injury luck on defense than Minnesota, as determined by Football Outsiders. And yet the Vikings managed to finish a middling 18th in defensive DVOA anyway.
Ends Everson Griffen and Stephen Weatherly are back, and Minnesota added tackles Dalvin Tomlinson and Sheldon Richardson, plus cornerback Patrick Peterson. As The Athletic's Sheil Kapadia noted, the Vikings finished fourth, third, and first in defensive DVOA in the three seasons before 2020. There's little reason to think head coach Mike Zimmer can't coax a better showing from them this year.
New Orleans Saints
How will Jameis Winston fare as Drew Brees' replacement?
Going from Brees to Winston represents a major philosophical change for the Saints.
Brees, particularly in his later seasons, largely preferred to play it safe and efficient; in his final two seasons combined, he attempted just 57 deep passes of 20 or more air yards. Winston, by contrast, is a high-risk, high-reward type of quarterback: In 2019, his last season as a starter with the Tampa Bay Buccaneers, Winston attempted a league-high 99 deep throws. Winston connected on 33 touchdowns but also threw 30 interceptions - more than Brees threw in his last four seasons combined.
Sean Payton will definitely have to calibrate Winston's gunslinger mentality, and a lot seems to depend on the head coach's tolerance for risk.
New York Giants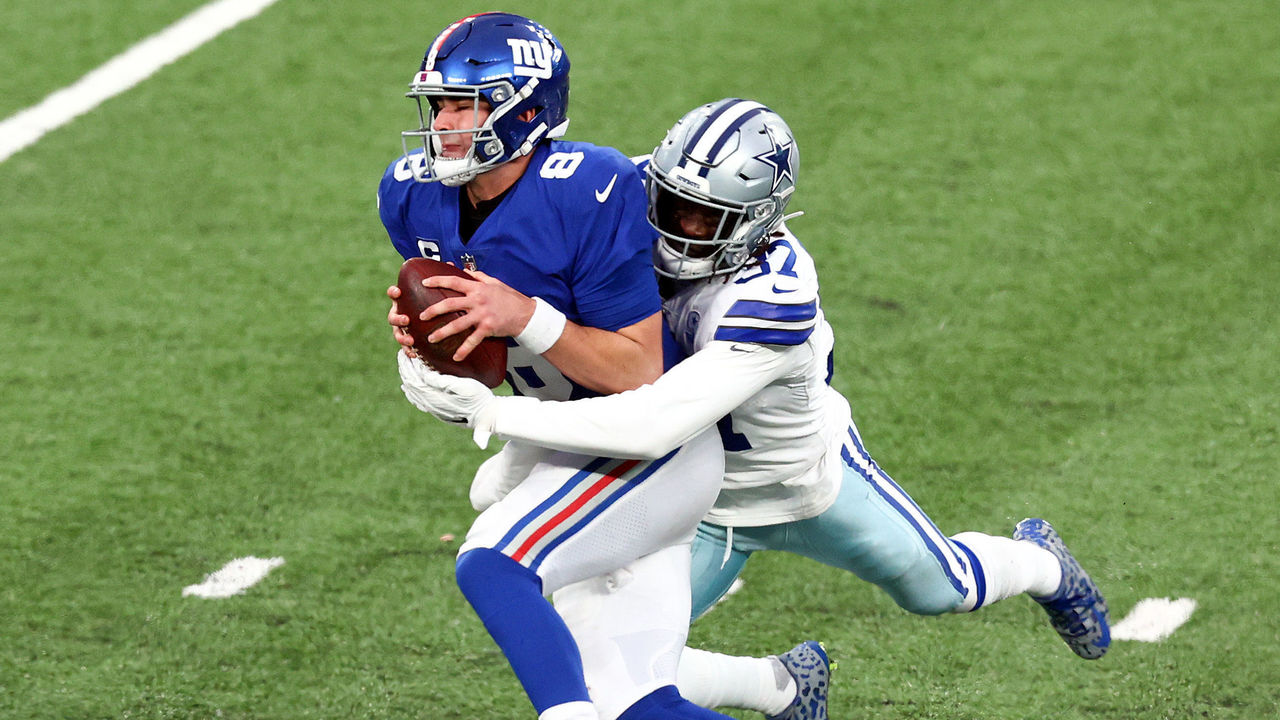 Can Daniel Jones succeed behind that offensive line?
Entering Year 3, Jones has a full stable of weapons surrounding him. The Giants spent big to bring in receiver Kenny Golladay and drafted speedster Kadarius Toney to go along with Sterling Shepard, Evan Engram, and Darius Slayton. Saquon Barkley is also back from injury.
But the O-line remains a reason to doubt that this can work. The Giants ranked last in pass-block win rate a year ago, and their best lineman - guard Kevin Zeitler - signed with the Ravens. Left tackle Andrew Thomas, last year's first-round pick, had 42 blown blocks in 2020, per the Football Outsiders Almanac, but just 13 in his final eight games. However, he was alarmingly bad in the preseason finale against the Patriots.
Jones has a lot to clean up - he's thrown 22 interceptions and fumbled 29 times in his two seasons - and he needs better help up front to make it happen.
Philadelphia Eagles
Is Jalen Hurts the answer at quarterback?
With Carson Wentz gone to Indianapolis, Hurts will get his chance. The Eagles, who had the league's worst injury luck on offense last year, are clearly in rebuild/transition/whatever-they-want-to-call-it mode. But they can still begin to figure out what Hurts can and can't do.
In a small sample, Hurts did elevate the offense somewhat. Philly's offense had been 28th in EPA through its first 12 games; as Warren Sharp noted, they improved to 17th in Hurts' three starts, excluding the Week 17 fiasco in which Doug Pederson pulled a troll job by yanking him.
That said, Hurts still ranked last among qualifiers in completion percentage (52.7%), which was roughly 7 percentage points lower than his expected completion percentage, via Football Outsiders. Hurts also held the ball for a league-high 3.11 seconds, and Sharp calculated his in-pocket on-target rate as fourth-worst among qualifiers. How he performs within the structure of the offense this season will go a long way toward determining his future.
San Francisco 49ers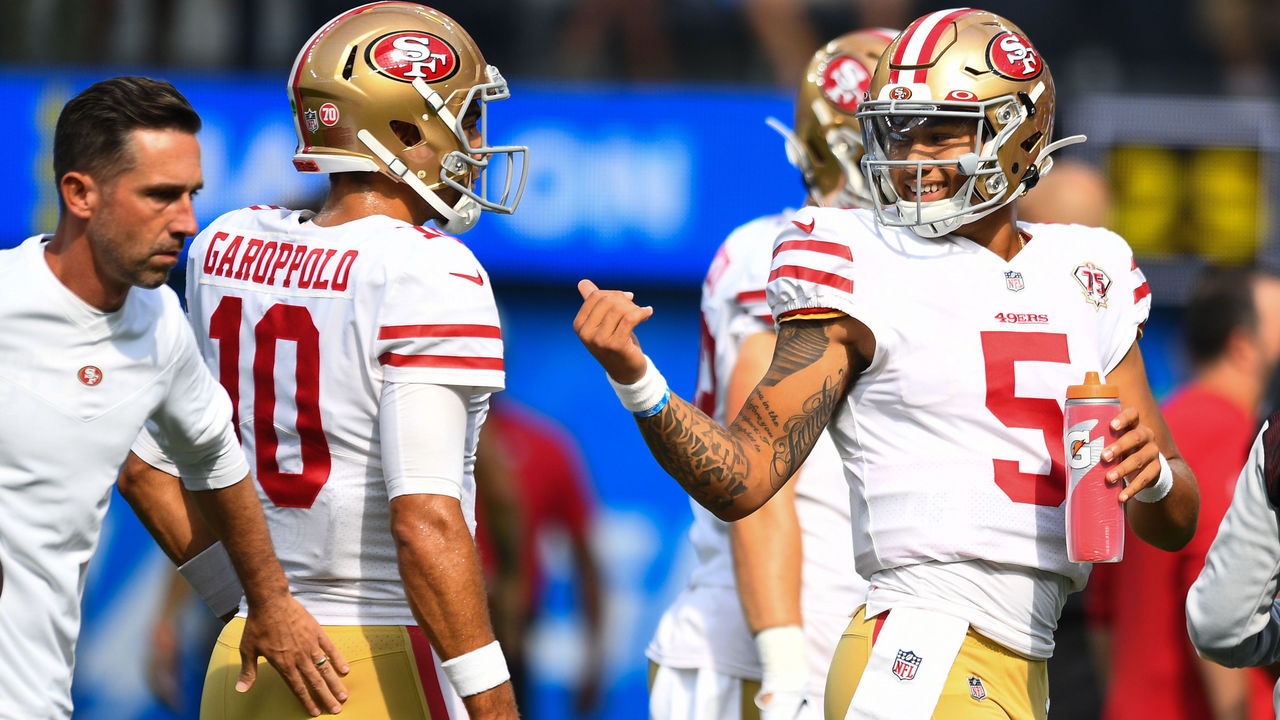 What does Kyle Shanahan have in store for his QBs?
On paper, the Niners have a Super Bowl-caliber roster. Their 2020 was marred by the league's worst overall injury luck by more than 30 games. Yet even after trading up to draft Trey Lance third overall, they decided to keep Jimmy Garoppolo and his $26.4-million cap number.
Shanahan is a renowned offensive innovator, and he's indicated he will use Garoppolo and Lance interchangeably this season, which sets up all sorts of tantalizing possibilities.
Here's one possibility worth watching: Garoppolo at the controls for most of the field, with the more mobile Lance taking over in the red zone. There's a precedent for this, as The Athletic's David Lombardi points out: It's what Bill Walsh did once upon a time when Steve DeBerg was his starter. It was Walsh's way of easing in a rookie named Joe Montana.
Seattle Seahawks
Will Russ still be allowed to cook?
Quarterback Russell Wilson made his frustrations with the team's offensive approach known early in the offseason, and the Seahawks obliged by bringing in Shane Waldron to run a more modern offense than Brian Schottenheimer's. They also traded for right guard Gabe Jackson in an attempt to boost an offensive line that finished 30th in adjusted sack rate, per Football Outsiders, and brought in tight end Gerald Everett.
Schottenheimer did let Russ cook last season. Seattle passed on 68% of its plays in the first eight games, per the Football Outsiders Almanac, and a league-high 62.8% on early downs, according to Ben Baldwin's database. Wilson looked like a runaway MVP candidate. Then Wilson turned it over a bunch, and things began to level off - but only slightly. Seattle still passed on first and second down 58.9% of the time from Weeks 11-17. And the Seahawks lost just once in that stretch before the Rams upset them in the playoffs.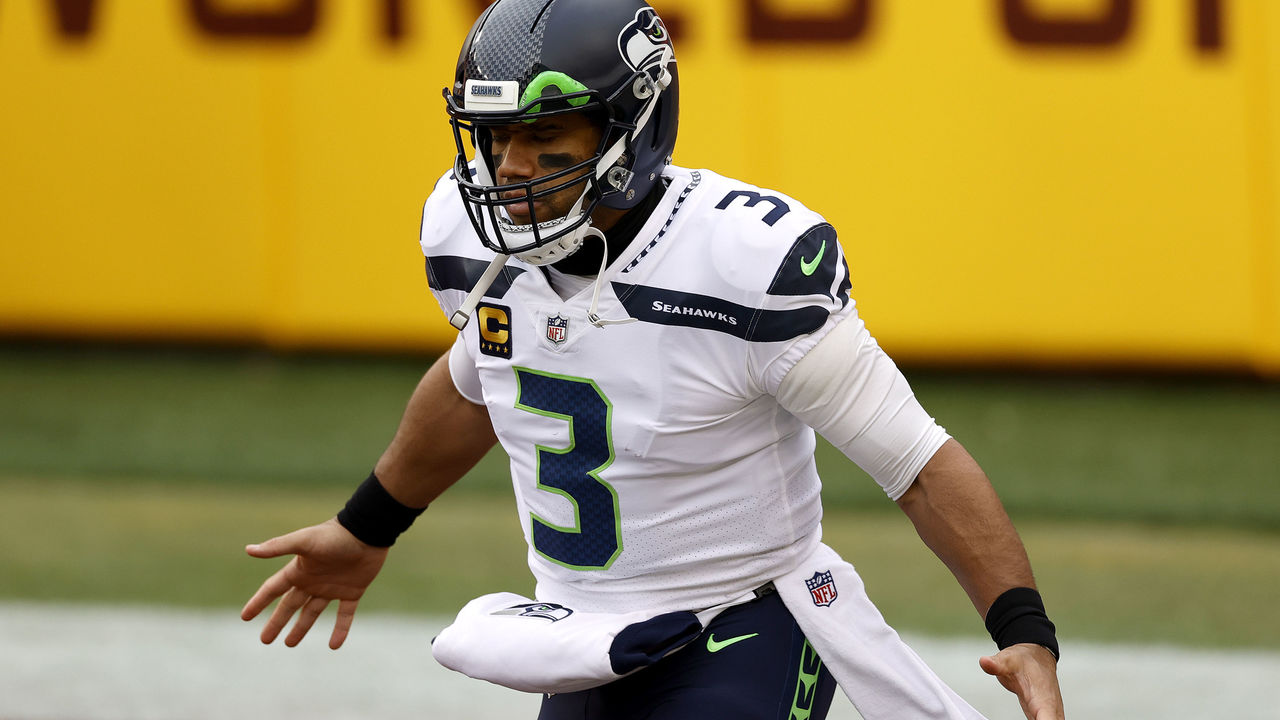 Wilson has been sacked 189 times in the last four seasons - 15 more than any other quarterback. A lot of that is on him for holding the ball and trying to make a hero play. But he's often at his best when he's granted the chance to throw it a lot.
Tampa Bay Buccaneers
How long can Tom Brady keep doing this?
It feels like this question has been asked every year for 10 years, but at some point, the realities of age have to catch up with the guy, right? Right?!
The Bucs are set to run it back with all 22 of their starters returning, which makes them obvious favorites to repeat as Super Bowl champions. But here's something to consider: Tampa Bay led the league in injury luck by roughly 15 adjusted games lost last season. Is that sustainable?
Here's something else: All QBs play worse when pressured, but this is especially true for Brady. Per the Football Outsiders Almanac, only Goff and Joe Burrow had a worse passing DVOA differential when pressured than Brady did last year. And only Ben Roethlisberger, who was busy flinging the ball as soon as it was snapped to him, saw less pressure than Brady did. What would happen to Brady if that changed this year?
Washington Football Team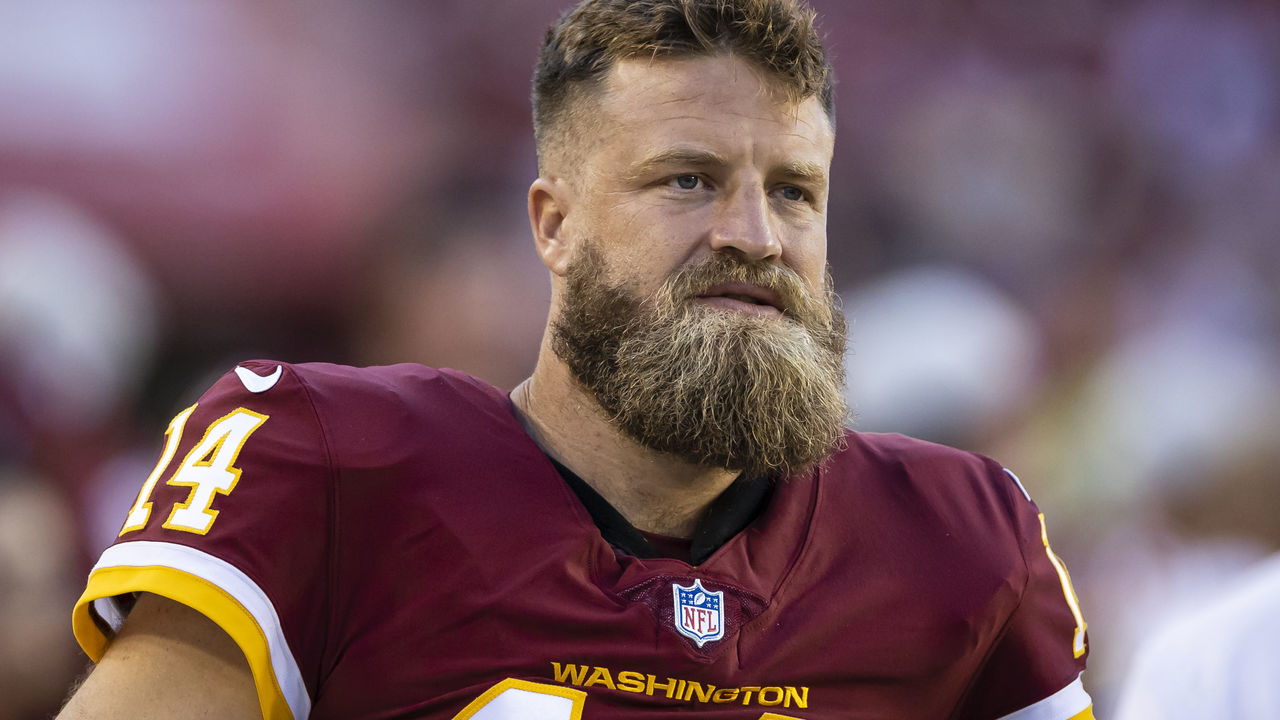 How far can the Fitzcoaster take them?
After 16 seasons, Ryan Fitzpatrick's unique mediocrity is well established. He ought to be an improvement over the minimal contributions of Alex Smith/Dwayne Haskins/Kyle Allen/Taylor Heinicke to the passing game last year, particularly with the addition of wideouts Curtis Samuel and rookie Dyami Brown, though Samuel could miss Week 1 with an injury. But then what?
Washington has a terrific young defense that finished third in DVOA a year ago. But the team also played the league's fourth-easiest schedule of DVOA offense, and this year Warren Sharp's data indicates it will be facing the sixth-hardest schedule.
Whether Fitzpatrick can elevate that remains to be seen, though playing in the NFC East ought to help.
Dom Cosentino is a senior features writer at theScore.
Comments
✕
Biggest question for every NFC team this season
  Got something to say? Leave a comment below!