10 takeaways from NFL Week 1
Sunday Rundown recaps the most important developments from the day's action and examines the significance of them moving forward.
Cardinals fly out of the chute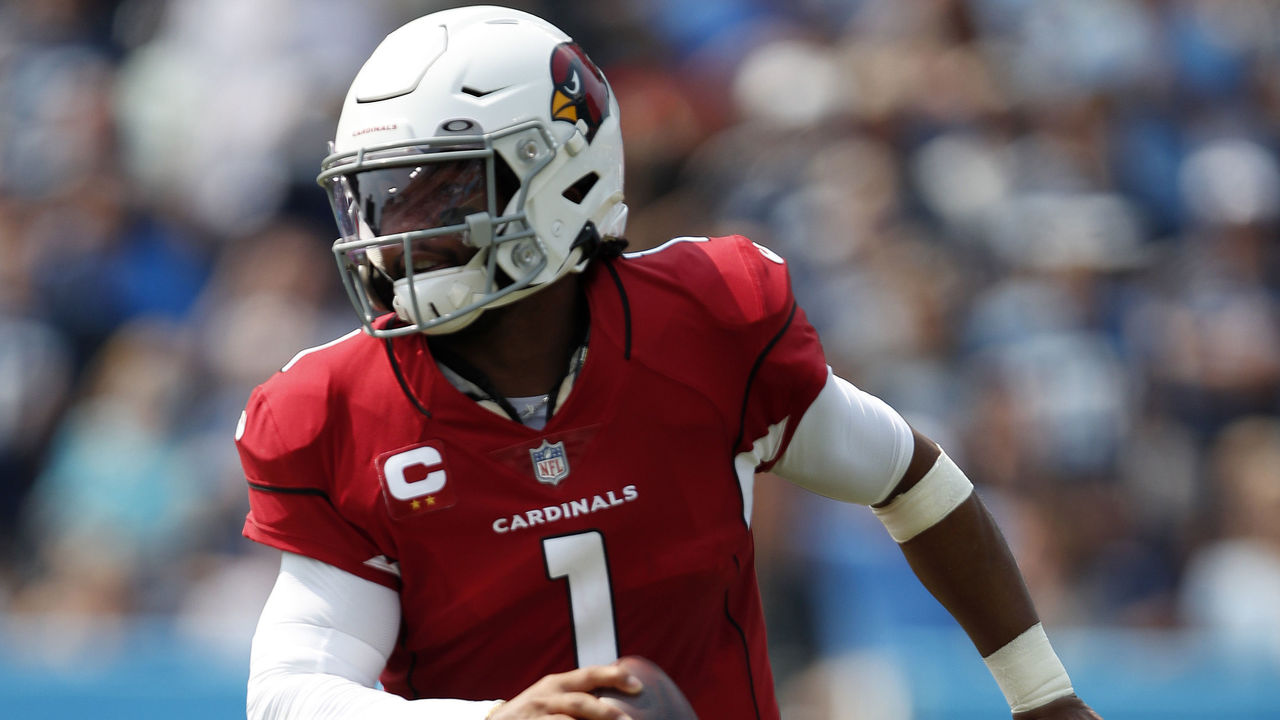 The Arizona Cardinals' front seven absolutely destroyed the Tennessee Titans' offensive line. The Cardinals pressured quarterback Ryan Tannehill on 41.5% of his dropbacks, per Next Gen Stats, with edge rusher Chandler Jones totaling seven pressures and five sacks on 28 pass rushes. Two of Jones' pressures caused lost fumbles. Defensive ends Zach Allen and J.J. Watt also chipped in with four pressures.
Quarterback Kyler Murray looked a lot like he did before injuring his shoulder in Week 11 last season. On throws of 10 or more air yards, he was 8 of 16 for 151 yards and three touchdowns. The Cardinals were 7-for-13 on third down. They had three TD drives covering 75 yards or more.
The NFC West is the league's best division. It's true the Seattle Seahawks, San Francisco 49ers, and Los Angeles Rams all have recent playoff pedigrees, but the Cardinals just served notice that perhaps they shouldn't be overlooked, either.
What happened to the Titans' offense?
With Ryan Tannehill, Derrick Henry, and A.J. Brown already in the fold, the Titans traded for Julio Jones this offseason, setting themselves up to have one of the league's most prolific offenses. Then came Sunday's season-opening face-plant against the Cardinals.
The Titans couldn't run the ball - Henry averaged just 3.4 yards on 17 carries - and couldn't protect Tannehill. They averaged 3.9 yards per play. By the time Tennessee orchestrated its first scoring drive, it was down 17-0.
If there's one reason to doubt this offense, it's the presence of offensive coordinator Todd Downing, who was promoted from tight ends coach after Arthur Smith got the head coaching gig in Atlanta. Smith was credited with cooking up a creative scheme that revived Tannehill's career and finally got the most out of Henry. Downing's only experience as a coordinator came in 2017 with the Raiders, when the unit he ran slipped from seventh in offensive DVOA to 13th, with the passing offense falling from sixth to 13th.
There are still 16 games to play, so there's no reason to write off Downing. Given all the skillful personnel at his disposal, there's every reason to expect things will get better. If that doesn't happen, though, it will certainly be a tremendous disappointment and wasted opportunity.
Jameis Winston did what?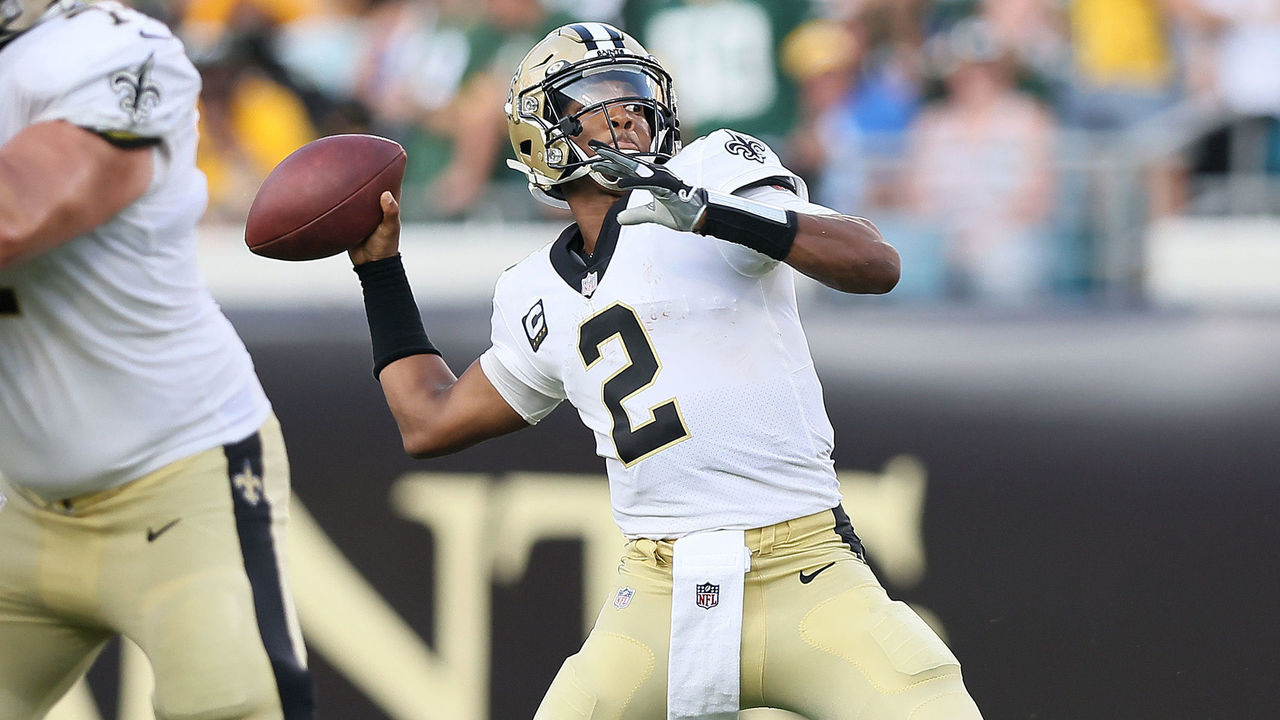 The New Orleans Saints dismantled the Green Bay Packers 38-3. Jameis Winston posted a sterling EPA/dropback of 0.85 and five TD passes, while Aaron Rodgers lumbered to an EPA/dropback of minus-0.43 without reaching the end zone. Just as everyone expected.
Winston's high-risk/high-reward style figured to be quite the contrast from the conservative, efficient approach Drew Brees played with in recent years. But under Sean Payton's tutelage, Winston played within himself and attempted just two deep throws, per Next Gen Stats. He also led scoring drives on six of New Orleans' first seven possessions, with two of them stretching on for 15 plays. The Winston we last saw tossing 30 interceptions two years ago also didn't throw a single pick in this one. That's exactly the kind of style the Saints want him to play.
Not the best debut for Josh Allen
Josh Allen wasn't awful in the Buffalo Bills' loss to the Steelers, but his play more closely resembled what he produced earlier in his career rather than the 2020 version of himself. It's because of that one year, when he propelled the Bills to the AFC title game, that he earned himself a ginormous contract.
Allen didn't turn the ball over, but his EPA/dropback was minus-0.12. Perhaps more worryingly, his completion percentage over expected - a Next Gen stat that measures accuracy - was minus-7.1. For comparison's sake, Allen's xCOMP differential in 2019 was minus-3.7. His rookie year, it was minus-7.7.
On the bright side, Allen was facing one of the league's best defenses, including a Steelers pass rush that generated lots of pressure without blitzing (T.J. Watt is worth every penny, and the Steelers may have found a steal by landing Melvin Ingram). The Bills also had a punt blocked for a TD and called a bizarre option pitch that got blown up on fourth-and-1 near midfield. None of that was Allen's fault.
Long story short, please don't panic about Josh Allen yet.
Welcome to L.A., Matthew Stafford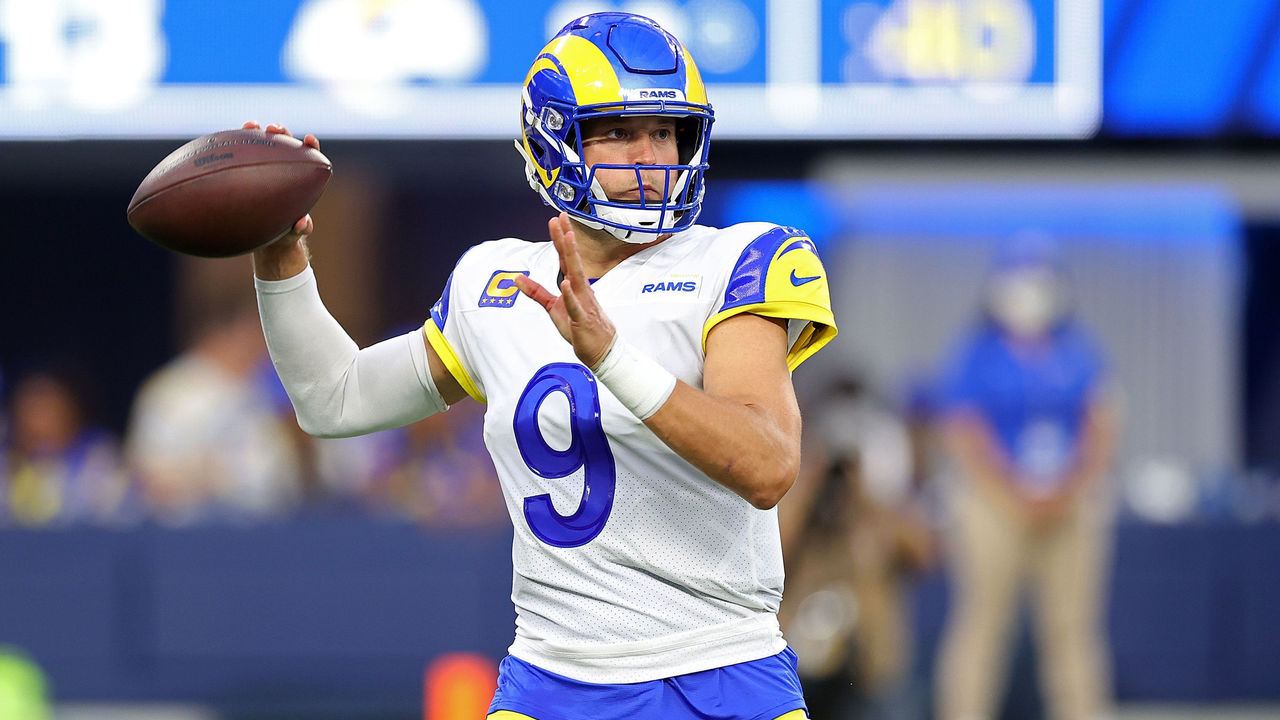 If anyone's still wondering why the Los Angeles Rams traded for Matthew Stafford, Sunday night's bashing of the Chicago Bears tells you all you need to know.
Freed from a decade-plus purgatory in Detroit and operating in Sean McVay's whizbang scheme while surrounded by gobs of talent, Stafford was dang-near perfect: 20 of 26 for 321 yards, three touchdown passes, zero interceptions, and a sizzling 0.61 EPA/dropback.
Stafford was pressured just four times on 27 dropbacks, and his xCOMP differential was a robust 9.7%, per Next Gen Stats. Stafford did a lot with designed rollouts and used play-action on 29.6% of his throws - a marked change, since he had only play-faked 23.7% of the time last season with the Lions, per PFF. Stafford's 56-yard touchdown pass to Cooper Kupp was schemed so open that no defender was within 11 yards of the wideout when he caught the ball. Things were that easy.
It's only one game, naturally, but by all indications, Stafford is exactly the kind of quarterback McVay and the Rams needed to get this offense humming again.
Cam Newton to Washington, maybe?
With Ryan Fitzpatrick's hip injury appearing to be "serious," according to NFL Media's Ian Rapaport, the Newton-to-Washington rumors ought to kick into overdrive.
Washington let Taylor Heinicke finish the loss to the Los Angeles Chargers, and it also has Kyle Allen on the roster. Even at 32 with all that wear and tear on his body, Newton has to be a better option. There's also the connection Newton has to Washington head coach Ron Rivera, who coached the quarterback for nine seasons with the Carolina Panthers.
Then again, even after Newton was released by the Panthers last year, Washington made no effort to sign him. Nor did Washington bring in Newton after the New England Patriots cut him two weeks ago. But if the losses start piling up - starting with Thursday night's home date against the New York Giants - Washington might have to do something. That defense is too good to have to work around such a huge hole at the game's most important position.
How the rookie QBs fared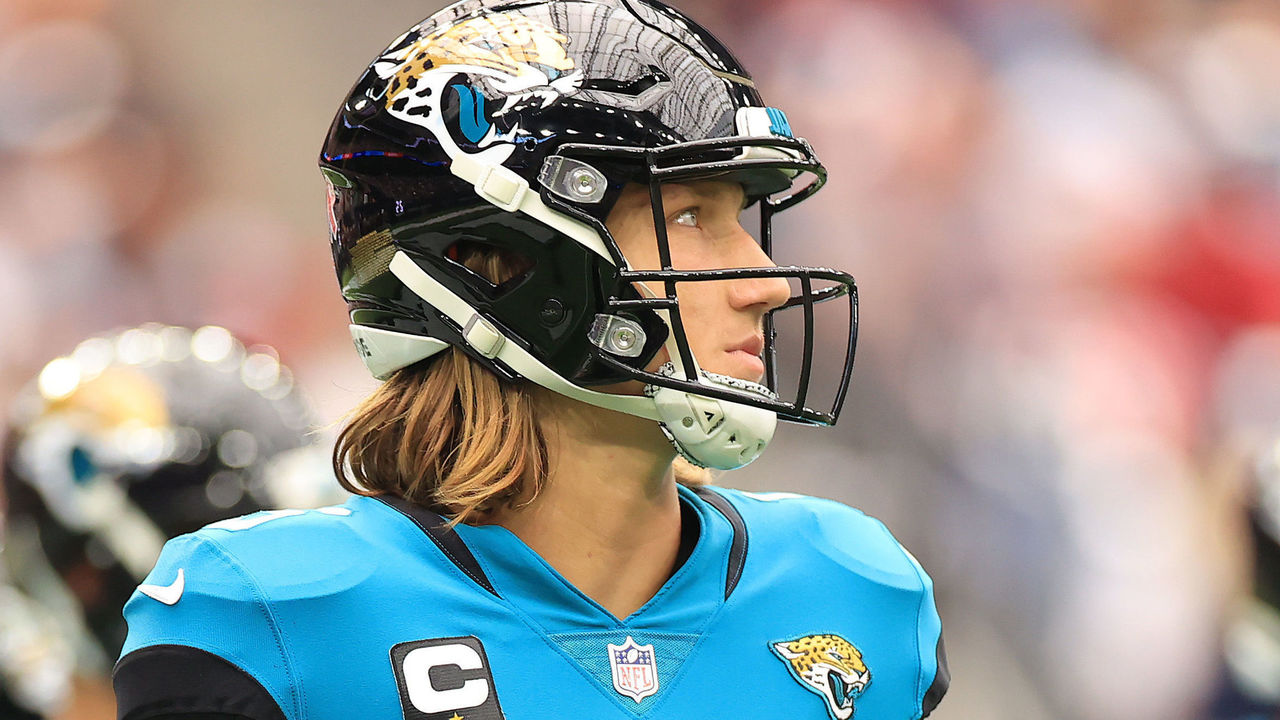 Here are the stat lines for Trevor Lawrence, Zach Wilson, and Mac Jones, who all made their first career start in their first career NFL games. Yes, Trey Lance got into the contest for the San Francisco 49ers and even threw a TD pass on his lone attempt, and Justin Fields ran for a score in the Bears' loss to the Rams, but both quarterbacks were used sparingly in situational spot duty. So let's just stick with the dudes who started on this one.
Lawrence: 28-for-51, 332 yards, 3 TDs, 3 INTs, 6.5 yards per attempt, minus-0.07 EPA/dropback
Wilson: 20-for-37, 258 yards, 2 TDs, 1 INT, 7.0 YPA, minus-0.14 EPA/dropback
Jones: 29-for-39, 281 yards, 1 TD, 7.2 YPA, 0.15 EPA/dropback
All three rookies lost.
Lawrence's Jacksonville Jaguars looked completely wayward while getting blown out by the lowly Houston Texans, while Wilson began to find a bit of a groove after getting knocked around early and dealing with multiple drops. Jones marched the Patriots into the red zone with a little more than three minutes to play, only to have running back Damien Harris fumble.
Next week, Lawrence faces off against the Denver Broncos and their solid defense, while Wilson and Jones go at it for the first time in the New York Jets' home opener.
Oh, Baker
Just as he always is, Patrick Mahomes was sensational in bringing the Kansas City Chiefs back to defeat the Cleveland Browns, even if Browns punter Jamie Gillan gift-wrapped what became the game-winning drive by muffing a punt deep in the Browns' own territory.
But this game was a chance for Baker Mayfield, who has yet to sign a second contract with two years remaining on his rookie deal, to prove he's worth the $40-million annual price tag the league's top quarterbacks are getting.
And he came close! All game long, Mayfield was fantastic. He staked the Browns to leads of 15-3 and 29-20, and he finished with a robust EPA/dropback of 0.31. Cleveland also was stung by Nick Chubb's third-quarter fumble after the Chiefs pulled within 22-17.
But when he had a chance to orchestrate his own game-winning drive once Cleveland got the ball back at its own 17 with 2:49 to play, Mayfield maneuvered the Browns to midfield before tossing a backbreaking interception on first-and-10.
There's no shame in losing a close game on the road to the Chiefs, of course, and the Browns figure to be contenders in the AFC. But if they're going to win the AFC North and get to the Super Bowl, they're going to need Mayfield to make enough plays to lift the offense. Sunday was his first chance and it didn't work out, but it won't be his last - and Mayfield's got a lot of money potentially riding on that.
The Lions are what Dan Campbell said they were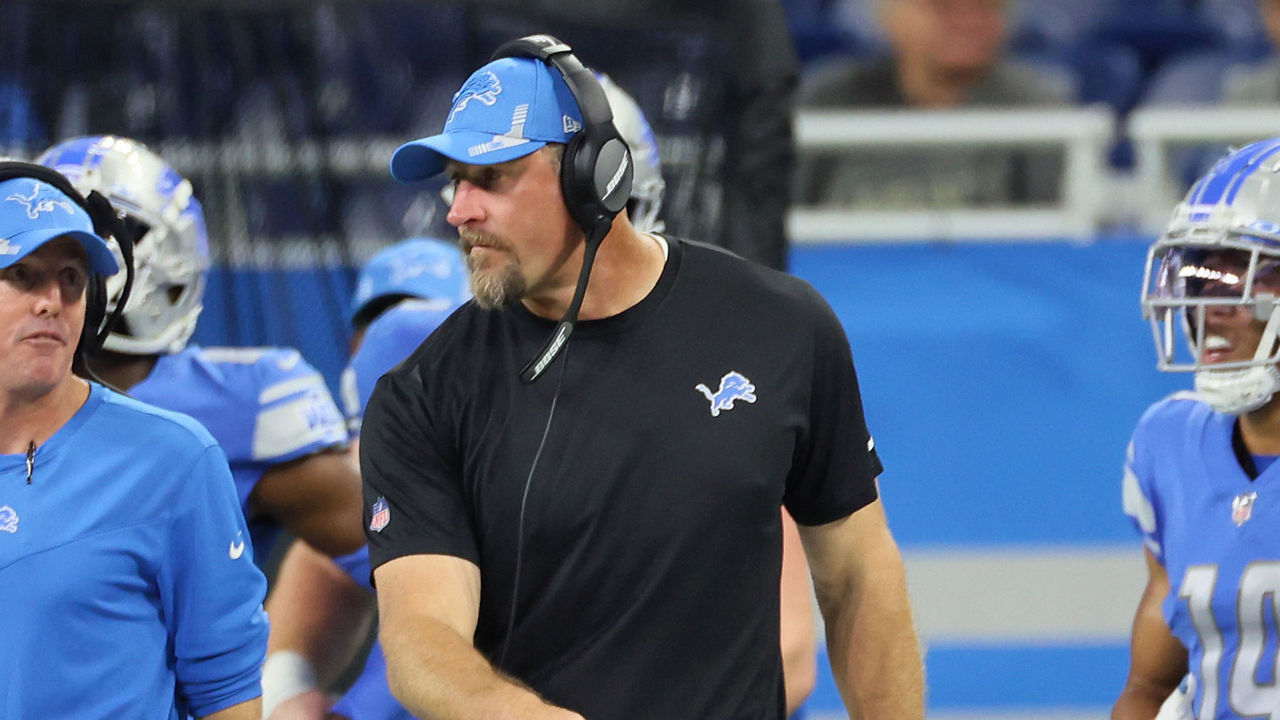 Campbell, the overexcited new Lions coach, has a rebuilding team with a long way to go.
But Campbell promised they'd be motivated and they'd compete, and in Sunday's loss to the 49ers, the team demonstrated exactly that. Detroit trailed 38-10 but got back to within one score and even had the ball just outside the red zone when their final drive stalled out.
Campbell's Lions didn't bite off anyone's kneecaps, but for one week, the metaphor did make a certain kind of sense.
Jalen Hurts has a dazzling start
OK, so the Philadelphia Eagles had a junior varsity tuneup against the Atlanta Falcons. And, OK, the Eagles are another team in the midst of a rebuild that likely won't get finished this year. But this season does offer a chance for second-year quarterback Jalen Hurts to prove he's capable of leading the franchise, and Sunday went about as well as the Eagles could have hoped.
Hurts flashed a lot of legit two-way ability. He threw for 264 yards, three touchdowns, and zero interceptions. He also rushed for 62 yards on seven carries. He completed passes to seven different receivers, with Devonta Smith and Jalen Reagor combining for 12 catches, 120 yards, and two touchdowns. Hurts' EPA/dropback was a rock-solid 0.30.
Tougher times are yet to come, but this was an ideal way to start the post-Carson Wentz era.
Dom Cosentino is a senior features writer at theScore.
Comments
✕
10 takeaways from NFL Week 1
  Got something to say? Leave a comment below!