What we've learned so far this postseason - and what it means moving forward
Ethan Miller / Getty Images
With a focus on the four teams still standing in the 2020-21 NHL playoffs, here's what we've learned during the first month of action and what it means for the rest of the third round.
Habs' formula getting tested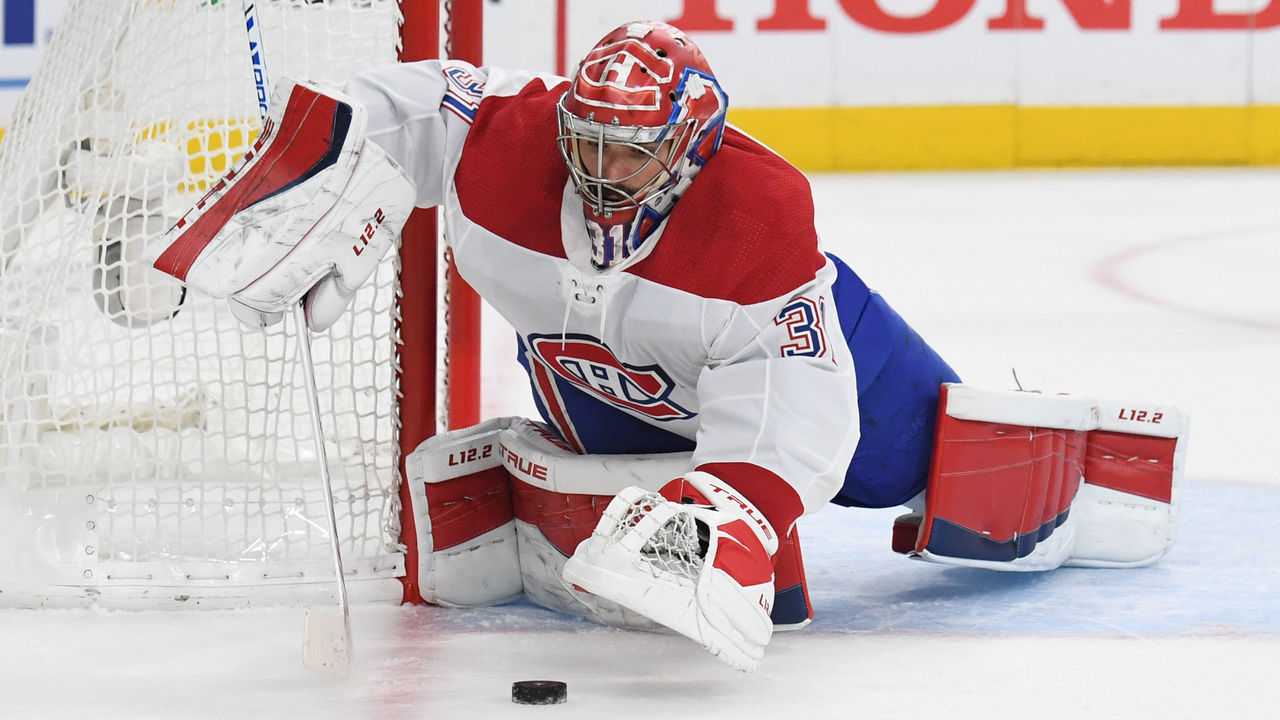 Over the past month, the Montreal Canadiens have developed a distinct formula for winning playoff games against opponents who, on paper, possess more than enough offensive talent to overwhelm them.
The formula involves scratching and clawing for an early lead, clogging up the neutral zone and insulating goalie Carey Price to keep the puck on the perimeter of the defensive zone, and then relying on Price to make a big save now and then.
This approach worked beautifully for seven straight games, from Game 5 of the first round to the end of the second round. Montreal didn't trail on the scoreboard for a single second during that stretch - a crazy accomplishment that made series victories over the Toronto Maple Leafs and Winnipeg Jets extra impressive. Sure, an injury to a star player on both teams helped them advance, but the Habs still earned their place in the NHL's semifinal round.
Unfortunately for them, the formula hit a snag on Monday in Game 1 against a deep, well-structured Vegas Golden Knights squad.
For a second straight game, No. 1 defenseman Jeff Petry was sidelined by injury, and his absence had a noteworthy ripple effect on a blue line that thins out significantly after Ben Chiarot and Shea Weber on one pair and Petry and Joel Edmundson on another. Third-pair staple Brett Kulak skated for nearly 17 minutes; rookie Alexander Romanov, a healthy scratch for 10 of 11 previous games, played 15:11; the one-dimensional Erik Gustafsson played 13:45, elevating his playoff average to just 10:30.
The Habs lost 4-1 to the Golden Knights, and one of Kulak or Gustafsson was on the ice for three of the four goals. Kulak, in particular, looked a step behind everybody else throughout Game 1. On Vegas' second goal, the 27-year-old was cluelessly out of position, and on the 3-1 marker, he got outmuscled at the goalmouth by Mattias Janmark, the eventual goal-scorer.
Making matters worse for Montreal, it was the opposition's defense corps that tilted the ice this time around. Alex Pietrangelo, Shea Theodore, and Alec Martinez combined for two goals, one assist, and 12 shots on goal. Overall, the Golden Knights' six defensemen were credited with 33 of the team's 62 shot attempts while keeping the Habs to 53 total attempts of their own.
Now, it would be foolish to suddenly write off the plucky Habs. They rallied to beat Toronto in seven games after falling behind 3-1. At worst, Montreal deserves a game to redeem themselves.
That said, Petry's status (which is unclear for Game 2) is so critical to the direction of this series. Vegas is a different kind of challenge than Toronto or Winnipeg because its defensemen are constantly in the thick of the action. Keeping the opposition to the outside, away from Price, is a less effective approach if the opposition is skilled and smart enough to turn perimeter possession into goals. Plus, Petry can skate the puck out of trouble or get it in the hands of a capable forward better than any other Montreal defenseman. He's essential to what the Habs are trying to accomplish, period.
Vegas continuing to adapt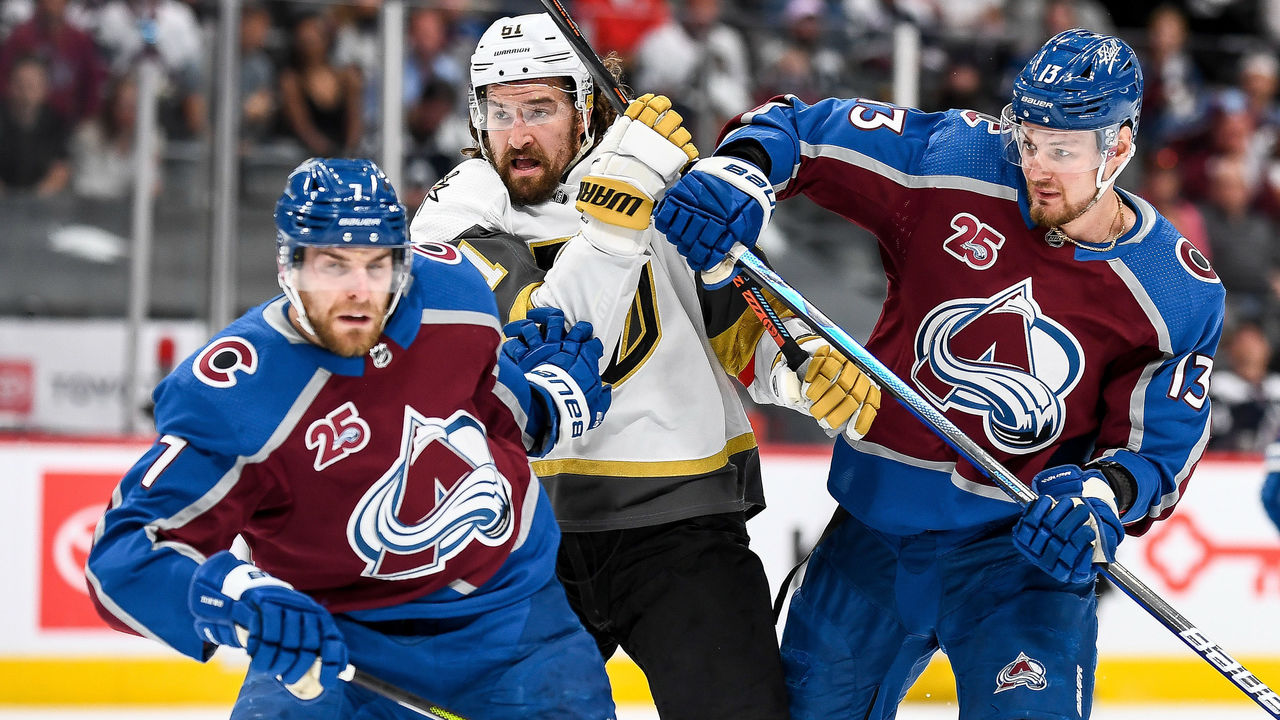 The Golden Knights have evolved into a model franchise. Everything from game presentation and social media to roster building and player development is top tier for the 4-year-old team. And this postseason it's become abundantly clear coaching is yet another area in which Vegas excels.
Head coach Pete DeBoer, who in January 2020 took over for Gerard Gallant, is now fully settled into his role - and it's showing. In Round 2 against the Colorado Avalanche, he decided to fight fire with fire by counterattacking the counterattack-happy Avs, and it paid off en route to a 4-2 series victory.
Yes, Vegas was a counterpunch team under Gallant. Against the Avs, though, it felt as if the club took its identity to the extreme in an effort to put Colorado on its heels as often as possible. DeBoer didn't want to play it safe or give the opponent too much respect. He gave his players the green light to rush the puck in numbers whenever the Avs coughed it up in transition.
There's some logic behind the approach. If what typically makes the Avs so deadly (that mobile defensive corps working hand in hand with an abundance of speed and skill up front to smother the opposition with offense) is disrupted, the team must adapt. In other words, if pace-pushing blue-liners like Cale Makar and Sam Girard are forced to play transition defense every time their own offensive sequence goes awry, how much time and energy is left for a second rush?
Of course, DeBoer wouldn't have leaned into this game plan if the Golden Knights hadn't been effective in the aggressor role in the past. Vegas is the heaviest group in the entire league, its system offers ample puck support on both offense and defense, and there's plenty of depth throughout the lineup. Truly, they have been built to trade fast-break chances with the opposition.
Like captain Mark Stone, the Golden Knights don't necessarily skate fast but they play fast. They defend well and make you pay off the rush.
This, in a nutshell, is why the margin of error is so small for Montreal.
Isles charting Cup path?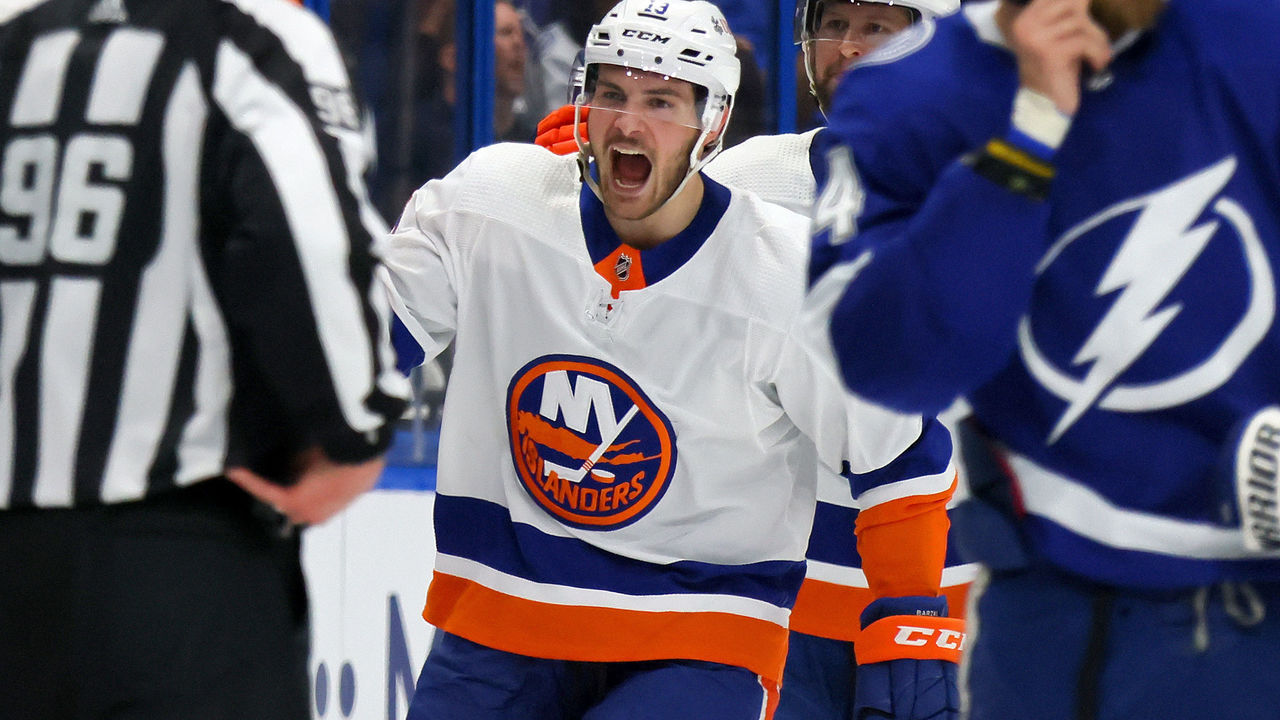 Game 1 of the Tampa Bay Lightning-New York Islanders semifinal couldn't have gone much better for the well-oiled machine from Long Island.
Tampa wasn't able to generate a ton of prime looks at five-on-five, registering just eight high-danger shot attempts in 47 minutes of action, according to Natural Stat Trick. The Lightning often turned the puck over, too, and the Isles capitalized on one particular gaffe midway through the second period, with Mathew Barzal opening the scoring off a Steven Stamkos giveaway.
The process (a relatively low-event game) and the result (a 2-1 win) should give Isles coach Barry Trotz plenty of confidence heading into Tuesday's Game 2. If the Isles didn't believe it prior to the series, they now know containing the powerhouse Lightning isn't an impossible task at five-on-five.
This matchup is very much an immovable object (New York's five-on-five defense) versus an unstoppable force (Tampa's five-on-five offense). There is a full range of outcomes, but a nightly split in goals might be the most likely.
Which brings us to special teams. Will a trip to the Stanley Cup Final ultimately come down to the battle between New York's penalty kill and Tampa's power play? The Lightning converted one of two opportunities in Game 1 to improve their playoff success rate to a ridiculous 42%. There are simply too many options on their top unit of Stamkos, Nikita Kucherov, Brayden Point, Victor Hedman, and Alex Killorn. Yet, if the Isles stay out of the penalty box, which they are quite good at (they took the fewest penalties in the NHL during the regular season), the Lightning's advantage is useless.
Conn Smythe front-runners
There are a few weeks left before the Conn Smythe Trophy is handed out to the playoff MVP, so much can change, but here are two front-runners per team:
Islanders: Barzal (10 points in 13 games, including seven in his last seven), Ryan Pulock (excellent defensive play, plus three game-winning goals)
Lightning: Kucherov (playoff-high 19 points in 12 games), Andrei Vasilevskiy (playoff-high 8.86 goals saved above expected, per Evolving Hockey)
Golden Knights: Stone (dominant two-way force, heart and soul of team), Pietrangelo (top shutdown option, plus eight points in 14 games)
Canadiens: Tyler Toffoli (team-leading 11 points in 12 games, including series-clinching goal in Round 2), Price (4.3 goals saved above expected, per Evolving Hockey)
John Matisz is theScore's senior NHL writer. You can follow John on Twitter (@MatiszJohn) and contact him via email (john.matisz@thescore.com).
Comments
✕
What we've learned so far this postseason - and what it means moving forward
  Got something to say? Leave a comment below!