Five reasons the KHL All-Star game owns
Aside from Ilya Kovalchuk, the KHL All-Star game doesn't feature the megawatt star power of the NHL's All-Star weekend showcase. 
Instead of watching the best players in the world skate at half pace, if you watch the KHL All-Star game you get to watch a collection of over the hill former NHL stars (Sandis Ozolinch! Miroslav Satan!), outcasts (Alexander Radulov!) and fringe NHLers (Kurtis Foster!) skate at half pace. 
It may not sound great, but in some ways the quality of the hockey game itself doesn't really matter. The KHL All-Star game embraces its weirdness, and as a result it's a lot more fun. 
Let's recap five reasons why the KHL All-Star game is pretty much the best.
The shootout is crazy

At the Skills Competition which preceded the 2009 NHL All-Star game Alexander Ovechkin once wore sunglasses and a hat and took a shootout attempt with two sticks. At the skill competition which preceded the 2014 KHL All-Star game a player wore a fish-head mask, put a puck in his mouth, and completed a very aquatic dive into the goal: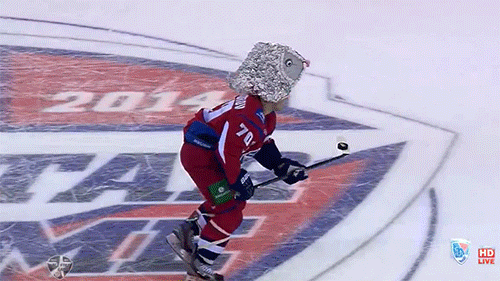 [Courtesy KHL.ru]
But that's not all: there was also a shirtless goalie (or thereabouts):
Your move, NHL All-Star game.
Mikko Koskinen in the fastest skater relay

Finnish goaltender and one time New York Islanders prospect Mikko Koskinen is a very tall man (he's listed at 6,6 or 6,7 depending on the source). During the Fastest Skater Team Relay on Saturday in Bratislava, Koskinen kicked off the race in full goalie pads. By the time he was finished his lap the West team had already pretty much sealed the victory. Just the best:
KHL Beards

These two guys wore KHL themed beards to Saturday's event in Bratislava:
The two bearded men were like celebrities at the event as the KHL tweeted out numerous photos of the two fans, and even interviewed them on the official website's live stream of the game. 
Here's another photo of the two bearded men from Friday (one of them obviously changed up their beard dye for Saturday's game):
All-Star Cake

The winning team at the Super Skills Competition got a gigantic KHL All-Star cake as a reward: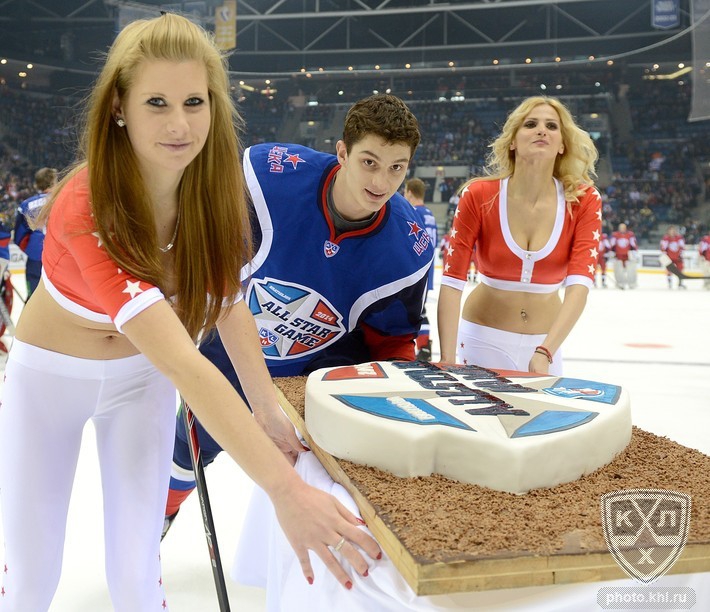 [Courtesy KHL.ru]
The KHL all-star game: where you can have your cake, and eat it too.
Mascot skills competition results in a line brawl!

In Bratislava what begins as a friendly mascot maskot game at intermission, ends in an unfriendly mascot ​maskot line brawl (undoubtedly started by Sibir's evil snowman mascot):
Would you rather see mascots fight, or play the credit card game at a crummy diner? Exactly. Rumble young mascot, rumble:
Comments
✕
Five reasons the KHL All-Star game owns
  Got something to say? Leave a comment below!