Usain Bolt vacated the throne. Who will seize the 100m crown in Tokyo?
Getty Images / Photo illustration by Nick Roy / theScore
The photos were a hit in Canada. Andre De Grasse gained on Usain Bolt to the sprint king's right, smiling wide as he pushed Bolt to the end line of the Rio Olympic 200m semifinals. Bolt turned his head to process the threat, the provocation, the refusal to let up with their berths in the final already assured. The audacity. He smiled back and wagged a finger.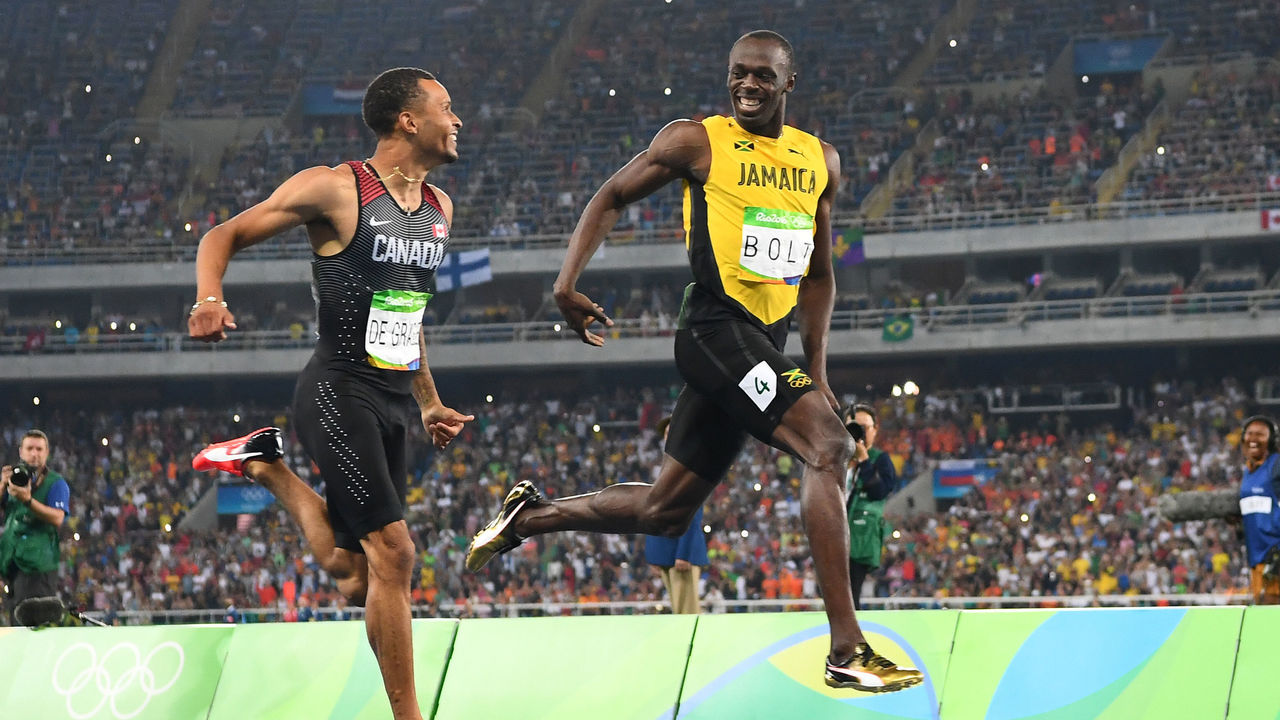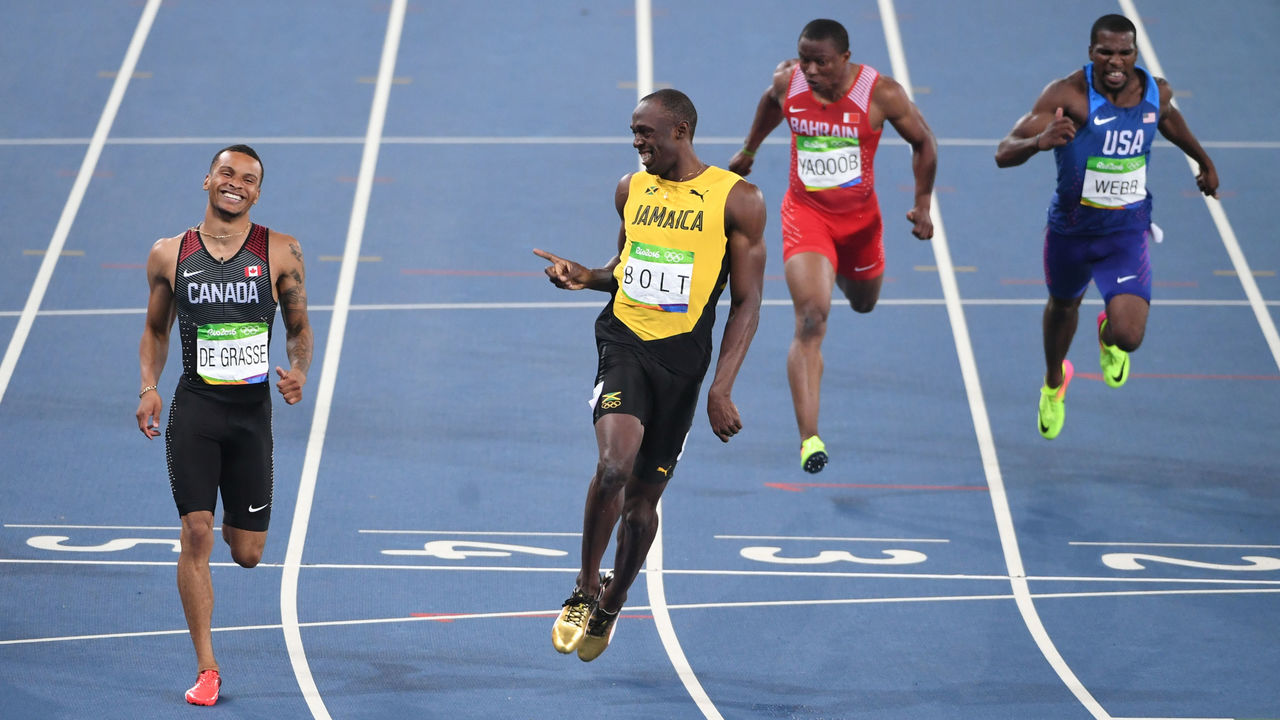 Bolt is long retired and De Grasse has peaked anew, just in time to challenge in Tokyo for a vacant crown. Five summers ago at the Jamaican's farewell Summer Games, De Grasse finished second to Bolt in the 200m final and third behind him and Justin Gatlin in the 100m. He anchored Canada's third-place effort in the 4x100m relay, departing Brazil with three medals and respect from the Olympics' greatest sprinter.
Bolt's races were magical to watch because he stood redwood tall at 6-foot-5, his strides seemed to cover twice the ground, and he danced afterward, knowing he'd never lose. He rose to the occasion every time a pistol fired in Beijing, London, or Rio.
Now his would-be successors - De Grasse the most decorated among them - have an opening. They've waited half a decade for the shot to be clutch, be it this weekend in the 100m or in the 200m next week.
It wasn't certain after 2016 that De Grasse, 26, would get back to this point. He strained his right hamstring in 2017, scratching him from the world championships days before the event. That he injured the hamstring again in 2018 instilled self-doubt; he feared he might be done. De Grasse switched coaches, moved cities, and rehabbed patiently, and then he medaled twice at the world meet in 2019. Gold in Tokyo was newly viable.
What a sight it would be to see him win. De Grasse's sprinting origin story is the stuff of legend in Canadian track circles. He was 17 and dressed in basketball shorts when, taking a friend's suggestion, he lined up in 2012 for his first competitive 100m. De Grasse stood in the blocks because he didn't know to crouch. Tony Sharpe, an Olympic relay medalist in 1984, was in the stands to see him motor to the line in 10.91 seconds. Uh, not bad.
Sharpe coached De Grasse on the fundamentals, tapping his speed and steering him to roster spots at a Kansas junior college and later at USC. Running for the Trojans in 2015, De Grasse won the NCAA's 100m and 200m titles. Bigger prizes followed: two Pan American Games gold medals later in 2015, 100m bronze at worlds that year, and the haul in Rio. He went from novice to elite in the span of an Olympic quadrennial.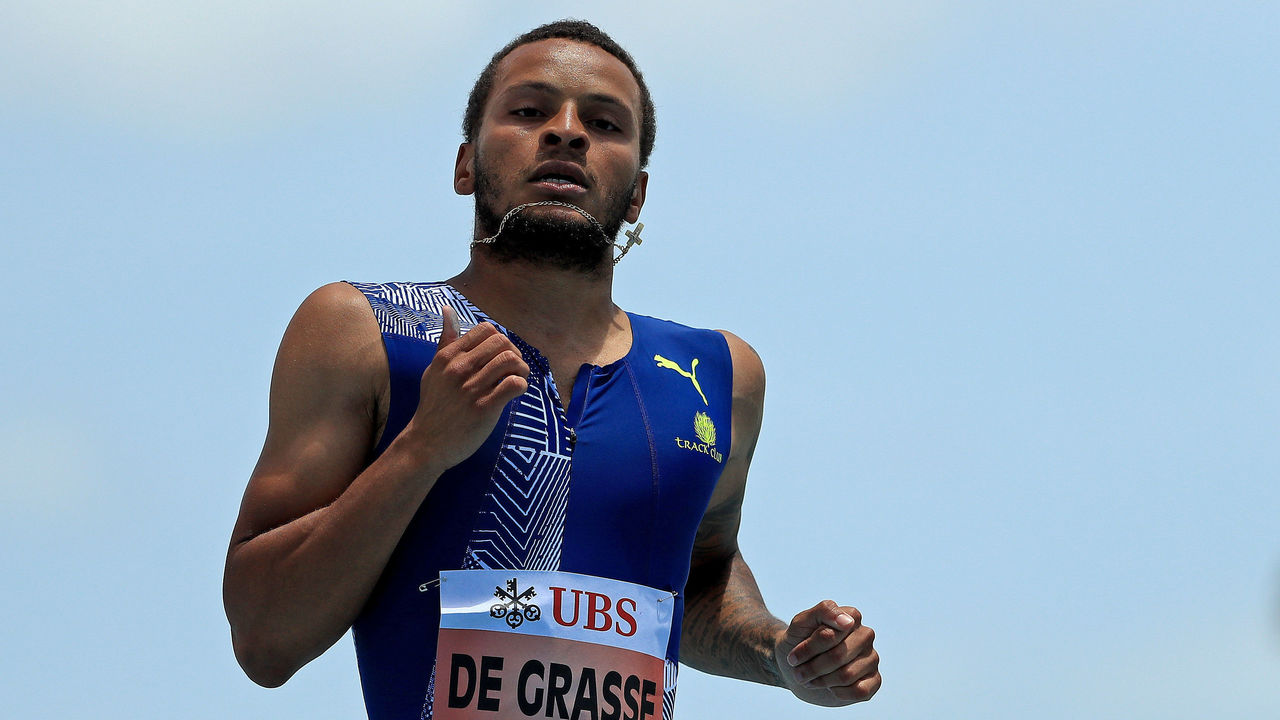 Not that De Grasse is the only speedster in Tokyo whose ascent surprised. Think about what the guy who's favored to beat him has endured.
At the NCAA championships in 2015, Trayvon Bromell ran the 100m in 9.88 wind-assisted seconds, but settled for second place behind De Grasse's 9.75. At Rio in his Olympic debut, Bromell reached the 100m final and finished eighth. Then he aggravated an Achilles sprain lunging to complete the 4x100m relay. Bromell's effort secured the United States bronze, but the Americans were disqualified for an earlier premature handoff, boosting Canada to the podium. Bromell left the track in a wheelchair.
Rehab from multiple surgeries stifled Bromell until last summer, when he finally dipped below 10 seconds in the 100m again. Now he's on a tear. Afforded an extra year to gear up for Tokyo, Bromell laid down a 9.77-second sprint last month in Florida, the world's best result in 2021. His 9.80 time led a stacked field at June's U.S. Olympic trials, and he outdueled De Grasse at a Diamond League race in England a couple of weeks ago.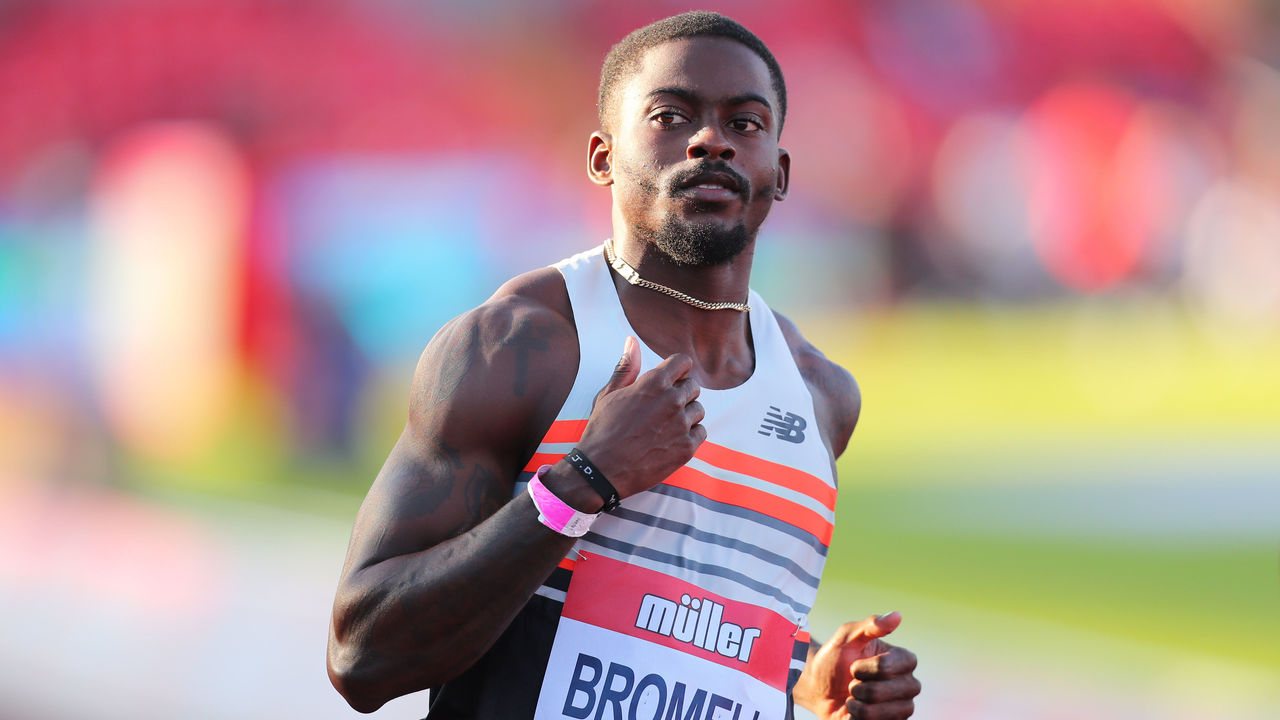 Bromell's the 100m headliner in Tokyo because other powerhouse Americans aren't there. Christian Coleman, the world's fastest man in 2019, missed doping tests and is banned from racing until November. Justin Gatlin, the Olympic champion in 2004 and twice a 100m medalist behind Bolt, hurt his hamstring at the U.S. trials trying to qualify at age 39. Noah Lyles is favored to edge De Grasse for 200m gold, but like Gatlin fell short of the 100m qualifying standard.
So who else has real podium ambitions? Know these names, too, before the 100m heats begin:
Yohan Blake: Bolt's countryman, the 2012 Olympic silver medalist, finished a hair's breadth out of the 100m medals in Rio, clocking 9.93 seconds in the final to De Grasse's 9.91. (Bolt won in 9.81.) Blake's in his 30s now and his best time this season is 9.95, which he recorded at a meet near Atlanta three weeks ago.
Akani Simbine: South Africa's premier sprinter finished fifth in Rio in 9.94 seconds. Simbine's 9.84 at a recent tuneup in Hungary was second-fastest in the world this season - plus a personal best and African record. Reggie Walker was South Africa's last Olympic medalist at 100m, winning the 1908 edition in 10.8 seconds.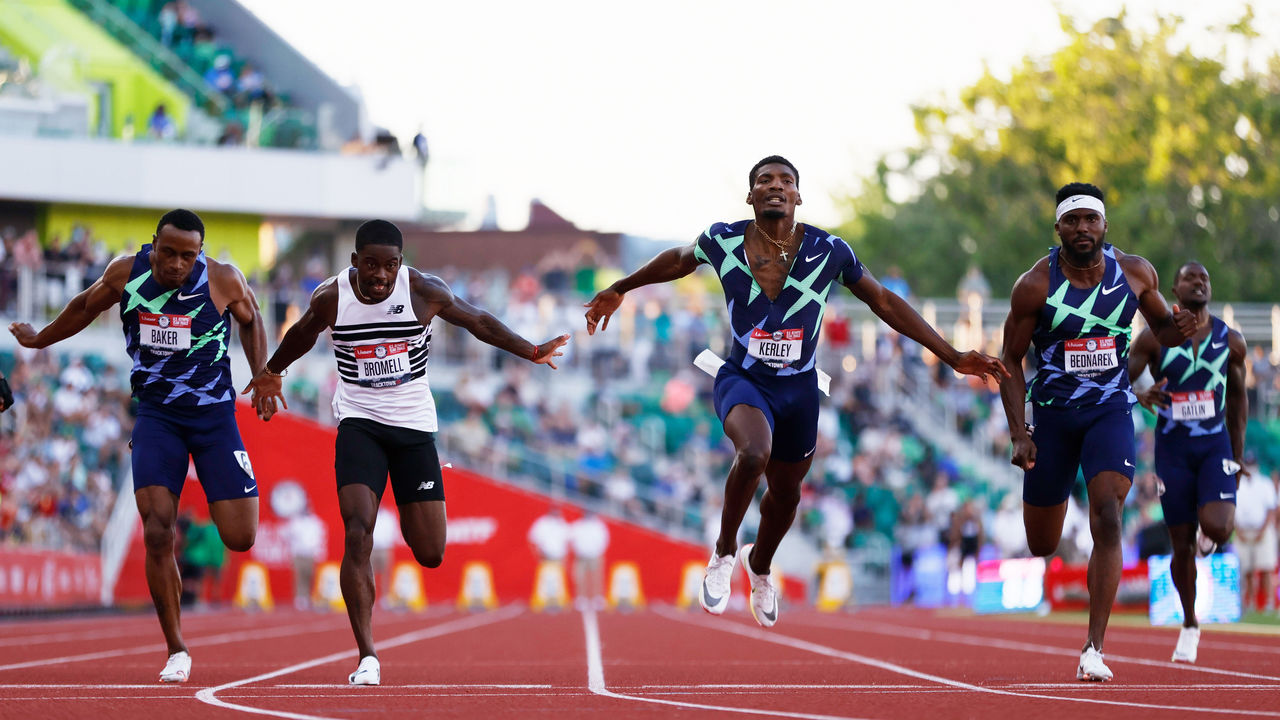 Ronnie Baker: Peaking when it matters, Baker ran 9.85 seconds at the U.S. Olympic trials to place second to Bromell and establish a new PB. He boasts a Diamond League victory in Monaco this month over De Grasse, Bromell, Simbine, and fellow American Fred Kerley.
Fred Kerley: Speaking of: This 400m specialist shifted focus this season and challenged Bromell and Baker at the U.S. trials, surging to third in the 100m in 9.86. Kerley said at the trials that the 400m remains his long-term priority - just not in Tokyo.
Lamont Marcell Jacobs: The Italian sprinter was fastest in the world in 60m events this season, topping Bromell's best time at the distance by one hundredth of a second (6.47 to 6.48). No one doubts Jacobs' burst; whether he can sustain it over 40 more meters is a different matter.
All that said, it's easy to foresee this being a two-man race: De Grasse and Bromell, college rivals who went global, Canadian and American battling to evoke Canada's last great 100m triumph.
In Atlanta 25 years ago, Donovan Bailey tore away from a deep field in an Olympic-record 9.84 seconds, which Bolt bettered in Beijing. That De Grasse hasn't run faster than 9.99 seconds in 2021 means little to Bailey, who analyzes track for CBC now. Bailey opined on TV this week that De Grasse has played possum lately, using Diamond League events to refine his race strategy rather than go all-out for wins.
Whether or not that's true, De Grasse's year and career have built to this weekend. Bolt had to grin at his gutsiness in Rio. Who will smile at Sunday's finish line?
Nick Faris is a features writer at theScore.
Comments
✕
Usain Bolt vacated the throne. Who will seize the 100m crown in Tokyo?
  Got something to say? Leave a comment below!