What drives Will Claye, the Olympics' star triple jumper and rapper
Getty Images / Photo illustration by Nick Roy / theScore
Music surrounded Will Claye from infancy: Bob Marley, Dr. Dre, the West African songs that his parents played in Phoenix as they once did in Sierra Leone. His older brothers introduced him to Outkast and Jay-Z. Radios bumped West Coast hip-hop around his childhood neighborhood. The sounds were eclectic, and he floated between them.
Rhythm connects Claye's pursuits in life: rapping and the triple jump. Claye, 30, is a recording artist with a couple of albums out and close to 100,000 monthly listeners on Spotify. Several years ago, he contributed a verse to a YG song, "IDGAF," which has been heard more than 70 million times on YouTube. To shoot the music video, he wore an Arizona Diamondbacks jersey and two Olympic medals.
"The rhythm that's within you, it was in me from a child," Claye said in a recent interview. "But when it comes to triple jump, it comes from reps. You've got to get your rhythm down by just doing it over and over and over again."
Claye would know. He owns three Olympic medals, bronze in long jump from London 2012 and back-to-back silvers in the triple jump, his main discipline. If you remember his podium performance at Rio 2016, it might be for what ensued; fans lifted Claye into the stands and he proposed to his wife, Queen Harrison-Claye, a hurdler and U.S. Olympic teammate.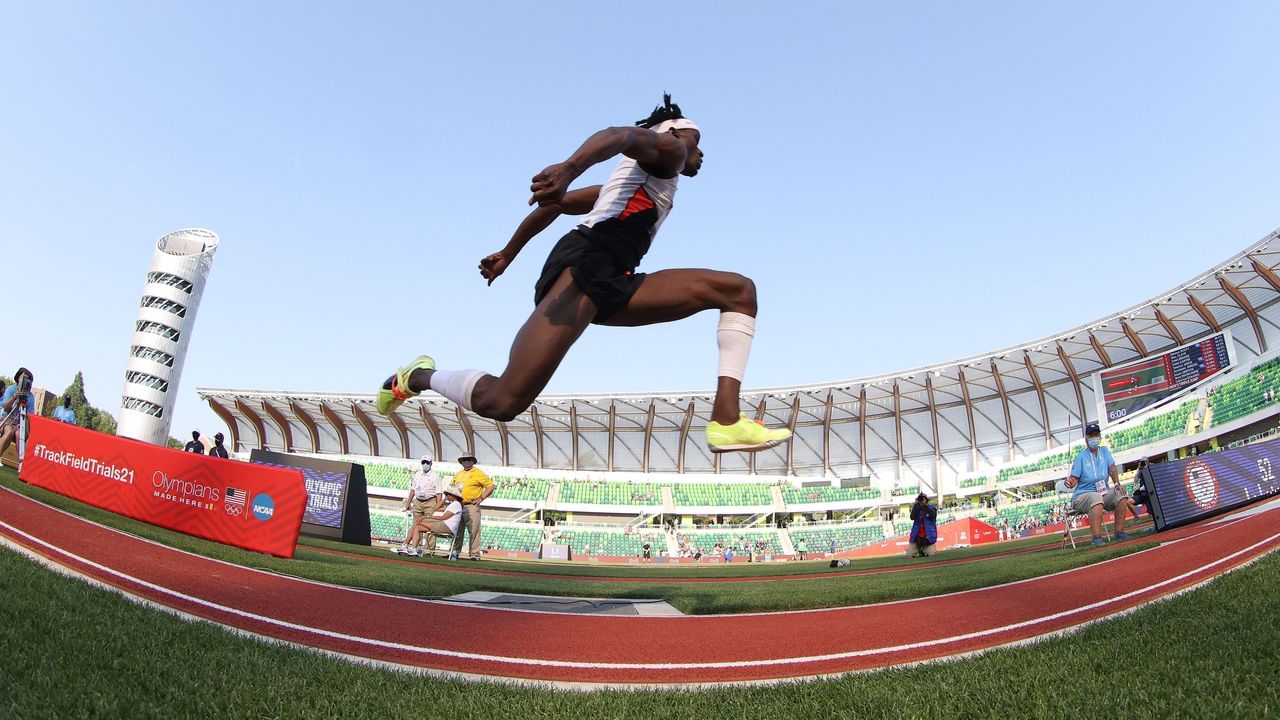 Five years later, Claye is expected to medal again in Tokyo. Men's triple jump qualifying begins Monday at 8 p.m. ET, and the final runs Wednesday at 10 p.m. ET. Each attempt follows the same cadence: Sprint down the runway, hop at the line, skip upon landing, and jump off the takeoff foot into the sandpit.
Claye weighs 150 pounds but squats 500, building the force that propels him as far as 18.14 meters in the air, his personal best in the event. In triple jump, power and grace mix in a pressure cooker. Each bound is like a dance step. The measuring tape is the opponent that's top of mind.
"There's no one that can physically stop you," Claye said. "I'm not a wide receiver and I've got a DB standing in front of me."
That's a relevant comparison, seeing how Claye once dreamed of making plays on the gridiron. A wideout and cornerback in high school, he started dabbling in track as a freshman to get faster. The first day of track practice was ongoing when a coach told him to bound in the grass and, eyeballing the distance Claye covered, pegged him as a budding triple jumper. Claye won Arizona's state championship that season.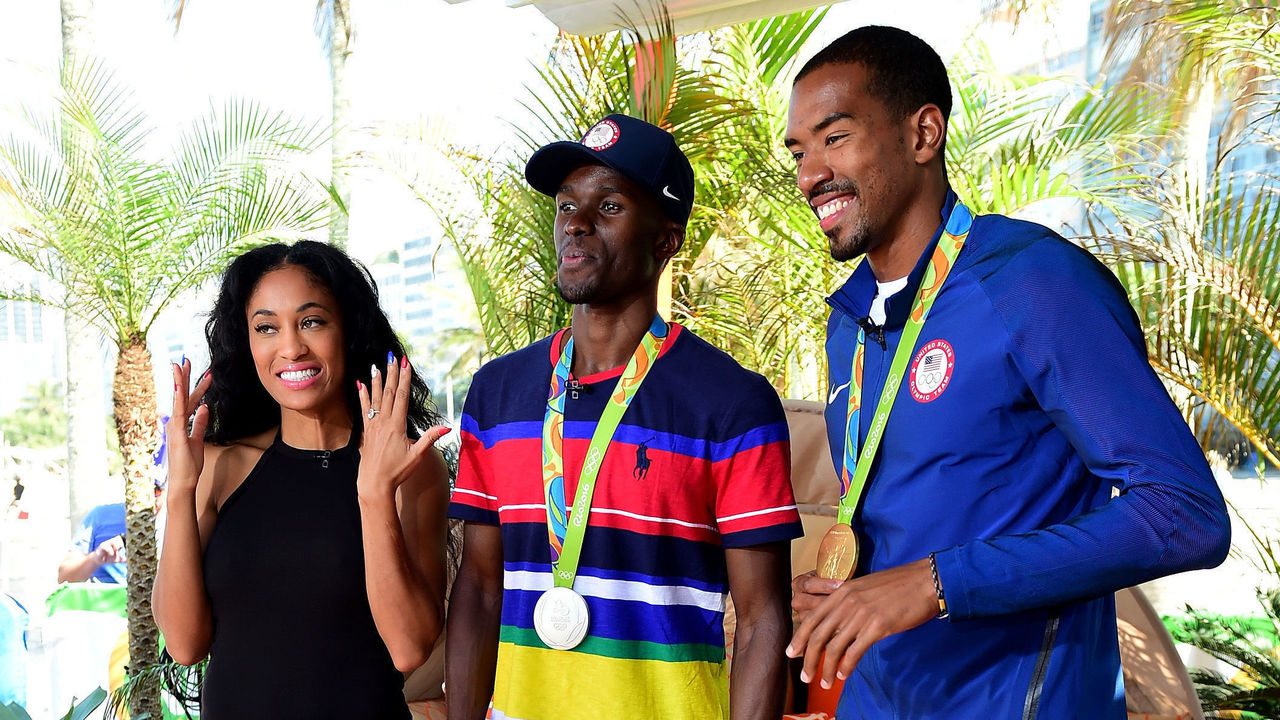 National titles followed during his NCAA career at Oklahoma and Florida, where Claye and Christian Taylor were college teammates. Twice an Olympic champion, Taylor is triple jump's Michael Jordan, the guy whose standard Claye and the world can never quite match. Claye jumped 17.62 meters at London 2012 to claim Olympic silver; Taylor soared 17.81 for gold. Claye covered 17.76 meters at Rio 2016; Taylor's 17.86 leap limited Claye to second place again. They finished 1-2 in the same order at the 2017 and 2019 world championships.
The Tokyo Olympics' delay inadvertently benefited Claye and cost Taylor for the same reason. Claye tore his Achilles tendon early in 2020 but had time to recover when the pandemic nixed competitions. That injury befell Taylor this May, ruling him out of the U.S. Olympic trials. Claye won the meet and established himself in Taylor's absence as a jumper to beat this week.
"If it's possible for me to come back from a ruptured Achilles, he can do the same," Claye said. "That's part of our DNA, to bounce back from stuff like that."
He's said as much in song. As he rehabbed his injury, Claye laid out how he'd return stronger in the lines that open "Lesson One," a track he released last year: "One of my first lessons, time is of the essence / 86,400 and something seconds." Don't waste a moment in the day, basically.
Claye shared a similar message in "Dreams Don't Die," his March 2020 salute to Olympic hopefuls dealing with pandemic uncertainty. Eyes on the prize, he rapped: "Buildin' up a spaceship, Elon Musk / Diamonds grow under pressure, we don't bust."
A rap hobbyist since childhood, Claye's 2013 collaboration with YG - the two share a mutual friend who is a producer - motivated him to start releasing his work. Introduced in an L.A. studio one day, YG liked some of Claye's beats, and they recorded "IDGAF" then and there. The song was a hit online, but Claye caught flak at his day job. "IDGAF" is explicit. Some people within athletics branded Claye thuggish or hypocritical, knowing he's vocal about his Christian faith.
Right before U.S. trials in June, Claye partnered with Red Bull to release an introspective short film, "Elevate." In it, he speaks about subjects that weigh on him, including how "IDGAF" critics and some athletics officials, preferring he shut up and jump, compelled him to suppress his personality for a long time; how police officers have pulled him over in San Diego, where he trains, with tension easing only when he identifies himself as an Olympian; how kids drift astray when no person or thing inspires them.
Wide-ranging sights excited Claye growing up; the "Mighty Ducks" movie franchise, Lil' Bow Wow's success as a child rapper, Emmitt Smith scoring touchdowns for the Dallas Cowboys. Claye wore Smith's jersey to run inside his childhood home, juking family members as he rounded corners. People exposed him to possibilities, and he seized some.
"At some point, I'll be gone. I just hope I can be a spark to the next person - through my actions through music, my actions through sports, my actions through the way that I treat people," Claye said in the film. "I want that to inspire everyone around me."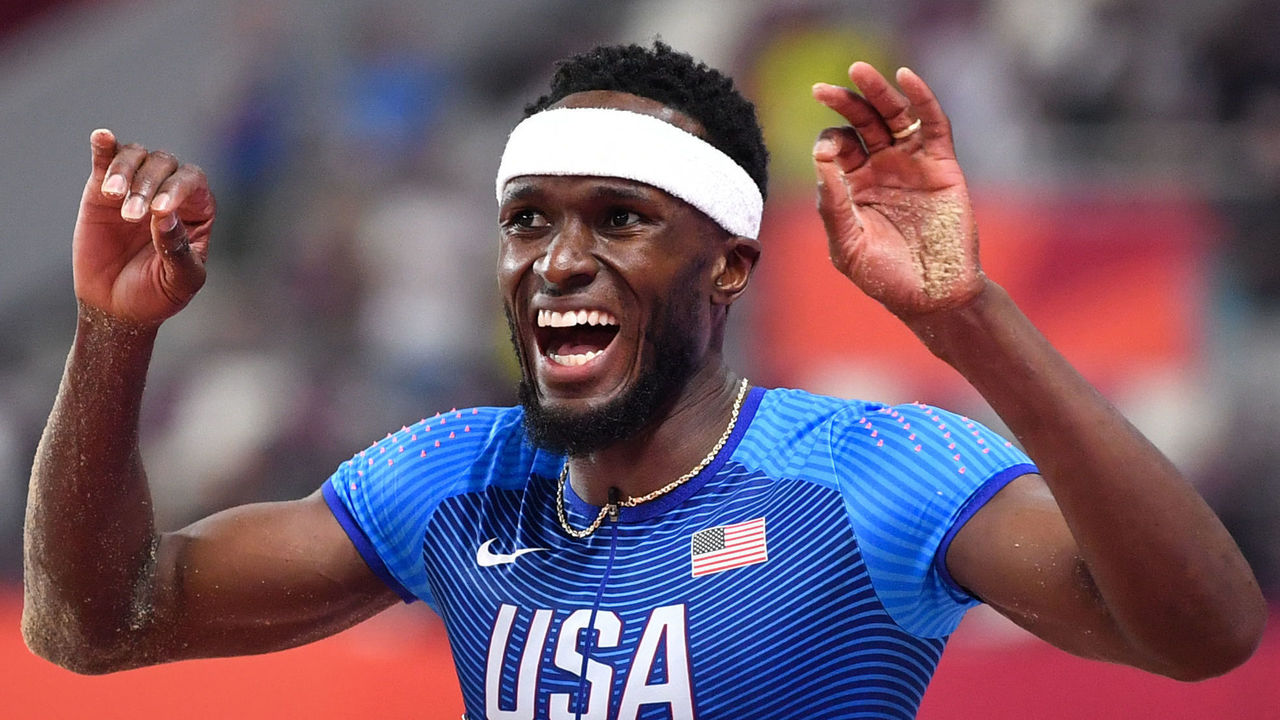 In the meantime, his third Olympics await. As he trained for Tokyo this season, staying ready through the pandemic delay, Claye tried to prioritize points of focus that he's overlooked before: hip and ankle strength, mental tranquility, any breakthrough that could net him an extra centimeter in the air. He maxed out at 18.14 meters in 2019, history's third-longest triple jump. Taylor once leaped 18.21m. The world record is 18.29, set by Great Britain's Jonathan Edwards in 1995.
Claye's best leap in 2021, 17.21m, was good for first at U.S. trials but ranks seventh this year among Tokyo Olympians. Burkina Faso's Hugues Fabrice Zango, the world bronze medalist in 2019, jumped 17.82m at a July tuneup meet. Pedro Pichardo of Portugal covered 17.92 at the same event. With Taylor sidelined, Claye is the only Olympic medallist in the field, but that guarantees nothing.
Put another way, every runway is a clean slate. Jump as far as he's capable this week and music will play in Claye's honor.
"I just want to be on the top of that podium," Claye said, "listening to 'The Star-Spangled Banner.'"
Nick Faris is a features writer at theScore.
Comments
✕
What drives Will Claye, the Olympics' star triple jumper and rapper
  Got something to say? Leave a comment below!